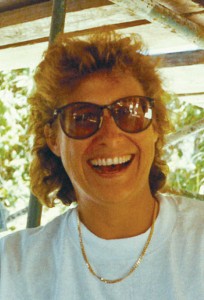 [Written by Don Burgess]
A loving tribute has been paid to a former nurse in the form of two scholarships.
Vickie Smith passed away of natural causes on February 24, 2017. As a way to remember her dedication to the profession, her mother, Julia Smith, donated $20,000 to be split evenly between nursing students Donnalyn Smith and Milton Outerbridge.
Vickie's friend Yvonne McHugh said, "Vickie would be so pleased with these choices. I hope they enjoy nursing as much as she did."
According to Ms McHugh, Vickie's family came to Bermuda on many vacations, creating an instant love for Bermuda. Vickie worked in New York City before coming to work at King Edward Memorial Hospital in 1989.
Ms McHugh said, "She took on the challenge of becoming the best Intensive Care Nurse she could be. In Bermuda, her expertise in ICU helped save many lives. She was compassionate and took meticulous care of her patients and was well respected by nursing colleagues and doctors.
"Vickie also had a fun and empathetic side, welcoming new nurses to the island with get-togethers, where a home-cooked meal and an introduction to her beloved dogs always made them feel welcome.
"She is deeply missed by family and friends."
Read More About