"Let's take a boat to Bermuda" begins Let's Get Away From It All, a 1941 song which pops up on the soundtracks of more than a few Golden Age Hollywood films. And cable TV channel Turner Classic Movies is doing just that, heading to Bermuda in October to celebrate its 25th anniversary with a ship full of movie fans, its on-air personalities and special celebrity guests.
A commercial-free outlet showcasing classic films from the silent era through the modern day, TCM's schedule is dominated by movies from the 1930s-1950s heyday of the Hollywood studio system.
Launched in 1994, the Atlanta-based channel has a worldwide audience numbering in the millions and has won numerous accolades and awards for both its programming and its work in the fields of film history and film preservation.
Alex Trebek and Cicely Tyson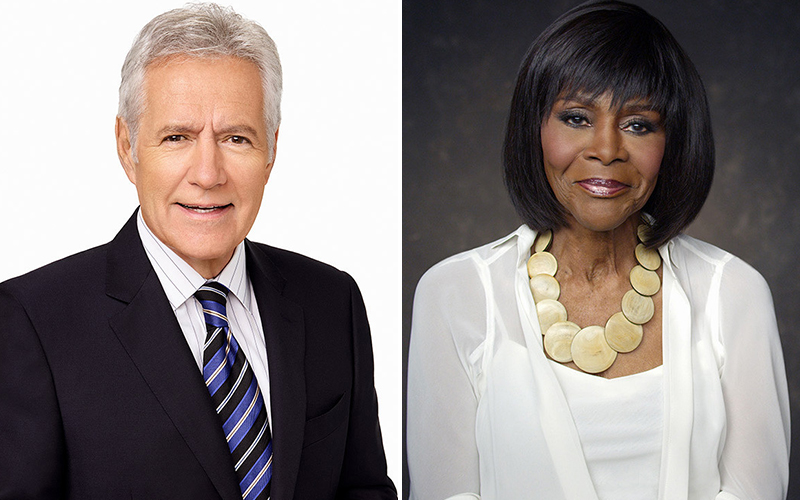 Academy Award nominee Cicely Tyson heads-up the roster of celebrity guests who will be aboard Disney Cruise Line's 1,754-passenger Disney Magic when the cruise ship sets sail from New York for Bermuda on October 22.
A living movie and theatrical legend, 94-year-old Ms Tyson graced the cover of Time magazine earlier this year, providing the face of the publication's special "Art of Optimism" issue and explaining why she will never retire unless poor health forces her to.
During the course of a career spanning more than six decades, Ms Tyson has become known for playing some of the world's leading women – from abolitionist Harriet Tubman to civil rights leader Coretta Scott King to an uncompromising Southern sharecropper's wife in the 1972 movie Sounder, a performance which earned her an Oscar nomination. She is the recipient of three Primetime Emmy Awards, four Black Reel Awards, one Screen Actor Guild Award, one Tony Award and an honorary Academy Award.
Among the other celebrity guests will be Mitzi Gaynor, the actress singer and dancer who appeared in a slew of classic Hollywood musicals and is perhaps best remembered for her role in 1958′s Oscar-winning Rodgers & Hammerstein adaptation South Pacific.
And Diane Ladd, an Academy Award nominee for her role as a sassy diner waitress in director Martin Scorsese's Alice Doesn't Live Here Any More [as well as the mother of actress Laura Dern], will also be aboard the Disney Magic for its TCM Classic Cruise to Bermuda.
Jeopardy! game show host Alex Trebek, a life-long classic movie fan whose personal storehouse of film trivia is said to outstrip the combined knowledge of his programme's staff writers and researchers, will also be making the voyage to Bermuda as will movie critic, author and TV personality Leonard Maltin. Mr. Trebek will be leading movie trivia quizzes on Disney Magic, something he did on earlier TCM cruises between 2012 to 2016
TCM hosts Ben Mankiewicz. Alicia Malone, Dave Karger and Eddie Muller will be leading the five-day movie-themed cruise, which will include film screenings, panel discussions and other special events aboard the ship as well as two full days in port at King's Wharf in Bermuda.
The cruise has been sold out for several months now, but there is a waiting list for movie buffs who still want to take that boat to Bermuda in the event of any cancellations.
TCM executive Jennifer Dorian said of the forthcoming Bermuda cruise: "We felt TCM's landmark 25th anniversary was the perfect time for such an immersive, curated and engaging fan experience,"

Read More About
Category: All, Entertainment, Films/Movies, News