Starting your preparations early for an ocean race far from land is a key to sailing a long distance, quickly and safely. This salty truism suggests that more than 100 boats and crews will be better prepared than ever for the next Newport Bermuda Race, which opened entries last June—a year in advance of the start and several months earlier than in the past.
As of Sept. 20th—nine months ahead of the start—organizers had already received 102 entries and were expecting many more by the final entry deadline next April.
The Bermuda Race fleet leaves Newport with colorful spinnakers set in a northerly breeze in 2014. Daniel Forster/PPL photo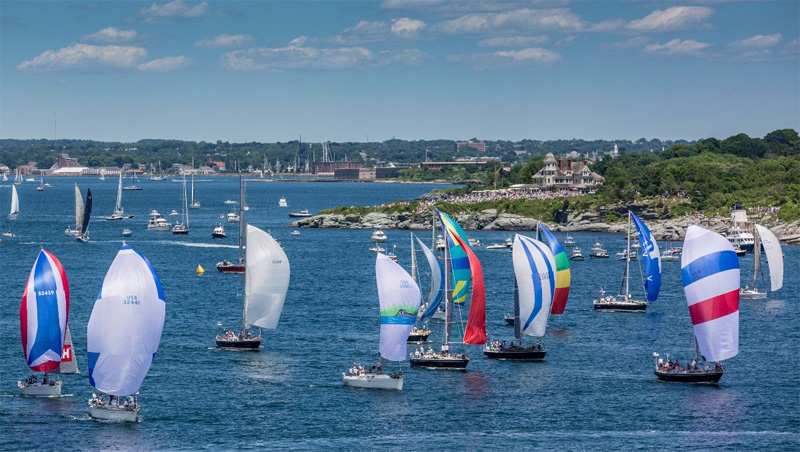 "We're excited by the early response," said Jay Gowell, chairman of the Bermuda Race Organizing Committee, "and by the fact that this is more than the race regulars filing early—at least a quarter of the entries are new skippers to the race."
"This race remains a bucket list event and not because it's an easy passage to a beautiful island, but because it's a significant and satisfying test to sail to Bermuda. Early entries mean captains have more time to familiarize themselves with boat, equipment, and training requirements and to come fully prepared to the starting line."
For 2020, the organizers have emphasized making the race simpler and easier to enter, updating regulations for crew safety training and yacht inspections, revamping the bermudarace.com website, and improving the online entry system itself.
The biennial race had 169 starters in 2018, including new divisions for multihulls and superyachts, and has typically had between 160 and 195 boats entered. "This early response is a terrific start!" said Gowell. "We'd like to top 200 entries, but whatever the final number, we're committed to making it easier to enter and prepare for this historic race."
Sailboats ranging from 33 to 100-plus feet will arrive in Newport or nearby ports on Rhode Island's Narragansett Bay beginning in April and May 2020. Before the start on June 19th, roughly 2000 sailors plus family and friends will arrive at the hub of activity—the Newport Bermuda Race Village at Bowen's Wharf and the Seaman's Church, which opens June 13th.
Entries will continue to be accepted until April 5, 2020. In past years, race organizers accepted entries only between January to early April.

Read More About