Bermuda's soldiers today worked with highly-trained British Army protection dogs as part of a major Royal Bermuda Regiment training exercise in the UK.
Troops from the RBR worked with the Royal Army Veterinary Corps' [RAVC] 1st Military Working Dogs Regiment as they used a purpose-built village at the British Army's Lydd camp in Kent for public order and internal security training.
Stood down: Pte Owen Chisnall and Pte Essa Melakot take a break from public order training at a UK army training ground designed to simulate an urban area.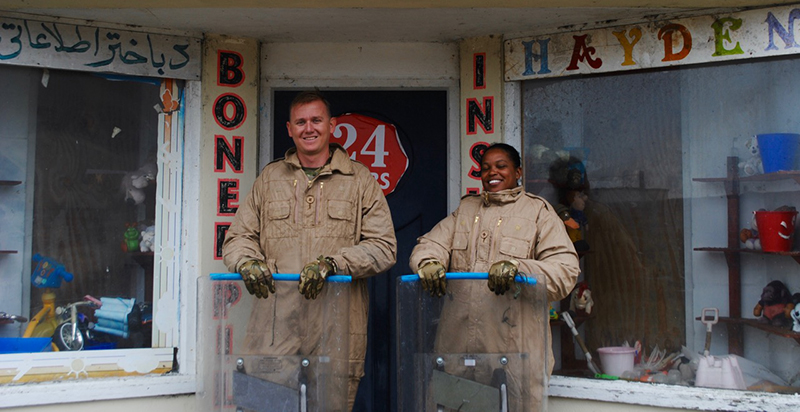 The dogs and their handlers backed up the RBR's crowd control specialists A Company as it tackled 'rioters' supplied by its affiliated regiment the Royal Anglian Regiment in the two-week Exercise Active Shield.
Private Essa Melakot, from Warwick, said: "It wasn't as scary as I thought it would be. I wish we had kept the dogs longer because they're an asset in all situations."
The 40-year-old civilian contractor for the police service added: "I'm not even a dog fan, but they're very good at intimidating and dispersing hostile civilians."
Firefight: RBR public order troops come under petrol bomb attack on a major training exercise in the UK.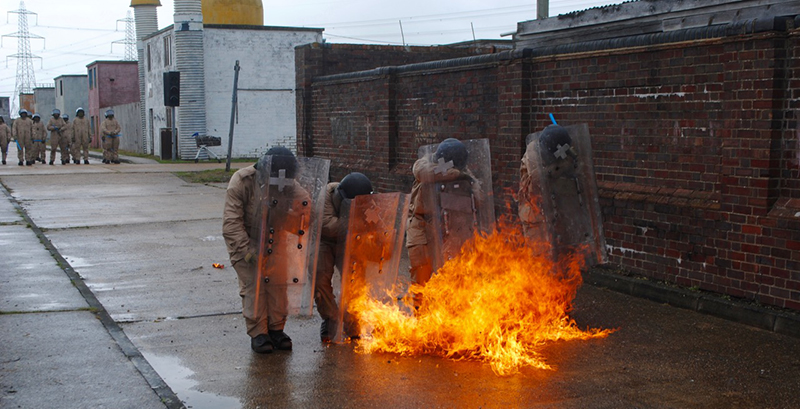 Pte Owen Chisnall, 25, a project manager at air conditioning firm BAC, added: "It's good to reinforce your original training.
"What we've learned that's new is the dogs and it's great to do things you've never experienced before."
Pte Chisnall, from Southampton, said he had adapted to the cold and wet conditions at the Kent army base.
He added: "It's cold in the mornings, but once you get all the gear on, it's fine."
Holding the line: An RBR public order squad works on their drills at a UK training ground.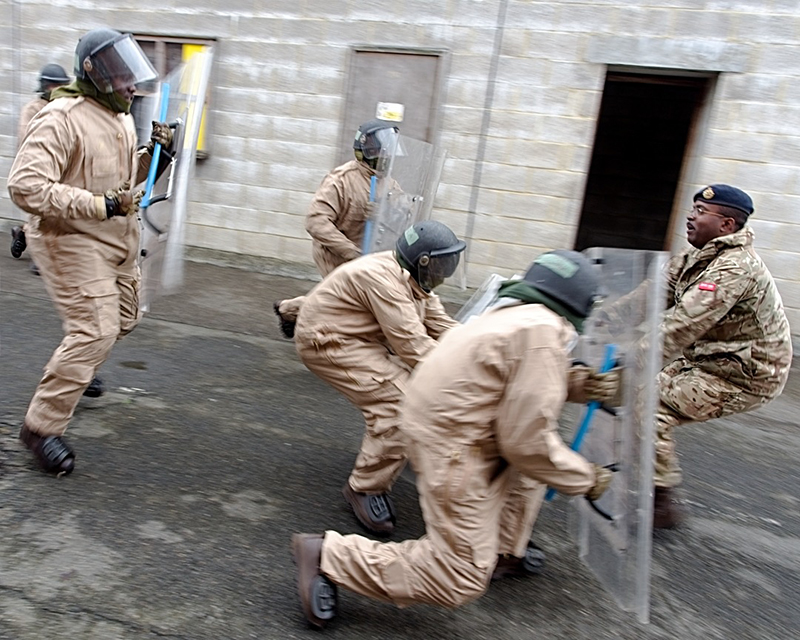 Pte Lauren Heathfield of the RAVC, the handler of a protection dog, said the Bermudian troops had learned to work with the animals "really quickly".
She added: "From what we've seen, they're doing well.
RAVC Sergeant Major Dave Rea said: "The RBR are soaking everything up like sponges.
"It's good to be working with them. They're very polite and want to learn and get better at what they're doing, which is nice to see."
Sgt Maj. Rea added that soldiers and arms and explosives search from his regiment had been deployed to Bermuda as part of the security team for 2017's America's Cup.
Dog day: A British Army dog handler and his German Shepherd helps RBR soldiers disperse a hostile crowd during Exercise Active Shield in the UK.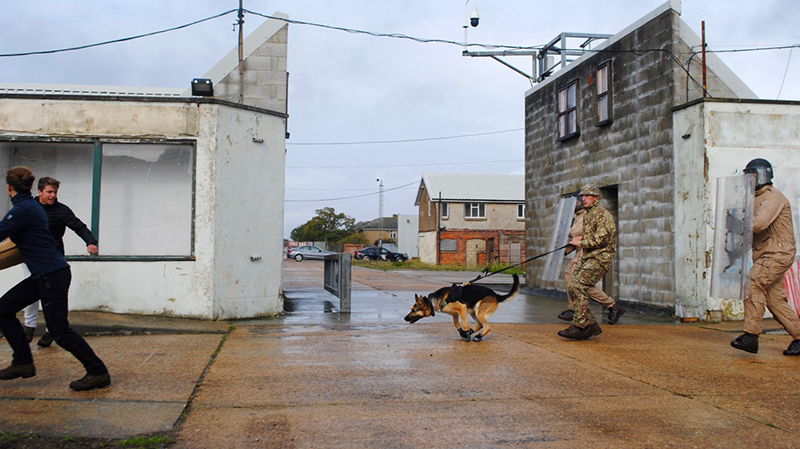 But he said: "We've never worked with the RBR in protection or public order roles before. We're all looking forward to working with them here or in Bermuda in the future."
The Bermudian troops also faced petrol bomb attacks as part of a long and tough day of training, which included classroom work as well as hands-on experience.
Pte Chisnall said: "The important things are to keep calm, remember everything you've been taught and to work together as a team."
More than 100 soldiers, including A Company, as well as specialist support troops like medics, drivers and logistics experts, are in the UK for two weeks of training to help fulfil the RBR's mandate to support the civil authorities in times of crisis, at home and abroad.

Read More About