The online edition of The Spectator, one of Britain's leading current affairs and cultural magazines, describes Bermuda as a "pleasing blend of the exotic and familiar" in a new travel piece on the island posted this week.
In an article titled "Beyond Bermuda's Beaches: Uncover the Archipelago's Colourful Side", Spectator writer Olivia Grant focusses primarily on the island's nightlife, restaurants and relaxed ambience — as well as the "fabulous cocktails."
Spectator magazine writer Olivia Grant calls Commissioner's House "majestic" in her new Bermuda travel piece.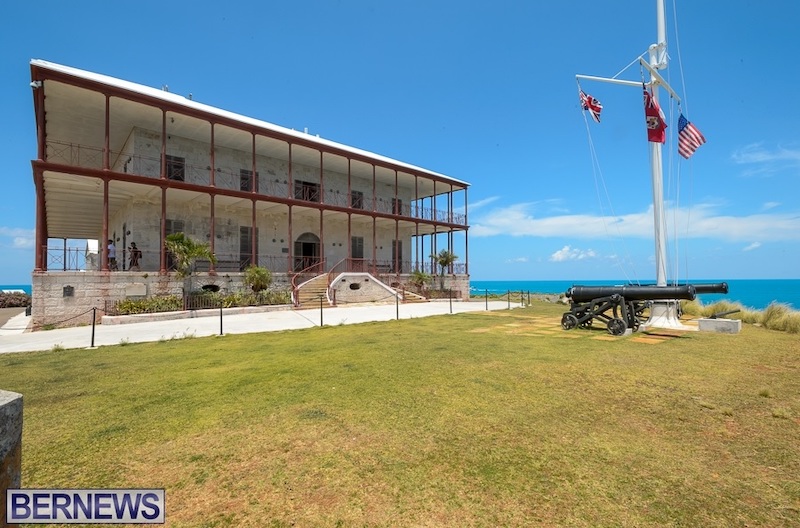 However, she did find time to fit some visits to traditional tourist attractions into her itinerary,
"We decided to absorb some culture and took a picturesque ferry ride to Bermuda's Royal Naval Dockyard instead," said Ms Grant, "The majestic Commissioner's House is worth it for the mural [by Bermudian artist Graham Foster http://bernews.com/2011/11/book-highlights-mural-bermuda-history/] depicting four hundred years of Bermuda's history.
"The Dockyard also plays host to the Bermuda National Museum where you can while away a couple of hours exploring rooms of photographs, oral testimonies, boat ship models and a wide range of maritime artefacts."
Ms Grant said while waiting for the taxi to take her and her travelling companion to the airport at the end of their Bermuda stay, "something told me that it is highly likely that I will be back."
You can read her full article online here.

Read More About
Category: All