[Updated] Minister of National Security Wayne Caines and National Disaster Coordinator Steve Cosham held a press conference this afternoon [Sept 16] to provide an update regarding Hurricane Humberto.
The press conference has just concluded and we will have additional information later on, and in the meantime the live video replay is below, and you can view our live updates on Hurricane Hurricane Humberto here..
The 11-minute live video replay is below:
Update 5.10pm: Minister Caines said, "Good afternoon everyone,
"Hurricane Humberto is now a category 1 hurricane and forecast to continue tracking towards Bermuda.
"The Emergency Measures Organisation or EMO, continues to closely monitor the system and stand prepared and ready to convene should the weather system continue on its projected path towards Bermuda.
"It is expected that another system will bring rain as early as 10am Tuesday morning. As such, I strongly encourage the public to revisit your business, household and family preparedness plans and have all preparations completed ideally before the rain comes.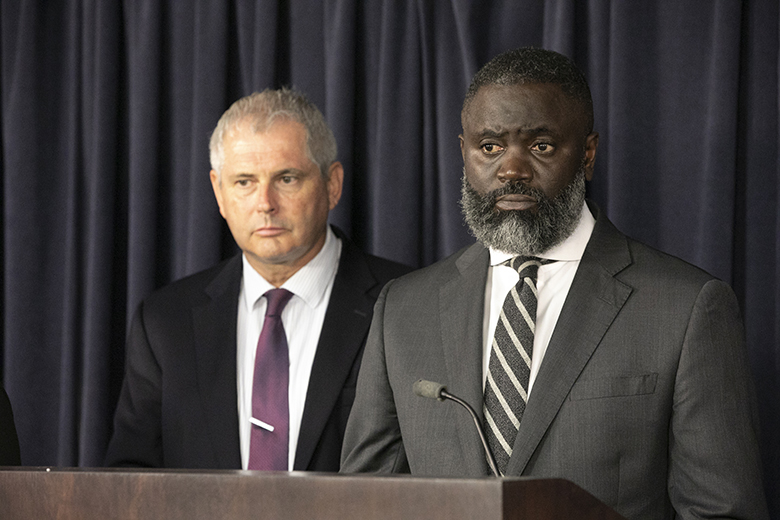 "Now to reiterate what I have said and remind the public of some of the storm preparedness tips:
1. Dry preparation time – now until mid-morning tomorrow
2. After that rain will be followed by thunderstorms which are on the leading edge of Humberto
3. Check your hurricane supplies:

a. Analogue phone,
b. First aid kit
c. Flashlight and batteries
d. Radio and tune into 100.1 FM the Emergency Broadcast Station, which is up and running right now
e. Gas for car, and generator, and propane for your BBQ
4. Check you have enough prescription medication for yourself, family and your pets for two weeks
5. Check you non-perishable food supplies for yourself, family and again your pets
6. Check your hurricane plans for your house, boarding up, closing shutters, your power tools are charged and you have enough screws and nails
7. Understand how long your hurricane plan will take and leave enough time to complete it, including bringing in garden furniture and placing plant pots in safe locations
8. Place your important documents in a water proof bag in a safe location
9. Check on your vulnerable family members and elderly neighbours and see if they need help
10. Make sure your contacts are up to date for family and friends who will contact during and after the hurricane
"I also encourage the public to keep abreast of the latest information and updates on Hurricane Humberto by downloading and installing the Bermuda Government Tree Frog app, available for free from the Apple and Google Play store.
"You can also visit gov.bm and the Government of Bermuda Facebook, Twitter and Instagram accounts for information.
"I will now turn you over to National Disaster Coordinator Steve Cosham for further information."
You can view our live updates on Hurricane Humberto here, and all our coverage of Hurricane Humberto here.
Read More About