Zeiko Harris has been named "Defensive Player of the Week" by the Sun Belt Conference, which noted the Bermudian footballer anchored the backline that put up a win over UNC Greensboro, and also added a goal.
Harris attends the Appalachian State University, and school's announcement said, "Junior Zeiko Harris was named Defensive Player of the Week, the league announced Tuesday. This is the defender's second career Player of the Week honor."
"We are happy for Zeiko to be recognized for his play this week. He is such a big influence on our team," head coach Jason O'Keefe said. "It is always a team award for us. Without your teammates having your back supporting you and putting you in position to have success, it would not happen."
Graphic courtesy of Appalachian State University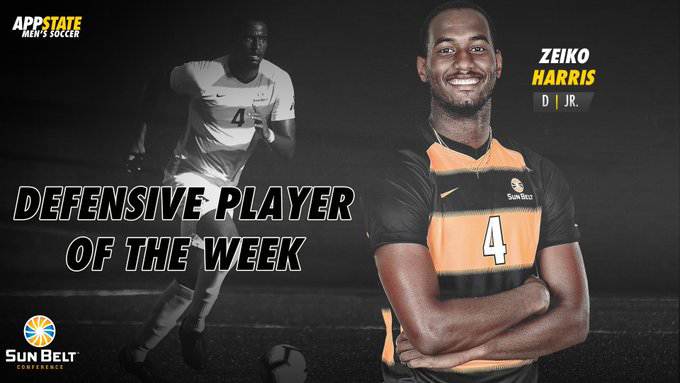 "Harris was a big factor in the Mountaineers' win over UNC Greensboro Saturday, scoring the first goal of the match, while also anchoring the backline. The Preseason All-Sun Belt selection now has two goals on the year.
"The App State defense currently leads the Sun Belt in shutouts with three and is also tied for first in goals allowed with six. The Apps' .86 goals against average is good for second in the conference."
The Sun Belt Conference is currently comprised of 12 institutions – Appalachian State, Little Rock, Arkansas State, Coastal Carolina, Georgia Southern, Georgia State, Louisiana, ULM, South Alabama, UTA, Texas State and Troy. The league also have two associate members in men's soccer, Central Arkansas and Howard.

Read More About