Representatives from the Women's International Shipping and Trading Association [WISTA] Bermuda are attending the 2019 WISTA International AGM and Conference this week in Grand Cayman, Cayman Islands.
A spokesperson said, "The President of WISTA Bermuda Angelique Burgess said the week will be filled with a host of meetings and activities. The Presidents of the respective National WISTA Associations will meet for roundtable discussions and this will be followed by the WISTA Annual General Meeting.
"Several industry leaders are scheduled to give presentations at the Conference on topical issues such as Diversity and Gender Bias, Technology, the Digital World, Autonomous Ships and Cyber Security."
Carmen Tucker, Donnelle Swan, Cheryl Hayward-Chew, Angelique Burgess and Marilyn Feldman: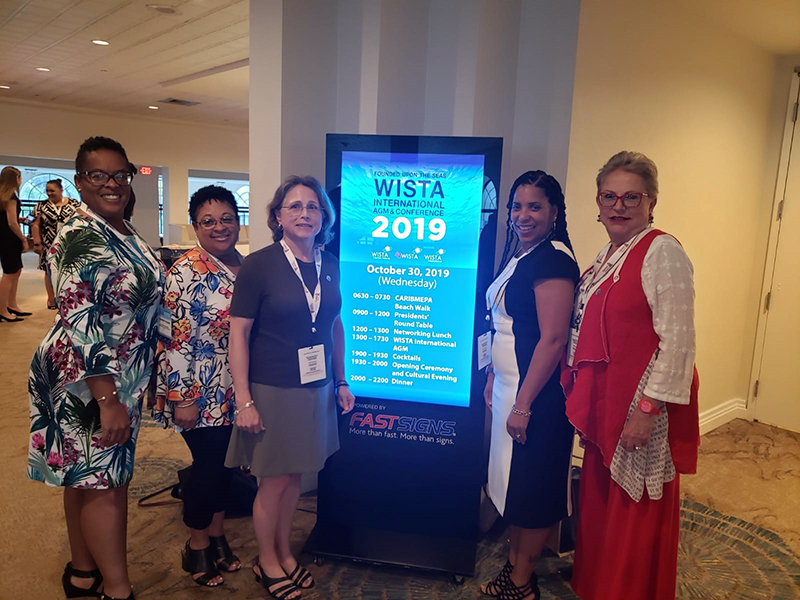 "Mrs. Burgess is pleased to have a strong delegation from Bermuda attending the Conference including Marilyn Feldman [Vice President of WISTA], Cheryl Hayward-Chew, Donnelle Swan and Carmen Tucker. Russia, Switzerland, Italy, USA, UK, Ghana, Brazil, Nigeria and many other countries will also be represented at the Conference.
"WISTA Bermuda is looking forward to a productive week of technical insight, networking and building relationships with maritime industry leaders from around the world.
"Women's International Shipping and Trading Association [WISTA] is a global networking organization whose mission is to attract and support women, at the management level, in the maritime, trading and logistics sectors.
"WISTA International was formed in 1974 and serves as a connector for its network of more than 3,000 female executives and decision makers across the world from all sectors of the maritime industry.
"WISTA Bermuda was launched in 2016 by Angelique Burgess of Concordia Maritime, Marilyn Feldman of Shoreline and Tammy Richardson-Augustus of Appleby, female leaders of the island's shipping industry. Bermuda was the 40th country to join the global organisation.
"For more information about WISTA, visit wista.net. For WISTA Bermuda membership inquiries, contact Angelique.burgess@concordiamaritime.com."
Read More About