Former Beatle Ringo Starr has released the official video for his rendition of one-time bandmate John Lennon's Bermuda-penned song Grow Old With Me.
The song will appear on Ringo's new album, What's My Name, to be released on October 25.
John Lennon's original lyric sheet for the song Grow Old With Me, annotated "Fairylands, Bermuda"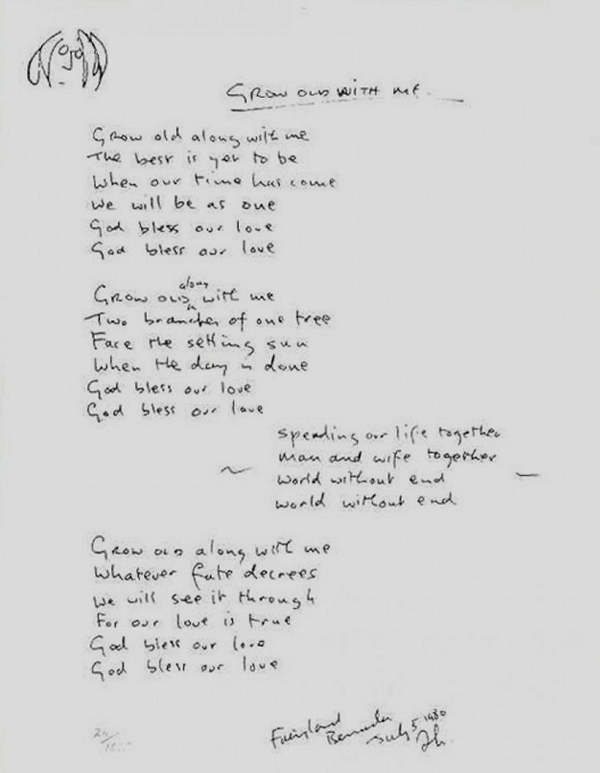 John Lennon's hand-written lyrics to the ballad are featured throughout the recently uploaded video. They are taken directly from the original lyric sheet, annotated "Fairylands July 5, 1980 Bermuda."
Grow Old With Me was inspired by Victorian poet Robert Browning's Rabbi ben Ezra as well as a song by John Lennon's wife Yoko Ono called Let Me Count the Ways. Ms Ono's song had in turn been influenced by verse written by Elizabeth Barrett Browning, Robert Browning's wife
Ringo Starr's version of the love song features a mini-Beatles reunion of sorts. Paul McCartney joined him in the recording studio to play bass and provide background vocals.
The Beatles [clockwise from top] Ringo Starr, Paul McCartney, John Lennon and George Harrison in a promotional picture from the legendary group's last photo shoot before disbanding in 1969.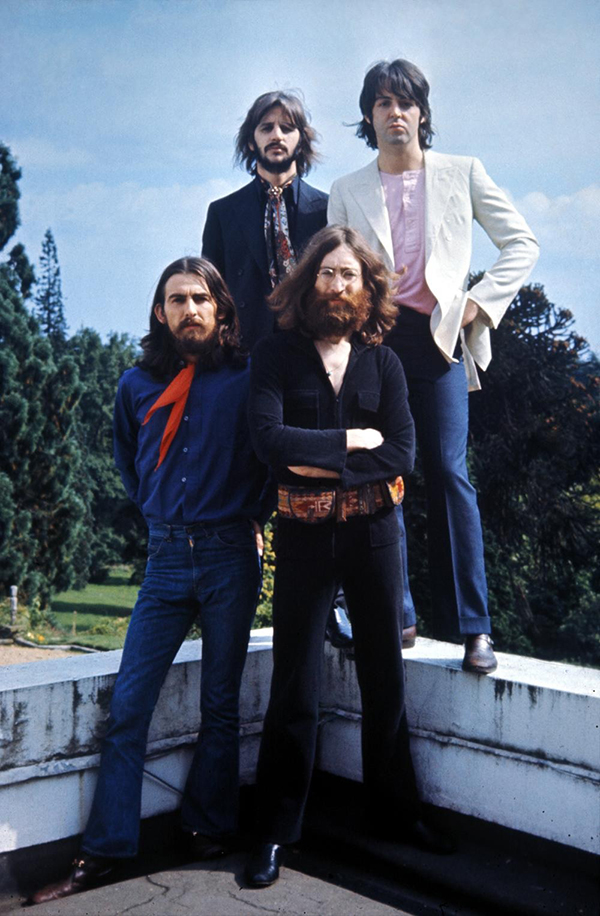 It was recorded by Mr. Lennon as a home demo during his long working vacation in Bermuda in 1980, and later appeared on the posthumous album, Milk and Honey, released in 1984.
The singer/songwriter never had an opportunity to record a studio version of Grow Old With Me before his death at the hands of a crazed fan in December, 1980.
"And the strings that [producer] Jack Douglas arranged for this track, if you really listen, they do one line from [the late Beatle George Harrison's] Here Comes The Sun," said Ringo in a statement on the forthcoming album. "So in a way, it's the four of us."
Ringo Starr – Grow Old With Me [Lyric Video]
Mr. Douglas had produced Double Fantasy, the 1980 album by Mr. Lennon and Yoko Ono which featured some of the material he had either composed or polished in Bermuda that summer.
"Jack asked if I ever heard The Bermuda Tapes, John's demos from that time," Ringo Starr said. "And I had never heard [Grow Old With Me] …
"I just loved this song. I sang it the best that I could. I do well up when I think of John this deeply. And I've done my best. We've done our best."

Read More About
Category: All, Entertainment, History, Music, News