Bermuda was the unlikely setting of a 1912 Broadway comic operetta which helped to launch the careers of the lyricist of "Smoke Gets in Your Eyes" and the composer of "Rose-Marie."
Precursors to the modern Broadway musicals, comic operettas were among the most popular theatrical forms in the early decades of the 20th century.
In "The Firefly", lyricist Otto Harbach [1873-1963] and composer Rudolf Friml [1879-1972] collaborated on an original story about a young Italian girl who is a street singer in New York.
She disguises herself and serves as a cabin boy on a ship to Bermuda, where she falls in love. Most of the action takes place on a sprawling Bermuda estate owned by the wealthy family of the object of her affection.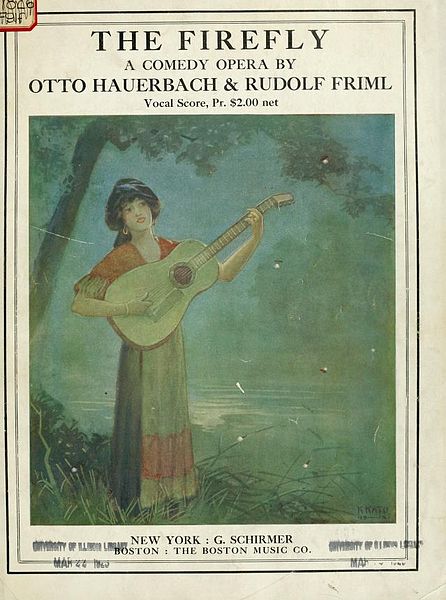 Complications arise — most resulting from the heroine's disguise — and after she eludes the Bermuda police she eventually becomes a grand opera diva.
The score included such songs as "A Trip to Bermuda", [In] Sapphire Seas" and "Sympathy."
After tryouts at the Empire Theatre in Syracuse, New York beginning in October 1912, the operetta premiered on Broadway on December 2, 1912 at the Lyric Theatre, transferring after Christmas to the Casino Theatre. It was warmly received and ran for 120 performances.
Both Mr. Harbach and Mr. Friml went on to enjoy long careers working for the Broadyway stage and on Hollywood musicals.
"The Firefly" became one of the more frequently revived Rudolf Friml works. A 1937 MGM film version used most of the songs — with rewritten lyrics in some instances — but had a new plot set in Spain during the time of Napoleon. It starred Jeanette MacDonald and Allan Jones.
Listen to "Sympathy" from "The Firefly":
Read More About
Category: All, Entertainment, History, Music