[Updated with video] The seven captains of the teams pooled in Group A of the ICC Men's T20 World Cup Qualifier 2019 looked forward to the 14-team tournament with enthusiasm during a press conference held at the Dubai International Stadium.
Captains Dion Stovell of Bermuda, Shem Ngoche of Kenya, Merwe Erasmus of Namibia, Pieter Seelar of the Netherlands, Shem Ngoche of Kenya, Assad Vala of Papua New Guinea, Amjad Mahboob of Singapore and Scotland captain Kyle Coetzer took questions from reporters and posed with the trophy in what was their first media interaction ahead of the tournament.
The ICC Men's T20 World Cup 2019 is being held in Abu Dhabi and Dubai with the teams fighting for six places in the ICC Men's T20 World Cup 2020 to be held in Australia next year.
Canada, Hong Kong, Ireland, Jersey, Nigeria, Oman and the United Arab Emirates are in Group B. They play their league matches in Abu Dhabi and will hold their opening press conference on Sunday.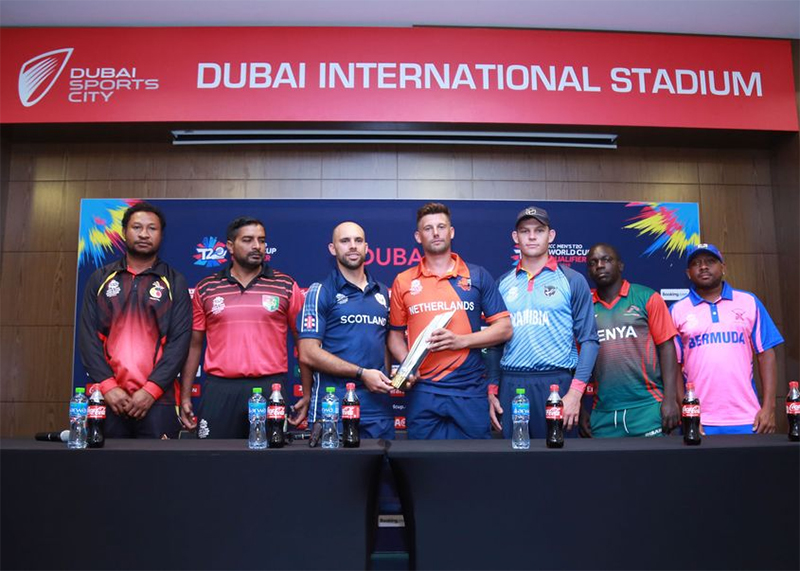 Bermuda captain Dion Stovell: "We are here to showcase our talent. As for Bermuda cricket, I guess we are in the next stage of the qualifiers, so to say. There are 13 teams joining us here and we are looking to compete well against them and move Bermuda cricket forward."
Kenya captain Shem Ngoche: "It is going to be a really good tournament. As we all know, there are some very good teams here. For us it will be a very important tournament because all of you know where our cricket is. If we get a chance to qualify, it will be the starting point of a new phase for Kenyan cricket."
Namibia captain Merwe Erasmus: "For Namibia it is an important tournament. We haven't qualified from one of these [tournaments] yet, so it puts us in a nice space since we have nothing to lose. I expect all the teams to know that we are dangerous as we are a free team. We are in a good group and it is going to be a tough challenge."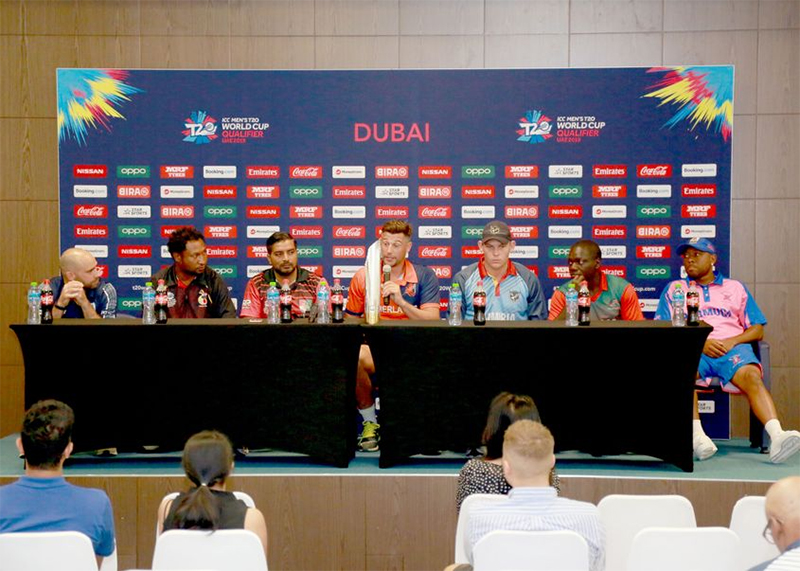 Netherlands captain Pieter Seelaar: "Besides everything that has been said about it being a hard fought tournament, I think there is also going to be a lot of pride and passion on show for us. There is going to be a bit of pressure on us because people label us as bit of favourites. But I think there is going to be some upsets throughout the tournament. As Kyle [Coetzer, Scotland captain] there is going to be excellent talent on show. I am looking forward to see who is going to do well."
PNG captain Assad Vala: "It is going to be a really important tournament for us and all the teams. We all deserve to be here. We have worked really hard to get here. We have got some really good teams to play against. Hopefully we can get the job done."
Singapore captain Amjad Mahboob: "This tournament is very important for us. It is the first time Singapore has reached until this level and we are really looking forward to this tournament. I hope we can do our best in this tournament."
Scotland captain Kyle Coetzer: "We are expecting a hard fought tournament. Every team deserves to be here. There are a lot of powerful teams here and we are expecting a hard fought and challenging tournament. It is vitally important not only for us as Scotland but for every team here so we expect to see some quality cricket I am sure and hopefully we can represent our countries very well."

Read More About