Bermuda took on Hong Kong in their second ICC Men's Twenty20 World Cup Qualifier warm up match at the Dubai International Stadium, Dubai, with Hong Kong winning by 24 runs.
Both teams went into the match with wins in their first warm up matches, Hong Kong batted first and scored 160/5, the Hong Kong top scorer was Kinchit Shah with 48, while Kamau Leverock was the pick of the Bermuda bowlers with figures of 4-0-27-2.
In reply Bermuda scored 136/8 in their allotted 20 overs. Janeiro Tucker was the Bermuda top scorer with 29, Deunte Darrell added 24, while Malachi Jones scored 23 and Delray Rawlins was not out on 20. Waqas Barkat was the pick of the Hong Kong bowlers with figures of 4-0-20-3.
Hong Kong Inning
..32 [34] Ahsan Abbasi Run Out
..01 [04] Aizaz Khan LBW Derrick Brangman
..48 [35] Kinchit Shah c Dion Stovell b Kamau Leverock
..21 [17] Simandeep Singh c Okera Bascome b Kamau Leverock
..33 [27] Waqas Barkat b Malachi Jones
..02 [01] Scott McKechnie Not Out
..13 [03] Haroon Arshad Not Out
..10 Extras [2w-1b-3lb-2nb]
160 Total for 5 Wickets 20 overs
Fall of Wickets: 1-5 [Aizaz Khan], 2-69 [Abbasi], 3-86 [Kinchit Shah], 4-136 [Singh], 5-145 [Barkat]
Bermuda Bowlers
4.0-0-34-1 Malachi Jones
3.0-0-20-1 Derrick Brangman
4.0-0-27-2 Kamau Leverock
3.0-0-27-0 Rodney Trott
4.0-0-27-0 Janeiro Tucker
2.0-0-21-0 Dion Stovell
Bermuda's Inning
..00 [04] Okera Bascome st Scott McKechnie b Kinchit Shah
..02 [04] Terryn Fray LBW Ehsan Khan
..29 [21] Janeiro Tucker c Shahid Wasif b Ehsan Khan
..06 [05] Kamau Leverock b Kinchit Shah
..24 [28] Deunte Darrell c Kinchit Shah b Waqas Barkat
..23 [21] Malachi Jones b Waqas Barkat
..02 [03] Allan Douglas c Kinchit Shah b Waqas Barkat
..20 [18] Delray Rawlins Not Out
..11 [07] Onias Bascome c Simandeep Singh b Aizaz Khan
..07 [09] Rodney Trott Not Out
..12 Extras [9w-3lb]
136 Total for 8 Wickets after 20 overs
Fall of Wickets: 1-0 [Bascome], 2-28 [Fray], 3-35 [Leverock], 4-45 [Tucker], 5-90 [Darrell], 6-97 [Jones], 7-98 [Douglas], 8-116 [Bascome]
Hong Kong Bowlers
4.0-0-34-2 Kinchit Shah
4.0-0-24-1 Aizaz Khan
3.0-0-20-0 Nasrulla Rana
4.0-0-22-2 Ehsan Khan
1.0-0-13-0 Haroon Arshad
4.0-0-20-3 Waqas Barkat
Photos courtesy of the ICC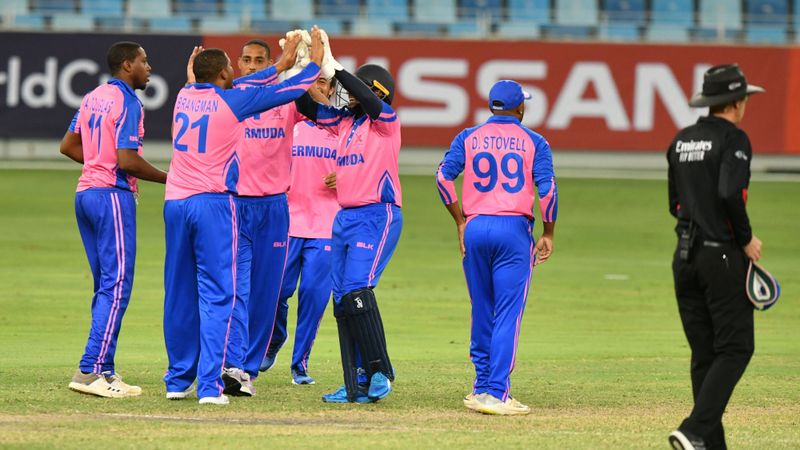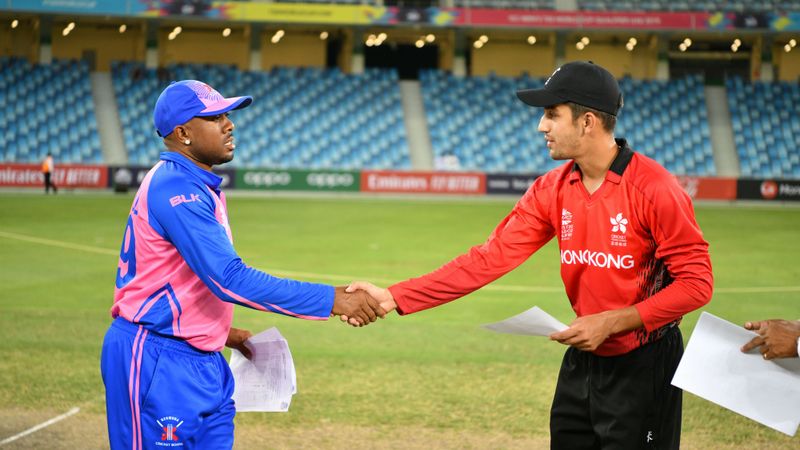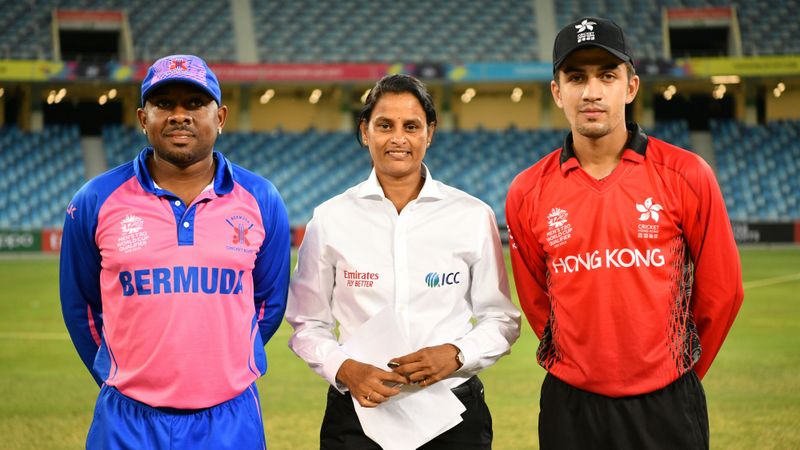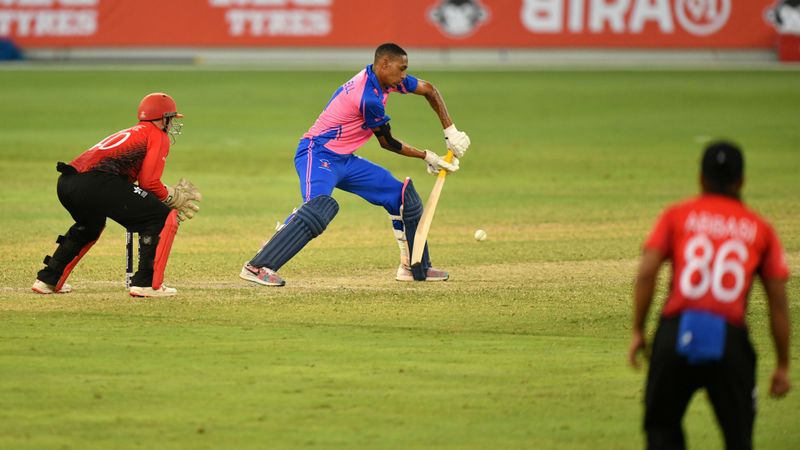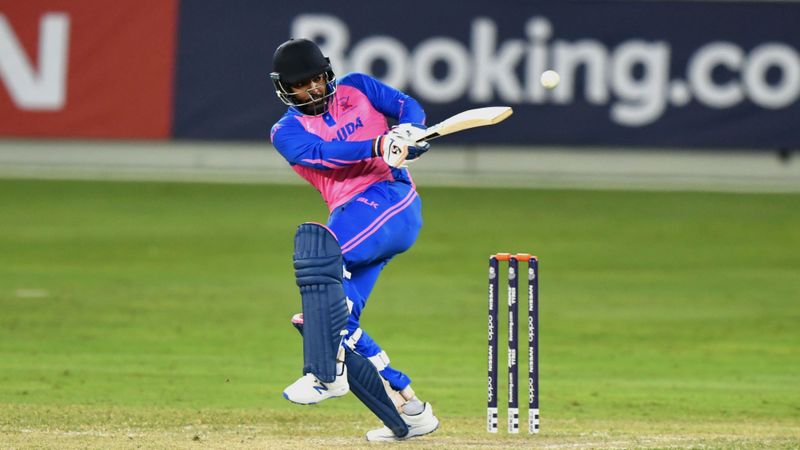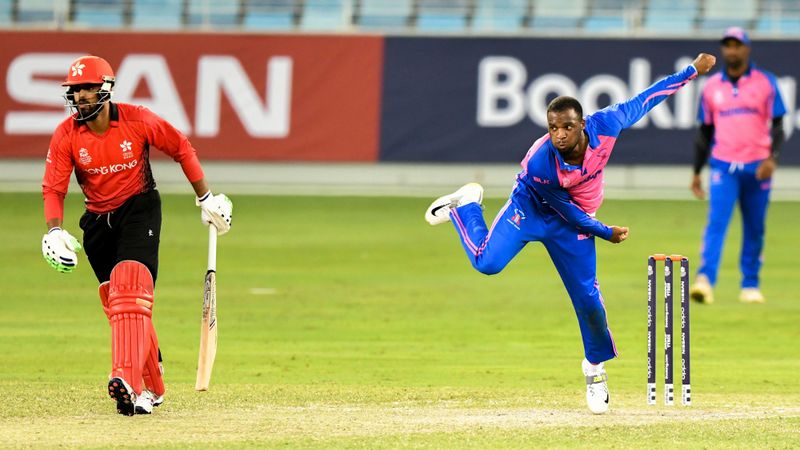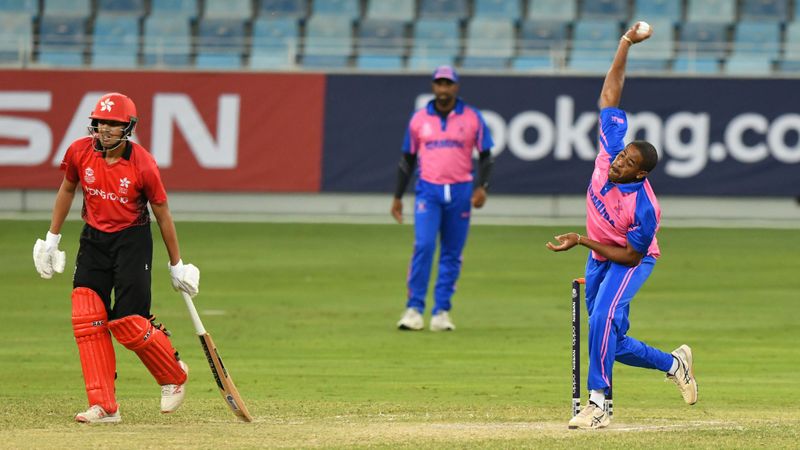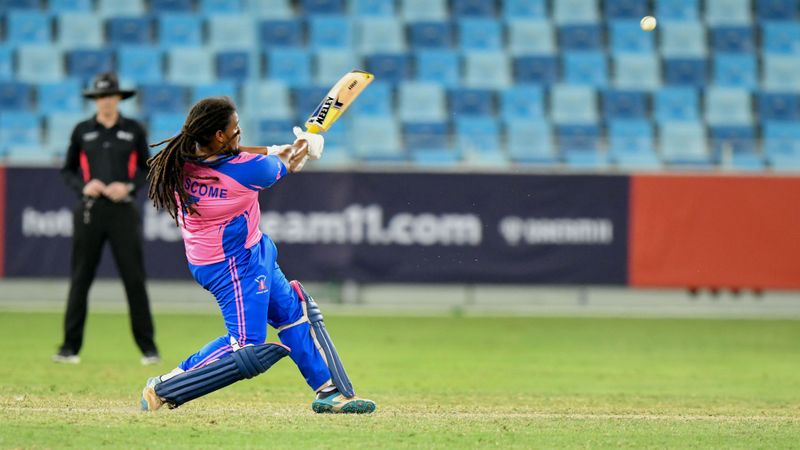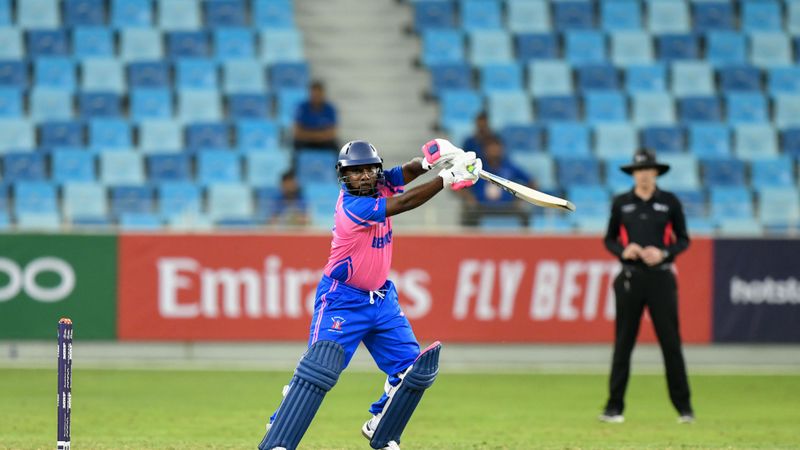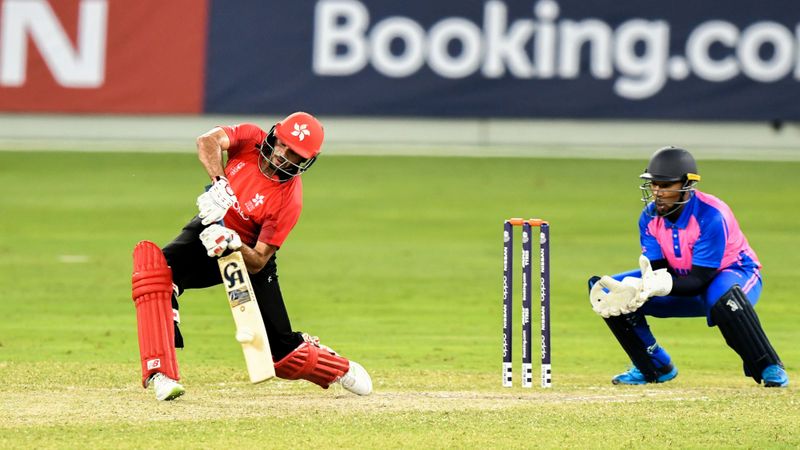 Read More About