Bermuda began their ICC Twenty20 World Cup Qualifiers with a 10 wicket defeat at the hands of Papua New Guinea in Dubai.
Delray Rawlins was the Bermuda top scorer with 25 as they were bowled all out for 89, Rodney Trott added 19 and Allan Douglas scored 12 as the only batsmen in double figures. Norman Vanua was the pick of the Papua New Guinea bowlers with figures of 2.2-0-14-3, with his three wickets coming on successive deliveries.
In reply Papua New Guinea scored 90/0 Assad Vala scored 53 not out, while Tony Ura added 33 not out.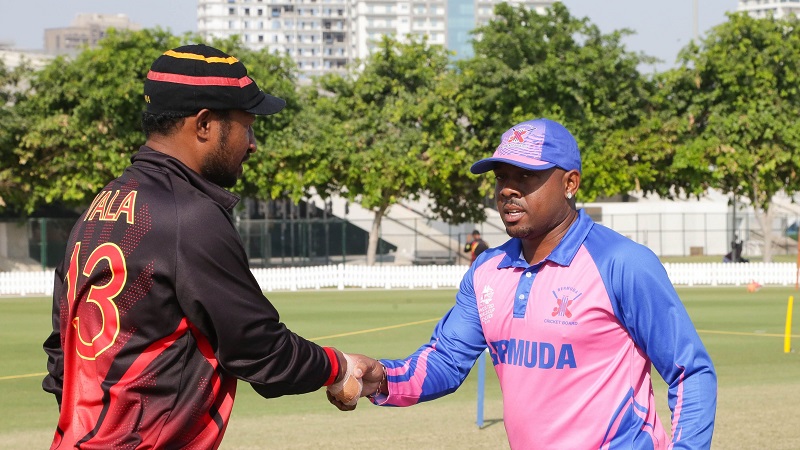 Bermuda's Inning
..06 [05] Okera Bascome c Tony Ura b Nosaina Pokana
..01 [05] Dion Stovell b Norman Vanua
..04 [05] Janeiro Tucker LBW Jason Kila
..25 [17] Delray Rawlins b Assad Vala
..00 [01] Kamau Leverock c Kiplin Doriga b Norman Vanua
..00 [01] Deunte Darrell LBW Norman Vanua
..11 [17] Malachi Jones b Charles Amini
..19 [27] Rodney Trott Run Out
..12 [11] Allan Douglas c Tony Ura b Damien Ravu
..09 [15] Onias Bascome c Riley Hekure b Nosaina Pokana
..00 [00] Derrick Brangman Not Out
..02 Extras [2w]
..89 Total All Out after 17.2 overs
Fall of Wickets: 1-6 [Okera Bascome], 2-11 [Tucker], 3-11 [Stovell], 4-11 [Leverock], 5-11 [Darrell], 6-43 [Rawlins], 7-58 [Jones], 8-72 [Douglas], 9-87 [Onais Bascome], 10-89 [Trott]
Papua New Guinea Bowlers
3.0-0-18-2 Nosaina Pokana
1.0-0-05-1 Jason Kila
2.2-1-14-3 Norman Vanua
1.0-0-03-0 Sese Bau
2.0-0-10-1 Assad Vala
1.0-0-11-0 Lega Siaka
4.0-0-13-1 Charles Amini
2.0-0-10-1 Damien Ravu
1.0-0-05-0 Riley Hekure
Papua New Guinea Inning
..33 [27] Tony Ura Not Out
..53 [35] Assad Vala Not Out
..04 Extras [3w-1lb]
..90 Total for 0 Wickets after 10.2 overs
Fall of Wickets:
Bermuda Bowlers
1.0-0-09-0 Malachi Jones
2.0-0-21-0 Derrick Brangman
1.0-0-08-0 Rodney Trott
2.0-0-12-0 Kamau Leverock
2.0-0-19-0 Delray Rawlins
1.2-0-08-0 Dion Stovell
1.0-0-12-0 Janeiro Tucker

Read More About