[Written by Don Burgess]
Bermuda has had success against Mexico at home in football.
The Gombey Warriors take on El Tri Friday night at 10 pm at the National Sports Centre.
The two nations have met six times previously with Bermuda winning two of the three at home while losing all three away games.
One of those wins came when Mexico was 11th in the ELO football rankings. To put this in perspective, Mexico is currently 12th in the FIFA rankings and 15th in ELO.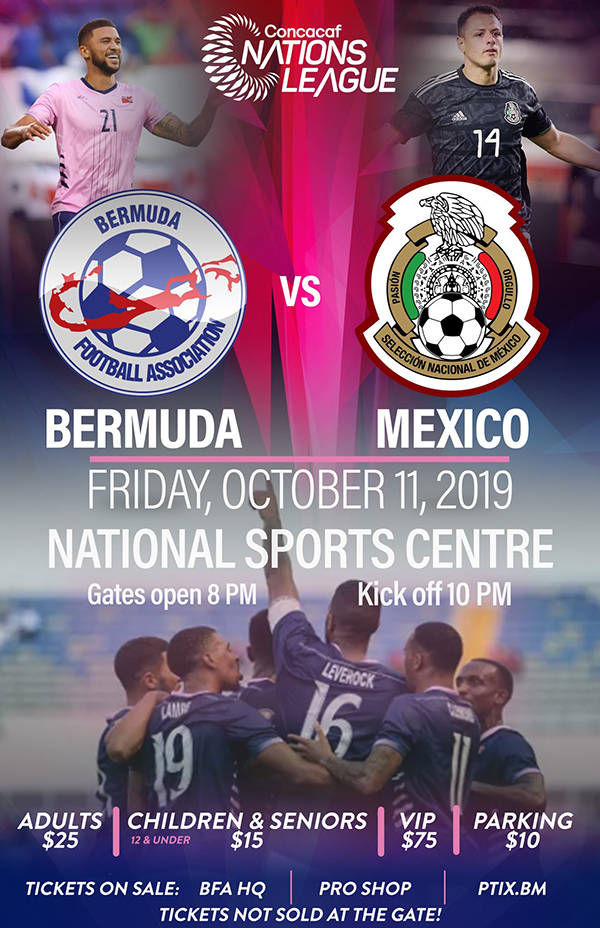 Every time the two sides have met, Mexico has been in the top 30 in the ELO football rankings, and is the only country Bermuda has faced that has been inside the top 30.
Bermuda's first match against Mexico occurred in 1969 when they were playing in the CONCACAF Championship qualifier. In the ELO rankings, Mexico was 20th and Bermuda 107th. El Tri shutout Bermuda 3-0 in the first of leg of a home and away match.
Two weeks later, at home, Bermuda pulled off its biggest upset at that point in its history by doubling up Mexico 2-1.
The two sides would next lock horns in 1971 in the same competition. El Tri blanked Bermuda 2-0 in Mexico and then also kept the Gombey Warriors off the scoresheet in a 4-0 triumph at the National Stadium.
Bermuda and Mexico wouldn't face each other again until 1987 in a home and away Olympic Games qualifiers. Bermuda pulled off a shock 2-1 win at home. According to the ELO rankings, that win eclipsed the previous Mexico triumph as Bermuda's greatest ever.
Unfortunately, the return leg wasn't as kind as the Gombey Warriors suffered their worst international loss ever in being shutout 6-0.
The two victories against Mexico remain as some of the best results Bermuda has achieved internationally, and, until the Gombey Warriors results over the past two years in the Gold Cup and Nations League, were in the top three. Bermuda's last match, a 2-0 away win against Panama, is currently the greatest victory in Bermuda's football history according to ELO rankings.

Read More About