A few years ago she was named one of the island's Outstanding Teens and since then Katie Ewles has grown into an outstanding young adult, one who recently opened her first solo exhibit at the Bermuda Society of Arts [BSoA].
Titled "Refractions of Mankind", Ms Ewles' show explores the human experience through paper collage and features more than 30 pieces touching on themes of identity, nature, time, community and existentialism.
Artist Katie Ewles with one of the collage pieces currently on display in her Refractions of Mankind show at the Bermuda Society of Arts gallery in City Hall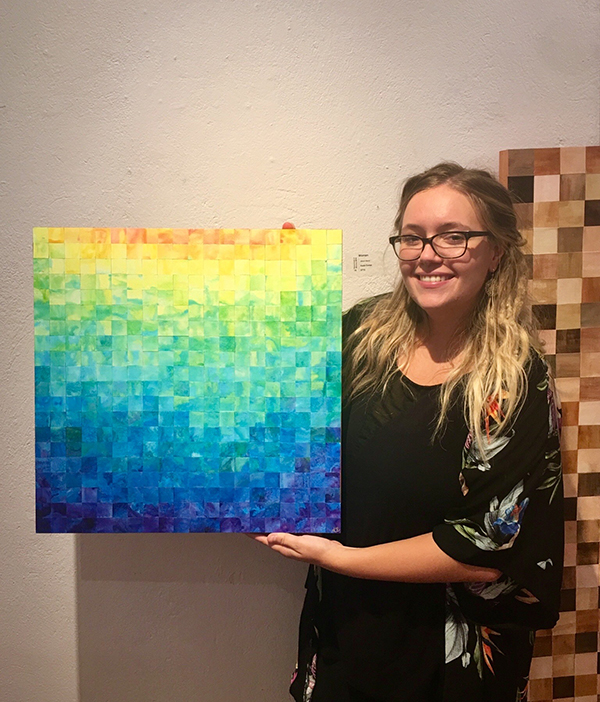 "Creating these works is a bit like trying to build a puzzle that you've never seen before," she says of the labour-intensive pieces, some of them featuring more than 5,000 individually-created collage pieces. "It's really a metaphor for our life experience: taking one day at a time and finding meaning in small things within the greater whole".
"For me, I think of these works as existing somewhere between a painting and a sculpture. The paper pieces are painted, but ultimately, it's the coming together of lots of different pieces that creates the work".
The artworks are accompanied by poetry, a combination Ms Ewles hopes will guide viewers to deeper contemplation.
Bermuda's Katie Ewles is making a name for herself in both the performing and visual arts arenas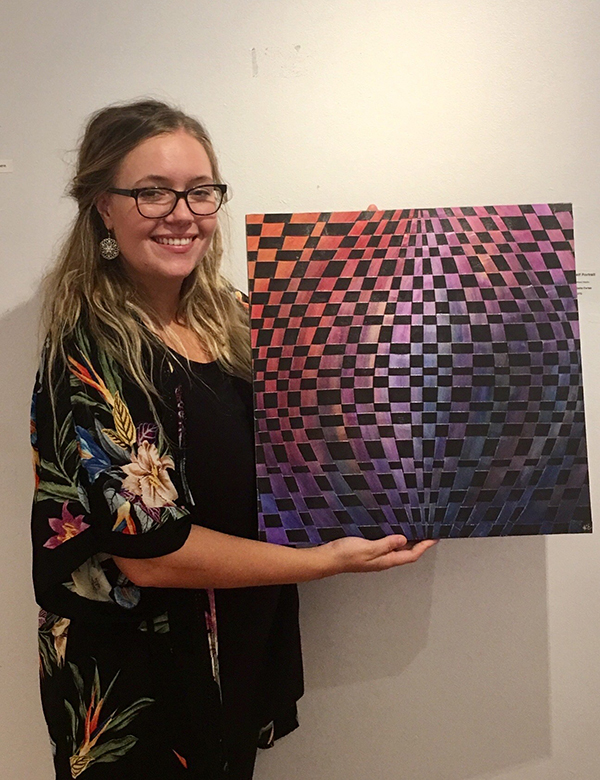 "I want people to see themselves in my work," she says. "Ultimately, we are the product of our own experience, but we also project ourselves onto everything around us.
"What does this mean for our understanding of ourselves? It's for the viewer to decide."
Although the current BSoA show in her first one-woman exhibit, Ms Ewles is no newcomer to the Bermuda arts scene.
Her work has been featured in the Masterworks Museum of Bermuda Art Charman Prize Exhibitions in 2015 and 2017, among other group shows.
And in 2018 she installed public artwork for the Corporation of Hamilton inspired by Bermuda kites, seeking to emphasise the value and necessity of diversity in the community.
2018 public artwork installation by Katie Ewles for the Corporation of Hamilton inspired by Bermuda kites and intended to underscore the beauty found in diversity
In addition her work in the visual arts, Ms Ewles is also a gifted singer and musician. A 2017 graduate of the Peabody Conservatory at Johns Hopkins University, she performs regularly at local restaurants and hotels.
"My musical and visual arts experience inform each other," she says. "Being able to explore ideas in different artforms helps me to better understand my ideas and learn how to more effectively communicate them with others".
"Refractions of Mankind" will be on show through Tuesday, October 29 at the BSoA gallery at City Hall, Hamilton, alongside the "Mindframe Photovoice" exhibition.

Read More About
Category: All, Entertainment, News