Earlier today [Nov 4] Premier David Burt and Azorean President Vasco Cordeiro conducted a ceremonial tree planting in the Botanical Gardens as part of the celebrations of the 170th anniversary of the arrival of the first Portuguese immigrants to Bermuda.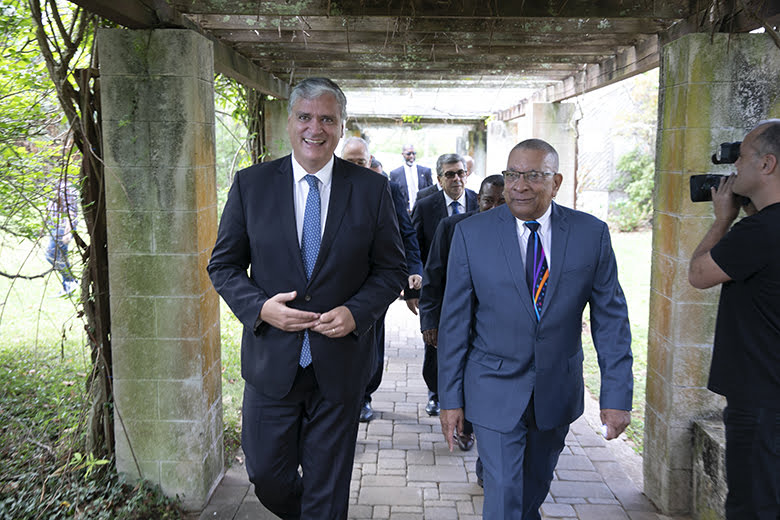 In attendance for the occasion were the visiting Azorean delegation, Public Works Minister Lt/Col David Burch and invited members of the public.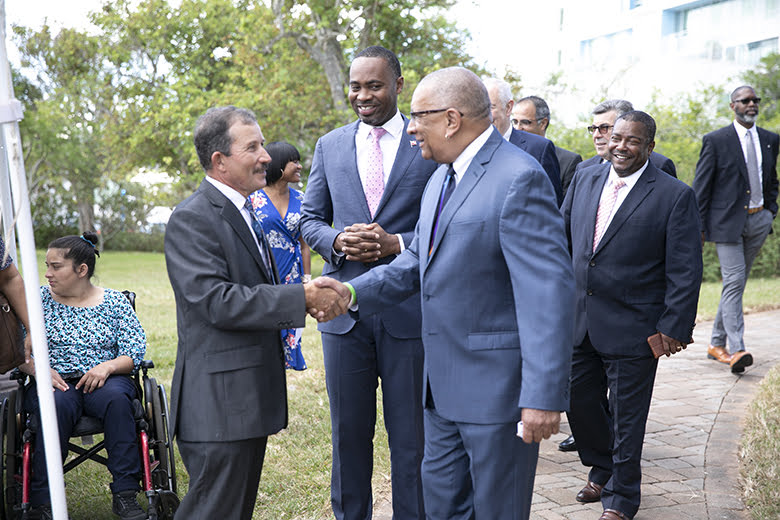 In highlighting the occasion, Premier Burt said, "These 36 acres that form Bermuda's Botanical Gardens are the ideal setting to provide a permanent marker of the contribution of men and women of Portuguese descent to Bermuda's agricultural heritage.
"Bermudians and Portuguese have farmed this land together and long before tourism and international business, our economy was driven by what we grew and exported. Farming and landscaping is hard work but it is fulfilling because the literal fruits of your labour become the reward.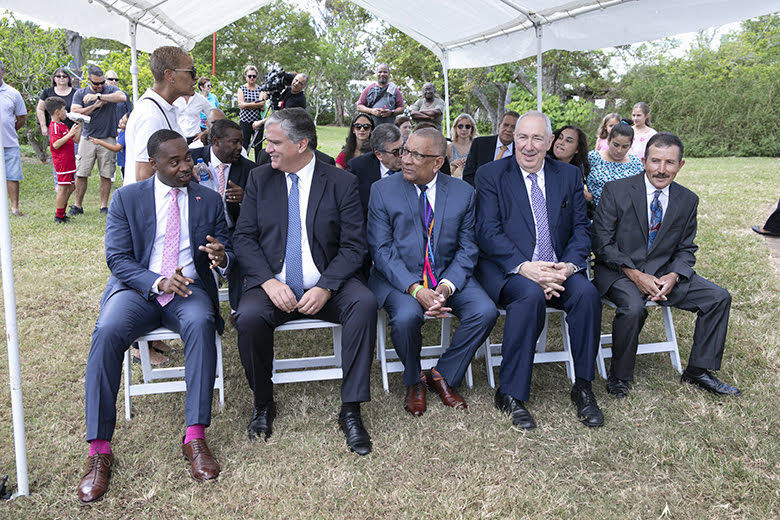 "Bermudians of Portuguese heritage have made considerable contributions to the Island. Every aspect of Bermudian life – from politics and public service, to sport, entertainment and industry has been influenced by their participation in our community. From the original families and those subsequent immigrants, Portuguese culture has become a part of Bermuda's cultural fabric.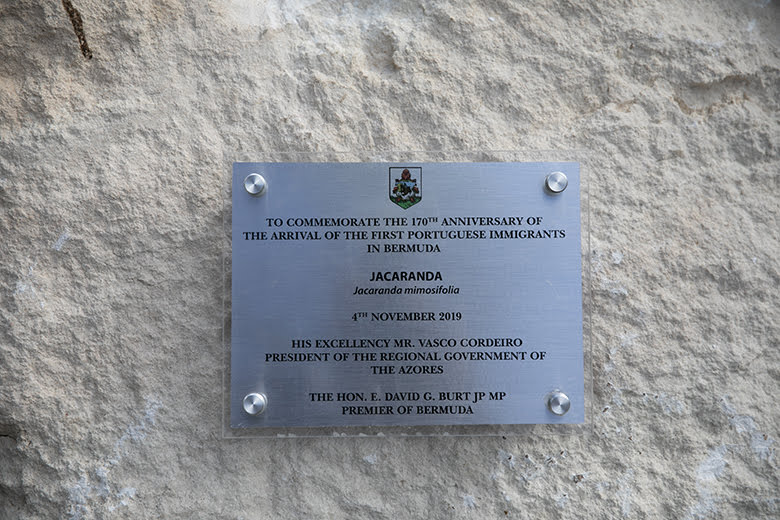 "This spot has been transformed and beautified by a team from the Department of Parks and I wish to recognize their skill and hard work. They are Ms. Jameka Smith, Kelly Sousa, Roger Goodchild, Granville Outerbridge, Jermaine Wilson, Zakari Nesbitt, Kassa Richardson, and Shaun Lambert."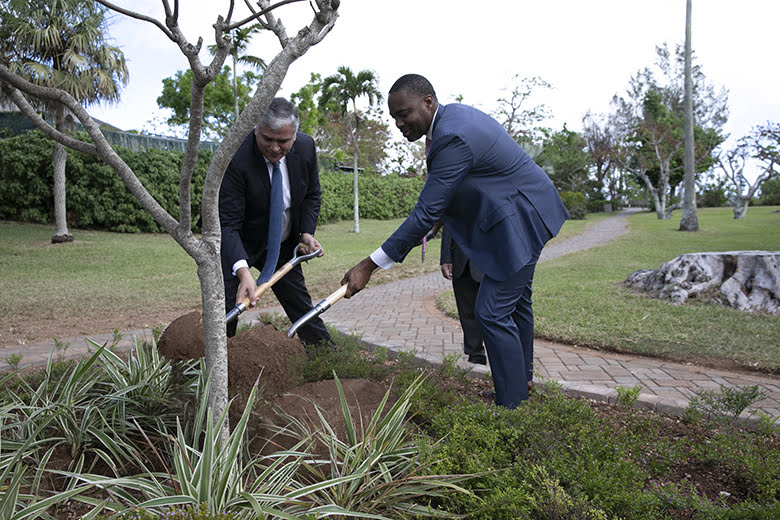 The Premier continued, "I am also very pleased to have Mr. Joao Soares here today. Joao is a native of the Azores and has been employed with the Bermuda Government since June 1987. He is the one man, dynamic team responsible for the grounds of the Cabinet Office and the House of Assembly. This is an opportunity to salute him for his quiet but instantly recognizable service that regularly beautifies those grounds.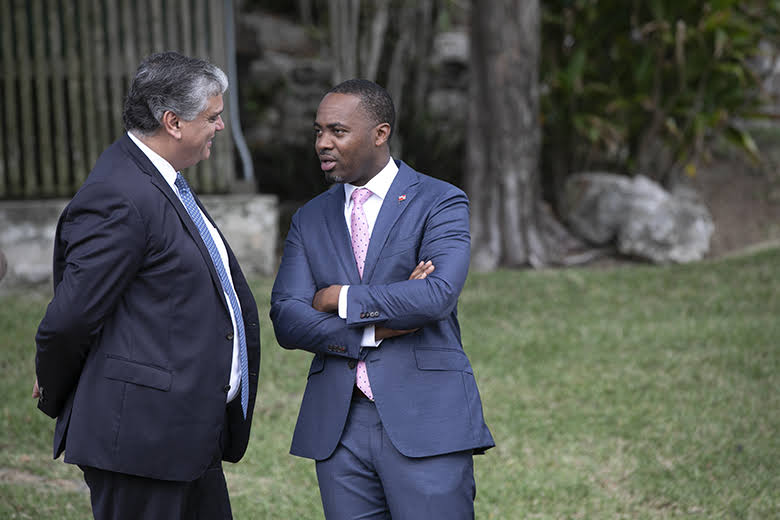 "Mr. President, today we will unveil a marker of Bermuda limestone. This symbolizes the strength of the Bermudian people and the solid foundation they represent in this country.
"We will also plant a Jacaranda tree which I am told can be found throughout the Azores. Jacaranda represents wisdom, rebirth, wealth and good luck; and legend says if the flower falls on your head, it means good fortune for you. As this tree grows and shades the stone, may its flowers fall and bring good fortune to all of us who call Bermuda home. Thank you."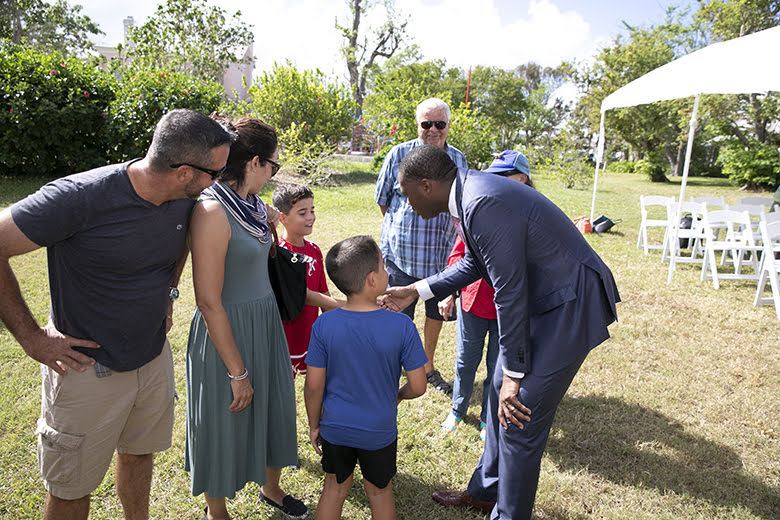 A Government spokesperson noted, "The public will be aware that President Cordeiro and a delegation from the Azores are visiting the Island through November 5, to celebrate the 170th Anniversary of the Arrival of Portuguese Immigrants to Bermuda.
"Today is a public holiday in observance of the occasion. Over the weekend a number of events have been held. Tomorrow the President and the Azorean delegation depart Bermuda. One of the last stops will be a visit to Portuguese Rock at Spittal Pond."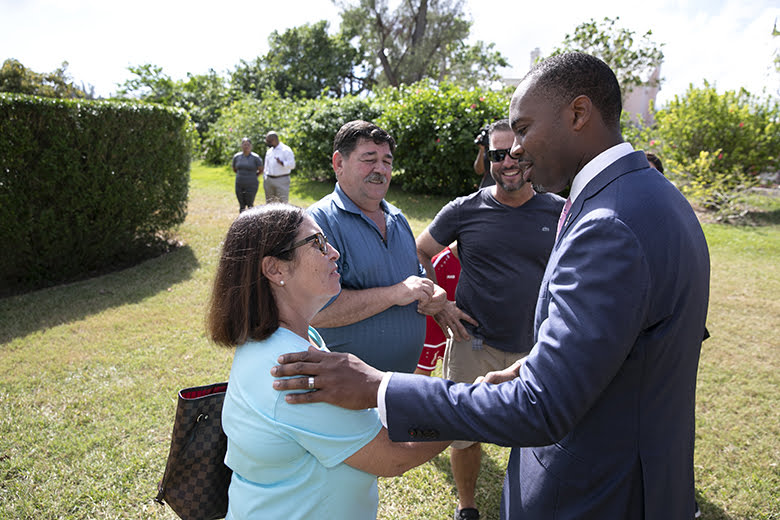 Read More About
Category: All, Environment, News