The Bermuda Boxing Federation announced the team of local fighters for the upcoming 'Return Fight Night' to take place at the Fairmont Southampton Hotel on November 23rd.
A spokesperson said, "The Bermuda Boxing Federation is pleased to announce its team of local fighters for the upcoming Return Fight Night to take place at the Fairmont Southampton Hotel on November 23rd. Featured fighters on the undercard of the Costa vs Martinez title fight will be Andre Lambe, Adrian Roach, Jaylon Roberts and LoVintz Tota, each facing opponents from the Don Kinguell Academy out of Porto, Portugal.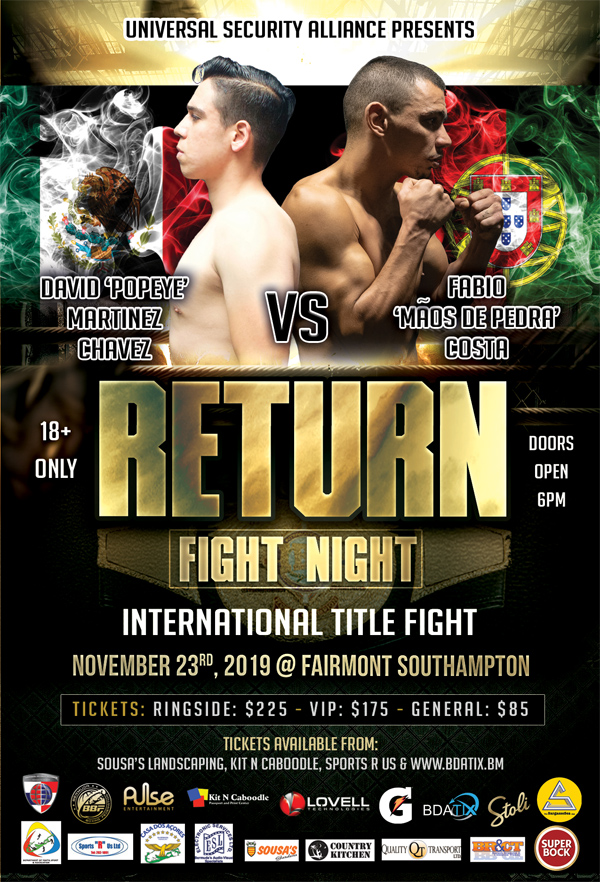 "Undisputed top amateur boxer Andre Lambe of 40 Rego's Gym and current Bermuda National Team athlete will be the co-main event versus Bruno Couto.
Bermuda Boxing Federation President, Nathan Dill comments that, "A defeat on November 23rd would be detrimental for Andre's forward momentum and pro boxing aspirations. It may mean his team delaying the transition in order to further develop his craft on the amateur circuit which would translate into time and opportunity lost."
The BBA added, "Andre has been however putting in a lot of work with his team, which includes former professional boxer Troy Darrell, his head trainer Varo Pelon Andrade and Jermal "Goofy" Woolridge, who is also the National team technical coach.
"Featured fighter, Jaylon Roberts of 40 Rego's gym will face his second Portuguese opponent by way of Ricardo Teixeira. Jaylon won at his 2017 outing against Nuno Dos Santos from Portugal and of course Don Kinguell Academy assuredly will be looking also to avenge that loss.
Mr Dill is confident in Mr Roberts securing the win, stating, "Jaylon is an often underrated fighter because he is such a humble, quiet guy on the outside but he transforms into a beast in the ring. He continues to train hard, has good power and I have especially enjoyed watching his progress over the years. He does continue to grow immensely each fight."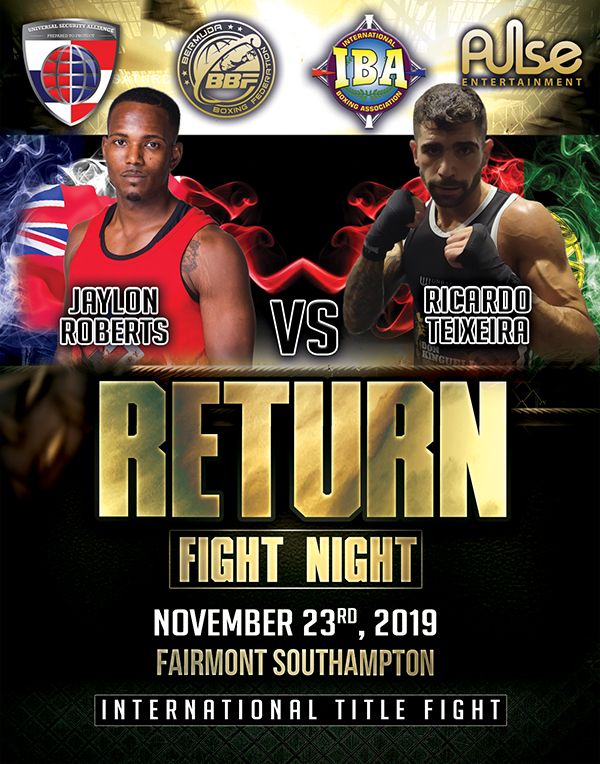 "At only 17-years-old, Adrian Roach will be the youngest Bermuda boxer in the line-up to face an overseas opponent. Dill continues, "Bermuda should be incredibly proud of this young man. Adrian will be one to watch as he is young and hungry right now," the BBA said,
"Adrian's development over the last two years has been astounding and is a great credit to Coach Leo Richardson and the team at Controversy Boxing Gym. Adrian has been steadily in the gym yet will be the underdog in his upcoming bout with Celestino Lima who is representing Portugal by way of Angola.
"Lima has been both a regional and national junior champion, so this fight will be both a test for Adrian and his coaching team who did not hesitate when given the opportunity to pit him against a more seasoned fighter.
"Finally, making his boxing debut in Bermuda is LoVintz Tota representing Just Box Ltd. A recently established boxing and fitness gym under trainer Janos Lindsay."
Mr Dill comments, "Lovintz has been on the peripheral for a while now and came into boxing already as an established track athlete, therefore he has a high standard set for himself. He is a natural fighter and gifted athlete. Hard work is just a way of life for LoVintz.
"It is unfortunate that for the entire 2018 season, LoVintz was relegated on the sidelines due to his opponents each time falling through. I am happy that despite those setbacks, he has not lost his fighting spirit.
"LoVintz is coming off of two recent wins overseas and his drive to compete makes him "well deserving" of a place rounding off the team representing Bermuda in this contest against Portugal's Hugo Relvas.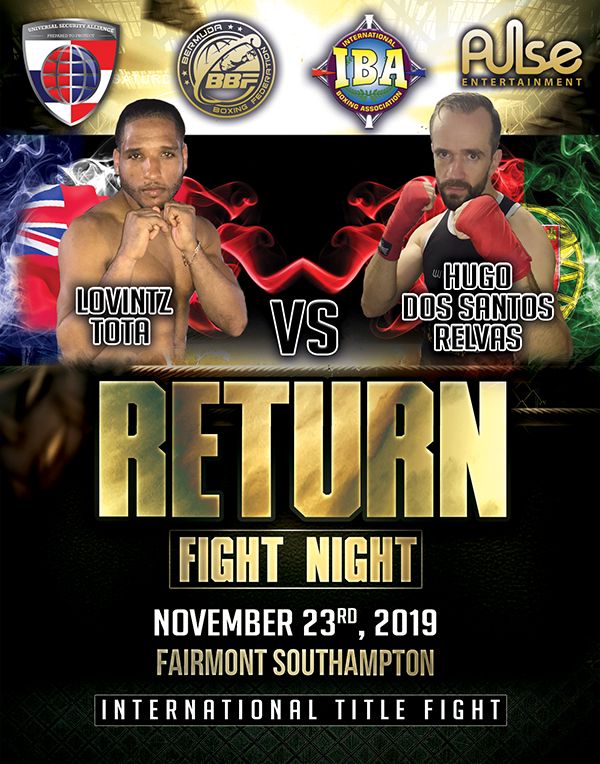 "Also on the card are:
"Kickboxers: Che Durham [Bermuda Sanshou Association] vs Mike Walsh [Bermuda Killer Bees]
"Junior Matches: Otero Smith [Controversy Gym] vs Elmico Hayward-DeShields [Controversy Gym], Szaine Williams [Bermuda Sanshou Association] vs Khalil Smythe [Controversy Gym] and Joseph Ferreira [Controversy Gym] will do a number of skills matches and sparing under the guidance of his coaches.
"Adult Men: Kaelin Cox [Bermuda Sanshou Association] vs Kallan Simons [Bermuda Killer Bees], Jordan DeShields [Bermuda Sanshou Association] vs George Cook [Controversy Gym] and Dunanjai Lambe [Aries Sports Center] vs Dejon Benjamin [Police Gym]
Melissa Looby, who operates in dual roles as co-promoter through Pulse Entertainment and Bermuda Boxing Federation program manager urges the island to support, saying: "We hope that the entire island comes out to see these athletes.
"The phenomenal work that they put into their craft, often without acknowledgement is astounding. We are working hard to make this as always a first class sporting and social event which rounds off the 2019 fight calendar."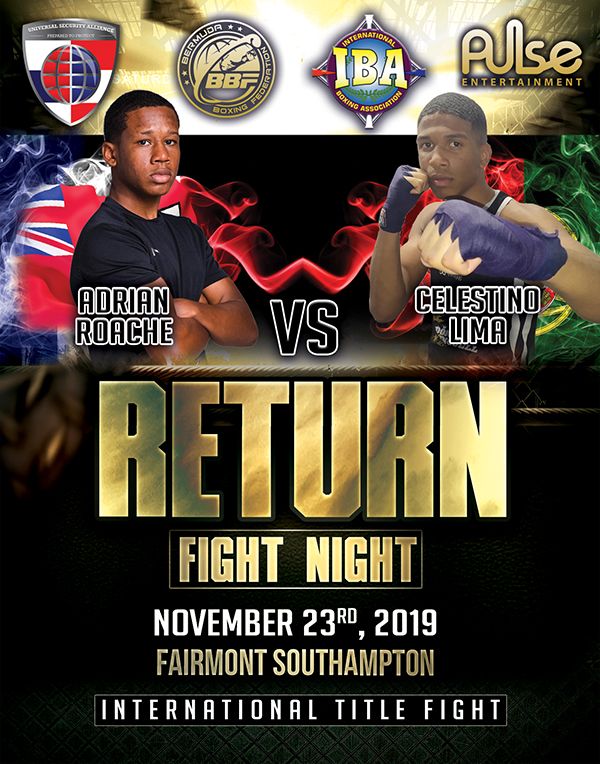 Ms Looby continues, "The support we have received and the interest from the Portuguese community has been fantastic and we specifically thank Christine Francisco and MP Jeff Sousa who have joined our committee to make this event possible.
"We also would like to thank our lead sponsor Universal Security Alliance for their support. An event of this scale could not occur without a number of hands so we also thank graciously thank Bermuda Residential & Commercial Trucking, Gatorade, Lovell Technologies and Electronic Services Ltd. for their sponsorship.
"A special thanks goes to the 2019 sponsors of our Youth Boxing Academy program, The Bermuda Government Ministry of Youth and Sport, Country Kitchen and Quality Transport who have assured our young athletes are afforded opportunities for further growth. Many of these young athletes will be competing in our "Return Family Fight Festival" on November 23rd from 1pm-3pm also at the Fairmont Southampton.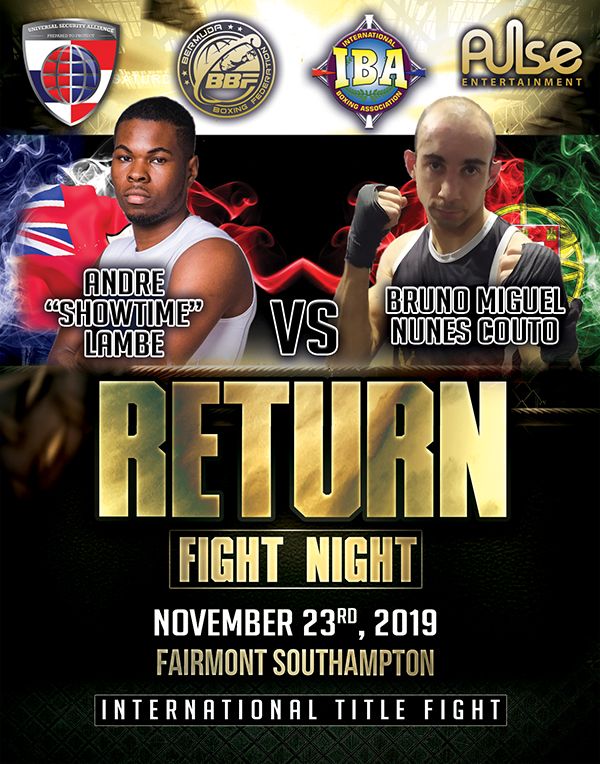 "The main event will be from 6PM – 9PM and the Return Team invites people to make a weekend of the event with the $99 room rate that the Fairmont Southampton is offering for event patrons with proof of ticket purchase.
"Ringside and VIP ticket holders will have a number of events to attend including athlete meet and greets, Friday Night pre-party and Saturday Night afterparty and will receive select complimentary beverages at each of these events.
"Tickets are on sale now from Sports R Us, Cafe Açoreano, Kit N Caboodle, Sousa's Landscaping Southampton or online at www.bdatix.bm. For more information, visit www.bermudaboxing.com or follow the Bermuda Boxing Federation on Facebook and Instagram [boxingbda]."

Read More About