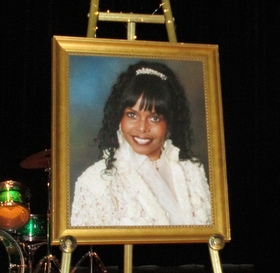 [Written by Dale Butler]
A celebration of the life of Bermudian opera singer, teacher, and mentor Marcelle Clamens, a University of Cincinnati Conservatory graduate, was held at the Berkeley Institute on Saturday, December 14 for a host of relatives, students, friends, and former classmates.
Organized by her husband Michael and daughter Michaela Antoinette, with Berkeley music teacher the legendary Johnny Woolridge as producer, the audience was able to see the foundation that she had laid in the musical development of numerous singers.
The beautiful floral tribute and memory table at the entrance summed up her outstanding talents, which she used to quietly develop Bermudian singers. I say quietly because although she was a former Berkeley classmate of mine, and although I have tried to attend and research information on every local musical artist, I never heard her perform.
Bermuda has only produced a few international opera stars and opera itself has never been embedded in our music curriculum or taken up by many who are capable but unable to pursue it knowing that the Bermudian audience who appreciate it is limited.
Be that as it may, in 1989, New York Times music critic Donal Henahan identified and listed Bermudian mezzo-soprano Joy Blackette, along with African American singers Leontyne Price, Paul Robeson, Kathleen Battle, Dorothy Maynor, and Roland Hayes "among the flood of splendid black singers who have contributed to the world of concert and opera as spiritual descendants of the legendary Marian Anderson."
If he had heard Marcelle Clamens, her name would have also been listed.
Having grown up loving their music, although opera is in my music DNA, I, along with many others, had missed many outstanding performances she gave, and eight "Talent Explosion" shows from 2003. The video presentation of her work clearly illustrated that she had been able to accomplish her goal.
Nine of Marcelle's students performed a variety of songs with great confidence. They all highlighted the positive influence she had on their musical development. With great fondness, her mother Mrs. Daisy Powell, a legendary teacher, was recalled. Powell's Nursery had a reputation for very high standards and discipline and Marcelle obviously used them in her teaching.
Deon Rawlins performed the 1971 number one Billboard Hot 100 song "Let's Stay together" by Al Green with Johnny Woolridge on acoustic guitar and was followed by Charo Hollis, who was described by MC Wendell Dill as a singer who gave him goosebumps. Charo was forced to use her iPhone to get the musical background and wasted no time in giving us the treatment. She described Marcelle as her "mentor and true friend."
Additional performers included:
Desta Zion: just back from the UK where he has been doing very well. His version of "Unforgettable" by Nat King Cole [1952] was unique and allowed him to show off the range of his voice and his guitar skills.
Latosha Coddington: a hidden Bermudian gem who has a very commanding voice. She sang another Billboard number one song, "I Look to You" by Whitney Houston.
Emma Mayor: her piano substitute for Chris Chopper was Margaret Fox and together they silenced the whole room as everyone listened attentively and enjoyed the deep passion she felt for a rarely heard song in Bermuda. She not only sang well, but Marcelle would have been very proud of her elegance and presence on stage. Emma moved away from the popular genre when she sang "No One Else" from the "The Greatest Comet 1812" by Dave Malloy based on the book "War and Peace" by Leo Tolstoy [Broadway Nov. 2016 - Sept. 2017 - winning two awards].
Brittany Cox sang "Ain't No Mountain High Enough" and "Tough Love". A young voice with good stage presence, she is capable of going far.
Korrin Lightbourne was perhaps the surprise singer of the night when he sang the Leon Russell [1970] song popularised by the late Donny Hathway [1945- 1979], "A Song For You." He had great stage presence and sang it with all of his heart and needs to continue. The audience loved it and it was most appropriate to sum up his teacher Marcelle, who encouraged him with "free lessons because she loved him." No doubt she "taught him precious secrets."
Joy Barnum taught with Marcelle at the Bermuda School of Music. She was stunningly dressed and was a knock out with "This is Me" from "The Greatest Showman" [2017], originally sung by Keala Settle. What a delight and yet another highlight for the night that clearly indicated that Marcelle was in fact a great teacher who had students at various stages of development.
Blac and Brixx [Brittany Cox] closed the evening with "Be Thankful" and "Never Would Have Made It". Lively and done to a reggae beat, they added additional variety and life to this memorial.
It was left to her daughter Michaela Antoinette to reflect on her mother, who "would have been moved to tears by the night's concert". The family should be congratulated for putting on this memorial tribute to demonstrate the excellent teaching skills Marcelle had and to highlight so many talented singers in our midst.
- Dale Butler is the author of "Music on the Rock" and many other books.
Read More About