[Written by Dale Butler]
On Sunday, March 31 at 11.00am, I joined the artists who had painted a mural featuring butterflies as a celebration of poet, photographer and rap artist Ras Mykkal, who has several CDs of his own. At the conclusion of the blessing at 1.00pm, I did not think I had any energy to go anywhere, but after a short rest, my hunger for good food and music took me out of the city to the famous Henry VIII, known for its restaurant with a sushi bar and pub located in Southampton above Sinky Bay.
I smiled the whole drive because I had a photo of the late lawyer Charles Vaucrosson on my mind. He played the overweight Tudor King, in Royal Regalia holding a huge leg of lamb in one hand and a wench in the other. That was some 40 years ago when it opened, but the memory was as fresh as yesterday.
Henry VII has numerous specials regarding food and an entertainment roster you need to ask about before you arrive. Still very spacious and still the Bermudian haunt for birthdays, anniversaries and special events, management have made a conscious effort to find excellent local entertainment to complete your night out, with Hindsight on Fridays from 8.30 -11.30 p.m; Saturdays DJ Kavon from 9.30-1 p.m. and on Sundays Max Maybury [saxophones and flute] and Eugene "Stacker" Joell [guitar].
If restaurant manager Saliya Alahakoon hears your name, just once, he will remember it forever and you bet your dollar he will keep an eye on all service to ensure you have a great evening. As a hungry patron, recalling my British education, I went with the fish and chips with mushy peas and french fries. A great choice; and yes I put vinegar on the chips.
Eugene "Stacker" Joell and Max Maybury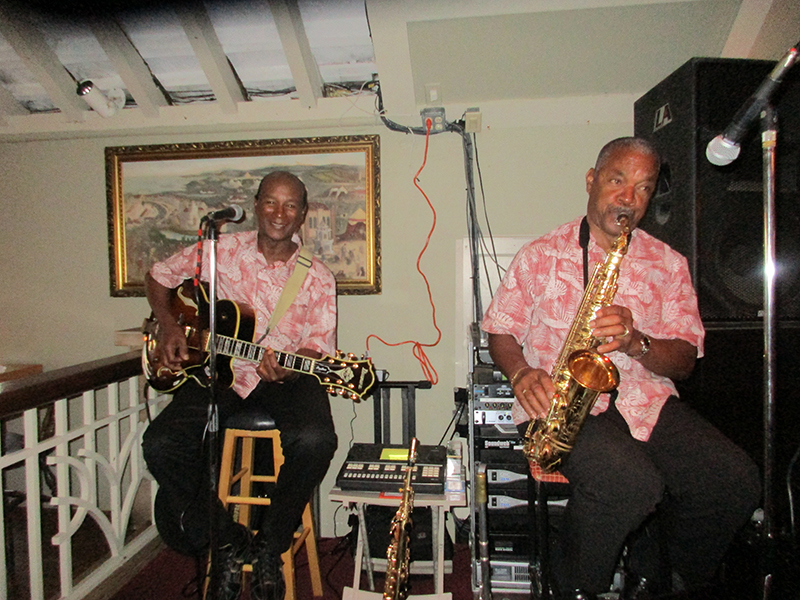 The restaurant was very busy but not noisy. There is more than enough space to dance and I especially like the fact that Max and Eugene, the featured artists, are elevated, well lit and have the right sound for patrons to talk and also listen. One can really appreciate the duo as they both were a part of the Giant Steps Band that performed in the Havana International Jazz Festival in 2013 with Max as its leader.
Max is best known for playing the full range of saxophones from soprano to baritone and he is also a flutist and to complete his repertoire he sings. You will enjoy him on "The Look of Love" a 1967 song composed by Burt Bacharach and Hal David. The first time I heard it was in the 1967 James Bond film Casino Royale. Max also played his flute to this still loved song which the couples dining there found delightful.
The duo rarely takes a breath to think about their next song as they did a fantastic job on "Moon Dance," All of Me" by John Legend, when Eugene led with a raw funky sound while Max played very sweetly on flute. If you like "The A Train," or "Fly Me to the Moon" you would have been tapping away and ready to get on the dance floor. Eugene and Max enjoy performing and never miss a beat. They introduce the songs and then the journey begins.
Max and Eugene know my favourites very well. Having just started "Thelonius Monk" by Professor Robin D.G. Kelley – an excellent biography – they made my night complete when they played "Roun' Midnight." I think Thelonius, a pianist whose music was introduced to me at age 10 by my Uncle Winston, would have been proud to hear the combination of guitar and saxophone bring his song to life from the day he wrote it in 1944. Eugene's solo was exquisite and so subtle that it makes you want to listen and stop talking. The place went quiet. It was sweet and meaningful.
The duo have been at Henry's for seven years and as legendary musicians in their own right, they had such an extensive selection of songs that they left nothing out. I love "Havana Havana," "Take 5," "Georgia on My Mind," "On Green Dolphin Street" [I was in heaven] and "The Masquerade" by George Benson was a climax that gained yet another loud applause. Not only did the duo wow adults but a two-year-old became their biggest fan as he stood in absolute fascination. If his laughter and undivided attention was a gauge, he loved them.
Henry VIII has a number of TV screens just in case you want to keep up with sports and the news. Young Bermudian bartender Ceannda Barrington made me a delicious fruit punch and was kept busy all night. The international staff are very friendly and the restaurant itself is very spacious. With a varied menu from rockfish and butter chicken curry they have not ignored popular dishes like rack of lamb or their famous signature dishes.
In the sushi area they have been very creative with names and taste like the Bermuda Moongate Original, and with 14 appetizers, 13 entrees, 11 bottled beers, eight draughts including Honey Ale BDA and Weatherbird – named after a 1960s popular street character – Henry VIII himself would feel right at home with the local and tourists alike.
Max is a song book with over 60 years of experience and his partner Eugene having started music at age 14 make this duo one worth finding on a Sunday night from 6.30 – 9.30 p.m. As I left, Eugene took the solo on the song "96 Degrees in the Shade" by Third World. As Bermudian radio icon the late Lee Harvey used to say, "I'll be back."

Read More About
Category: All, Entertainment, Music, News