[Written by Dale Butler]
Docksiders Pub and Restaurant have gained a solid reputation over the years for friendly service, great food with good prices, and live broadcasting of sports events that draw large crowds adorned in their team colours and dress.
With Covid regulations relaxed because of the vast improvements made, their famous Wednesday Night Jam Session has returned with excitement and a great rock band and singer Mike Hind, who has decided to sing and not play his famous and cherished ukulele.
Mike has decided to perform all over the island six days a week and that is great for local music and our tourists' product. Started in January 2019, the band has a large following of enthusiastic fans.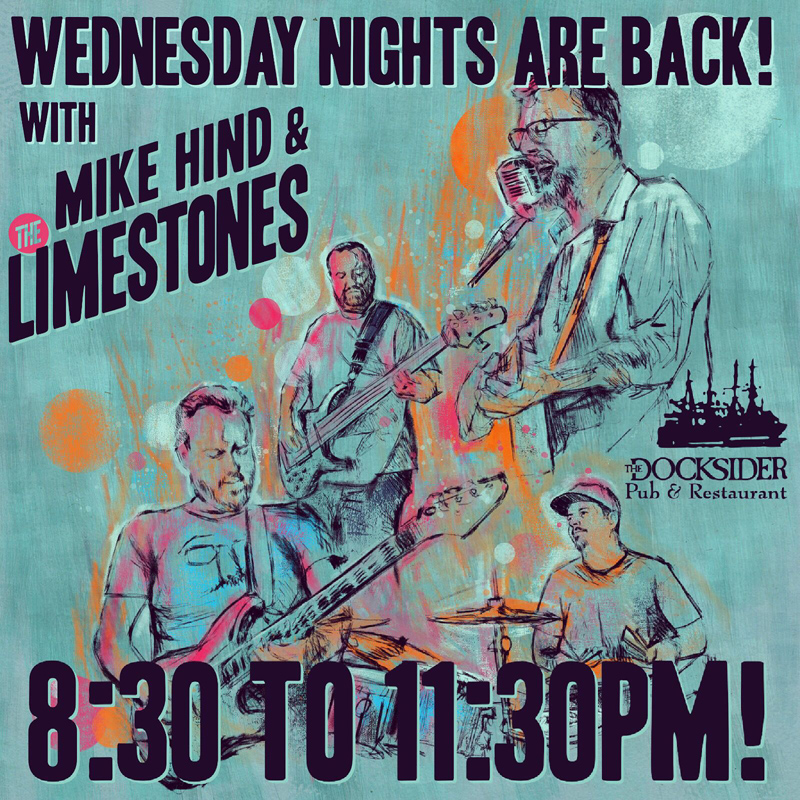 The Limestones consists of guitarist Ben Payne, who is the music director, Spencer Wood on drums, Dave Pitman on bass, and Mike, lead vocalist. I got the feeling that they all have hidden skills which they hold back for conservative Bermuda. On a number of occasions where they could have gone over the limits to Woodstock, they held back on all instruments and song.
They work well as a unit and really seem to be enjoying themselves. From the minute they start at 8.30pm until they complete two sets at around 11.30pm, they are on fire and easily demonstrate their wide repertoire when guests suddenly appear to perform. Peter Goodall, a portfolio manager in Bermuda, stepped up and delighted the audience with 'Bad Things' by Jace Everett and 'Wild Flowers,' which was appreciated.
If he adds 'It's Been a Hard Day's Night' by The Beatles, he might end up going on tour. The next guest, Charlotte, sang 'Ironic,' written by Alanis Morissette and Glen Ballard, and produced by the latter for her third studio album, 'Jagged Little Pill' [1995].
She received nice applause and was followed by Sam Kelly, who sang a 1997 song recorded by American artist Meredith Brooks and co-written with Shelly Peiken. Without hesitation, the band kicked in once more and she was unstoppable.
The band has an extensive repertoire, and opening with 'Purple Rain' by Prince was the perfect start to let you know this was going to be a serious night of rock. Songs like 'Let It Be' with a reggae beat and a solo from Ben on guitar were a pleasant surprise that added to the atmosphere. The band should add more like this.
With the TV sets showing Colombia leading Brazil 1-0 in the Copa Americas' Cup football championship, energetic General Manager Dennis Carter busy checking on guests, plates of food coming out of the air, waiters busy, lots of pub banter, and the music never stopping after each round of applause, Docksiders has atmosphere and the live music we have been craving for.
I have no doubt that when they open the larger stage in the back, it will also be filled with audiences happy to experience excellent music. I commend Mike Hind and the Limestones and look forward to hearing them again.
- Dale Butler is the author of "Music on the Rock" and a professor of local music since 1976

Read More About
Category: All, Entertainment, Music, News