Teresa Perozzi and Agathe Holowatinc have released their company's Fuelled Bermuda 2020 Calendar, with part proceeds to go toward the building of the new Diabetes Centre.
A spokesperson said, "Teresa Perozzi, former WBA Middleweight world boxing champion, three-time fittest female Crossfit competitor in Bermuda, certified sports masseuse and passionate advocate of healthy living, and Agathe Holowatinc, MLIS, INHC, certified Integrative Nutrition Health Coach and author of health and lifestyle book Fuelled: Transform Your Body | Enhance Your Energy | Supercharge Your Life, today announce their company's partnership with The Bermuda Diabetes Association in support of the organisation's new Hilton Hill Diabetes Centre in Hamilton.
"As such, partial proceeds from sales of the company's FIT & Fuelled Bermuda 2020 12-Month Calendar, available at various locations across town, will go directly towards the building of the new Diabetes Centre.
"In case anyone is looking for the perfect stocking stuffer or little gift for the health nut in their lives, Fuelled Bermuda has created a FIT & Fuelled Bermuda 2020 Calendar that features a Bermudian or Bermuda resident who is really living the fuelled life every day. And they share their philosophy on how they stay FIT & Fuelled year-round."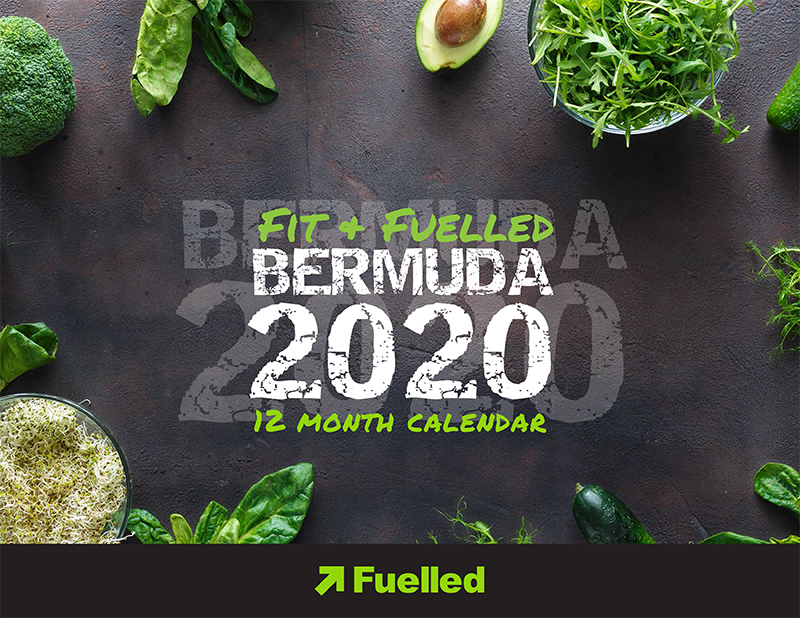 "This 2020 calendar is a health-forward project meant to inspire Bermuda to get FIT & Fuelled in the new year in a creative and one-of-a-kind way.
"Months ago, directors Agathe Holowatinc and Teresa Perozzi put their heads together and came up with a list of 12 [actually 13 because we feature a couple for February – Valentine's Day] people who would really bring it to this calendar project and they featured them in the calendar.
"These role models – from couples to kids to entrepreneurs and more, both men and women – show everyone that despite the negative news sometimes, there is someone who's done it or is doing it right now here where we live. They wanted to put the spotlight on them."
Ms. Perozzi said, "That's when we emotionally connect to our goals and stick with them – when we can visualize it as real for ourselves."
The spokesperson said, "Then they partnered with the Bermuda Diabetes Association in order to offer a portion of proceeds to them towards the building of their new Centre which will not only be larger, newer and house everything they offer under one roof – it will also feature a brand new kitchen for healthy cooking demonstrations.
"Holowatinc and Perozzi are excited for this new chapter for the Diabetes Association and really want to support.
"If you would like to help support the building of the new Centre while picking up a great little gift for the holidays for the health nut in your life, for family, friends and colleagues, for host/hostess gifts during New Year and Holiday parties, and for those people you love who are making a positive change in their health right now, please consider buying one of the FIT & Fuelled Bermuda 2020 Calendars.
"The price of the calendar is $20."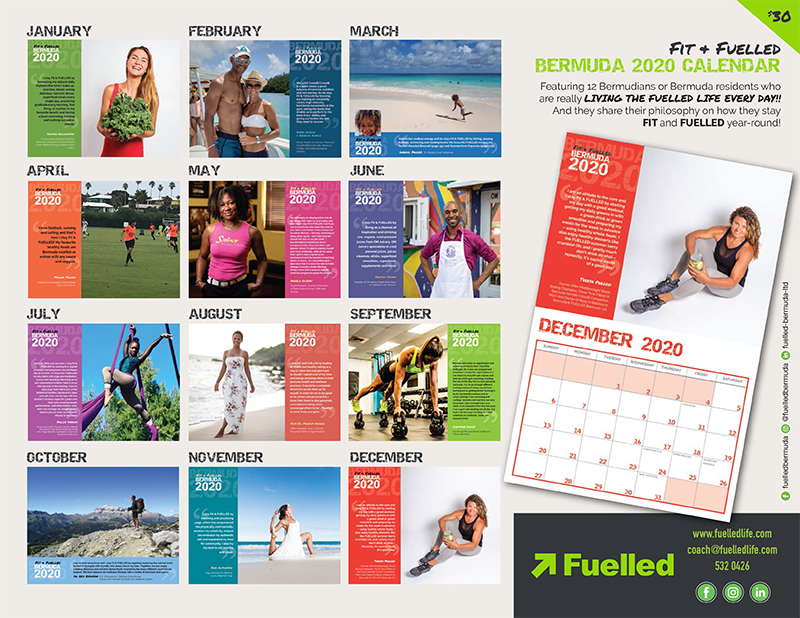 Agathe Holowatinc, Director of Fuelled, said, "I read a couple of months ago that The Bermuda Diabetes Association was working towards building a new Centre – so exciting – and that it will have a new education facility as well as a kitchen for cooking demonstrations. That is just the kind of thing that we get really excited about at Fuelled.
"We do cooking demos for small groups of people, including children, and companies right now and there really is so much value in showing people how simple and fun it can be to create healthy foods and to eat healthy. It is this new Centre that they are building that really lit the spark for me to reach out to them to collaborate on the 2020 FIT & Fuelled Bermuda calendar sales/proceeds – we want to support that."
Debbie Jones, Chair of The Bermuda Diabetes Association, said, "Bermuda Diabetes Association is honoured to have been chosen as the charity for the calendar. Even though being healthy is a basic human right people need support and encouragement. Thank you to Fuelled Bermuda for providing this support."
Fit & Fuelled Bermuda 2020 Calendar Sales Locations:
Beyond Fitness Bermuda
Inside Out Wellness
The Bermuda Diabetes Association [on the corner of Cedar Ave and Dundonald]
Rock On [the health food store on Front Street]
Winner Edge Bike Shop [on Front Street]
The Bermuda Bookstore
My Sereni-Tea
Red Laser
The spokesperson said, "The calendar price is $20 and partial proceeds go to the Bermuda Diabetes Association. FIT & Fuelled Bermuda 2020 12-Month Calendars available while supplies last. Limited quantity available – only 500 were printed."

Read More About
Category: All