Senior executives representing Tapestry Collection by Hilton were recently in Bermuda meeting with the onsite sales team from Coldwell Banker Bermuda Realty and Bermudiana Development Company Ltd. to discuss the sales launch and marketing of the vacation hotel/residential development, which they said is due to open in summer 2020.
"The signing of Bermudian Beach Resort brings a unique and authentic resort to our portfolio," said Jenna Hackett, global head of Tapestry Collection. "As the first Hilton property in Bermuda, we look forward to working with the team at Bermudiana Development Company Ltd. to offer visitors a unique hotel coupled with the benefits of our award-winning Hilton Honors program."
Joe Haughney Hilton director residential development and operations, Brian Madeiros President & CEO Coldwell Banker Realty Bermuda, Jenna Hackett, global head of Tapestry Collection by Hilton, Robert MacLellan co-developer Bermudiana Beach Resort and Juan Corvinos, Hilton vice president development, Latin America and The Caribbean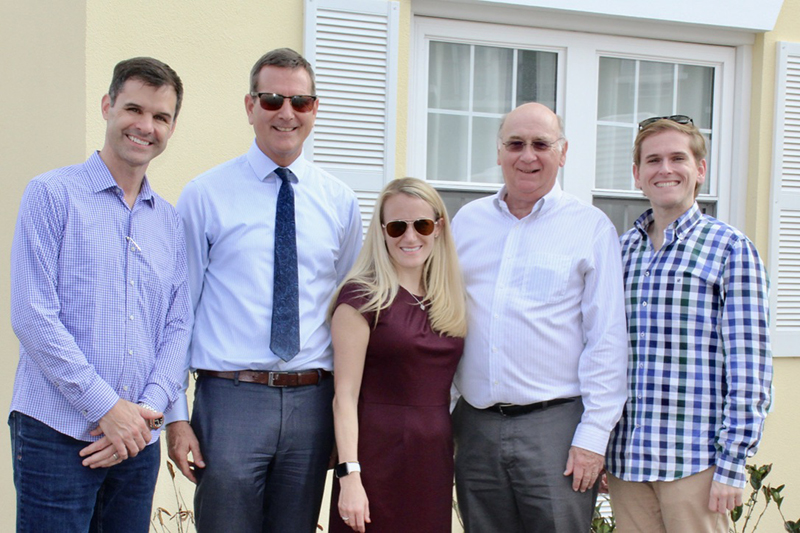 The Hilton briefing in Bermuda also included Juan Corvinos, vice president development, Latin America and The Caribbean and Joe Haughney, director residential development and operations.
"Bermudiana Beach Resort, Tapestry Collection by Hilton is comprised of 90 fully furnished hotel residences across nine buildings with five property configurations ranging from studios to three bedroom properties," a spokesperson said.
"The condos are for sale to local and overseas buyers on a 999-year leasehold basis. Under the terms of the Lease, owners can occupy their condo for up to 90 days each year. Then if they choose, they can rent it out through the hotel for the remainder of the year.
"Each condo has a comfortable living and dining area, and a well-equipped kitchen. They can comfortably sleep from four to eight people, depending on the property, and most have full or partial south-facing views of the ocean. All have either a terrace or balcony.
"The three bedroom condos include a lock-off facility which enables owners to rent out part of the property while in occupation themselves and still remain totally private. Alternatively, when not in use by the owner, the condo converts into two separate hotel suites, maximizing occupancy and rental revenue.
"Buyers at Bermudiana Beach Resort will have access to upscale on-property amenities, including a cliff-top infinity pool and bar, a restaurant, a spa, a hotel reception area, and an additional swimming pool for children. A two-car funicular elevator will take guests to the immaculate and secluded pink sand beach below. Flexible spaces will also be available for meetings and events, as well as a beautiful outdoor space for weddings and other events.
"Bermudiana Development Company Ltd is responsible for the conversion of the property and, once open, properties and amenities will be fully managed for owners by a professional hotel management team. The condos are also fully serviced with cleaning, housekeeping, grounds maintenance, gardening, property repairs and a reception team to welcome guests upon arrival.
"Coldwell Banker Bermuda Realty is the sole listing agent for condominiums at Bermudiana Beach Resort. The on-site sales team is led by Heather Chilvers."

Read More About