Friends of Hospice, the charity supporting Agape House, Bermuda's only hospice, today announced that Lindo's Group of Companies presented them with a significant donation of $500,000 to help spearhead their capital campaign to build a new hospice.
The donation was first announced in a private event where Lindo's President Giorgio Zanol challenged those attending to match the donation made by Lindo's.
When asked why they felt so strongly about supporting the campaign to build the new facility, Giorgio Zanol explained, "The Lindo's family have been the beneficiaries of the extraordinary work that the people at Agape house do.
"Our father and grandfather Harry Lindo had a brief stay at Agape House and our mother and grandmother stayed in Agape House for the last 3 weeks of her battle with cancer. The Doctors, Nurses, and support staff at Agape house are amazing people and do an amazing job supporting both the patients and the families of patients enduring their most vulnerable moments.
"We are proud to support Agape house in building a new facility that will give patients and their families the privacy and acute care that everyone deserves at their most sensitive moments. Please join us in supporting this most admirable cause."
Giorgio Zanol encouraging attendees to contribute to the campaign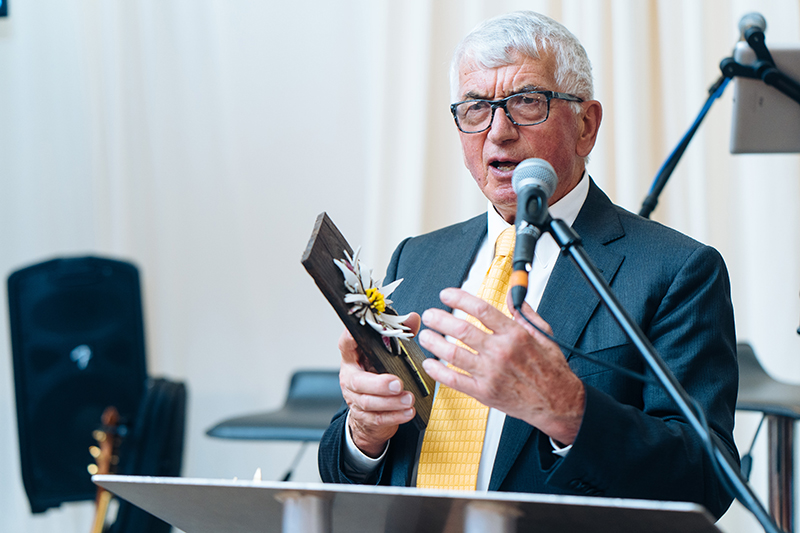 Mr. Zanol's comments were then followed by that of Zach Moniz, Manager of Lindo's Family Foods and fellow family member,  who said: "My grandmother Marion Lindo never passed up an opportunity to thank God for his grace and mercy. I will follow her example and thank God for his grace and mercy for it is through him that we at Lindo's are able to give back and support Agape House.
"We are thankful for our loyal customers and associates who support us allowing us to support Agape house. I reiterate my Uncle's comments on the people who work at Agape House. They are special in every way looking after the needs of their patients and patient's families. They are the heroes of our community."
The donation comes only a few short months following the announcement made in July 2019 by Friends of Hospice and BHB announcing the signing of a Memorandum of Understanding that would allow Friends of Hospice to develop a new purpose-built hospice facility on the BHB-owned Harbour Vista site, situated at 25 Berry Hill Road, Paget.
The projected cost of the new Agape House is $13.7 million, which includes all costs through completion including furnishings, equipment and finishes. Friends of Hospice has committed $1 million of existing funds to be used as seed money for the project and including monies donated by Lindo's Group of Companies and funds from other donors, Friends of Hospice have successfully accumulated $1,734,200 in a short period of time.
"The existing structure occupied by Agape House was re-purposed from a small residential home, with some parts dating back several hundred years. While a number of improvements and additions have been made over the years to accommodate its growing needs, the Agape House of today is no longer sustainable or fit for purpose," the organisation explained.
"Despite the exceptional care provided at Agape House the medical team need appropriate facilities in order to provide the best care possible, and patients and their families and loved ones deserve privacy in a setting that allows dignity at a crucial time of life. A new purpose-built hospice will ensure that together, we can continue to provide safe, high quality, compassionate care and be fit for the future."
"The new facility will provide a quiet, comfortable and convenient place for end-of-life patients who need residential care, but not hospitalisation or nursing home care. More than 3,000 families in Bermuda have seen first-hand the value of high quality, professional hospice and palliative care.
"Patients and their families will enjoy single-bed rooms and additional spaces and facilities for families and loved ones, providing state-of-the-art medical technology, enhanced care and scope of services, and the opportunity to provide an enriched experience for families in support their loved ones.
Deputy Chairman of Friends of Hospice and Capital Campaign Chairman Tom McMahon told us, "To receive such a significant contribution at the outset of our funding campaign for the new hospice is very much appreciated and hopefully builds momentum and encourages other potential contributors to commit to this project in the coming weeks. We are moving quickly to get commitments from potential donors so that we are in a position to break ground in the spring of 2020. "
Chairman of Friends of Hospice Ms. Alison Soares whose mother Hilary Soares was the founder of Friends of Hospice and driving force behind the formation of Agape House told us, " It is an incredibly proud and exciting time for me personally and the organization as we begin to realize the vision that my mother started so many years ago. The new Agape House will provide the community with the level of care that every patient and family deserves during this stage of their lives journey."
"The new hospice will provide Bermuda's most vulnerable patient group with access to specialised services in a state-of-the-art, built-for-purpose integrated facility which adheres to international standards for many years to come but Friends of Hospice need your support to make this vision a reality," a spokesperson added.
Any questions concerning the A Gift for Agape capital campaign can be directed to the organizations executive director, Jennifer Mahoney at executive.director@hospice.bm
Read More About