The City of Hamilton today [Dec 12] presented $10,000 to Vision Bermuda, a charity formerly known as the Bermuda Society for the Blind.
A spokesperson said, "The funds were raised from the ticket sales of the Dining in The Dark event, the sensory experience offered during the City's TASTE of Bermuda culinary weekend in October. Diners were treated to a three-course meal prepared by Take Five Ltd. served in total darkness by wait staff donning night vision goggles."
Mayor Charles Gosling, Town Crier Ed Christopher, Vince Godber, Vision Bermuda Client Support Assistant and Technical Trainer Phyllis Harshaw, City COO Dwayne Caines.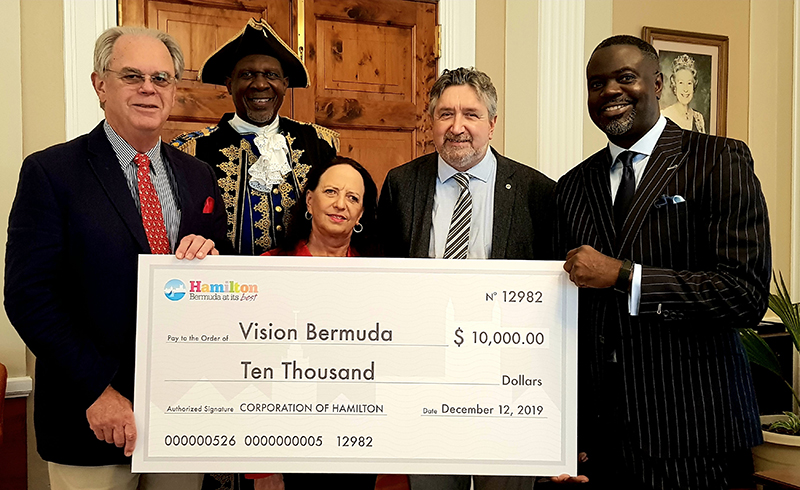 Mayor Gosling said, "It gives me great pleasure to present these funds today to Vision Bermuda. The gift of sight is one that the majority of us take for granted.
"I hope that the diners who took part in Dining in the Dark had a humbling experience and came away with a greater appreciation for the challenges that those in our blind community face every day.
"We're very pleased that the money we were able to raise through this event can actually be used for those that are sight challenged and hopefully we'll find a way forward to make their lives more enjoyable."
Vision Rehabilitation Professional, Vince Godber added, "On behalf of Vision Bermuda I'd like to thank everyone from the Corporation of Hamilton for a superb event. The money will make a huge difference to the lives of our members."
Read More About