Mayor Charles Gosling and members of city council and staff recently lent a helping hand at The Grateful Bread's monthly feeding program at Astwood Hall.
A spokesperson said, "The program puts on a free dinner on the last Thursday of every month and also gives away toiletries, household goods and clothes to those in need. The City contributed items as needed and City representatives helped to serve dinner in a festive setting."
Mayor Gosling said, "The giving spirit in Bermuda is tremendous. Programs like The Grateful Bread are an integral part of a selfless network of providers that help to alleviate some of the anxiety felt by many who don't know where their next meal might come from.
"I was humbled by the chance to connect directly with some of the guests last night, they come from all walks of life, across generations and demographics. They all have stories to tell and this dinner is an outlet for them to share them.
"As a City, we provide services to the community, we've been doing it for two hundred and twenty five years. I'm glad we could share in a small part of this one."
The Grateful Bread's founder, Juliana Snelling, said, "The Grateful Bread team was thrilled to have the Corporation/City of Hamilton join forces with us tonight to provide a magical dinner party for our 200-plus guests.
"Our dinner guests each month include about fifty needy persons out on the streets who cannot make it to the hall, for whatever reason, who enjoy huge plates of our home cooked meals wherever we find them."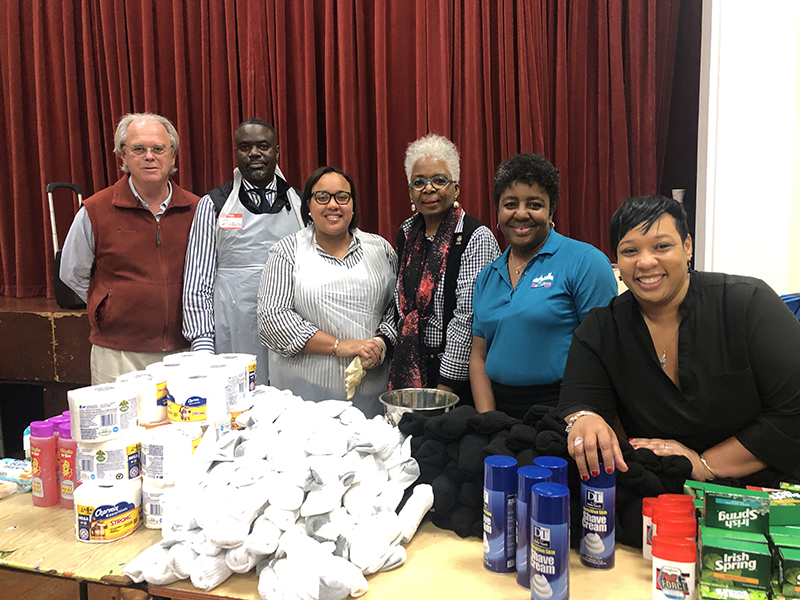 "The City of Hamilton made our evening a huge success by purchasing and gifting away a substantial amount of goodies to our guests including an array of toiletries, toilet paper and socks, environmentally friendly containers and other incidentals that we need to serve our guests.
"Even more generously, an awesome group of Corporation Members and staff gave up their time tonight to personally help serve and attend to our guests' every need.
"One lady tonight told us that she hopes we never stop The Grateful Bread because she looks forward it to every month. Two of our guests said they loved it so much they want to come back as volunteers also.
"Thank you to the City and our many other volunteers for caring about our locals and giving them a wonderful night out that they could not otherwise afford."
City of Hamilton COO Dwayne Caines said, "The City has made tremendous strides in bringing helping organizations together in an effort to combat the issues that the less fortunate members of our community face. We have monthly meetings with a multitude of strategic players that can help to facilitate a change for the better.
"There is a long way to go but we are on a path to making a difference. Initiatives like The Grateful Bread are one part of the progress as they bring people together, clothe and feed them and give them an opportunity to share stories and experiences; all which can help bridge divides. Their contribution is invaluable."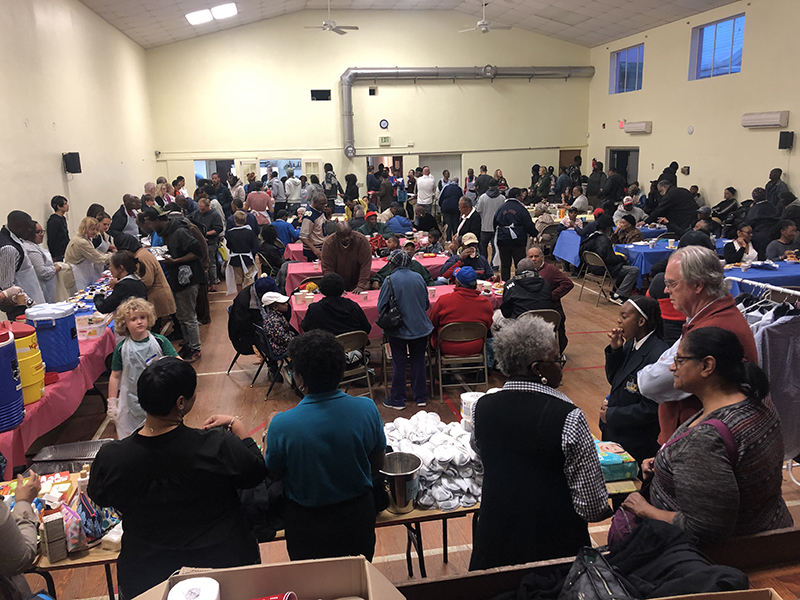 The spokesperson said, "The Grateful Bread is not a registered charity. Founded in 2017, it is a community action group of ever-growing friends and volunteers who feed and give to the needy in Bermuda each month at a social celebration, bringing together local residents of all races and social sectors to help heal divisions in our society.
"For anyone that wants to share in the joy of bringing all of Bermuda's people together, without regard to race, politics, colour, religion or class, join The Grateful Bread for their monthly thanksgiving party on the last Thursday of every month at Astwood Hall on Church Street opposite HSBC [set up at 5.00pm, serving meals by 5.30pm, breakdown at 7.15pm].
"For those who would like to give good quality household products, clothes and toiletries to The Grateful Bread, please contact Juliana Snelling at jsnelling@canterburylaw.bm or Suzi Outerbridge at souterbridge@canterburylaw.bm. For telephone inquiries, please call Canterbury Law on 296-8444."
Read More About