With Nahki Wells reportedly set to be transferred, the Bermudian striker posted on social media to offer his thanks to the Queens Park Rangers and the fans that have followed his time with the club.
Via Instagram, Wells said, "As my time at the club looks to have come to an end. I want to firstly thank everyone who had a hand in bringing me back to the club last summer.
"After basically spending 18 months at the club you made me really feel at home. I promised after a mediocre 1st season that I had something to prove this season and was determined to right those wrongs.
"Feels a lot better now knowing you got to see the real me & that sits better in my heart. A big thank you to Mark Warburton who has had a big part to play in getting the best out of me this year. I wish nothing but the best for the club moving forward. Big thank you to the Fans, my teammates & more importantly owners. QPR will Forever hold a special place in my heart Love NW219."
The post has attracted thousands of likes and hundreds of comments in the first two hours, as numerous QPR fans wish the striker well and thank him for his time at the club.
While multiple British media are reporting that Wells is likely to move to Bristol City in a multi million deal, there has not been any official statement made by either football club as of this writing.
Nahki Wells post on Instagram: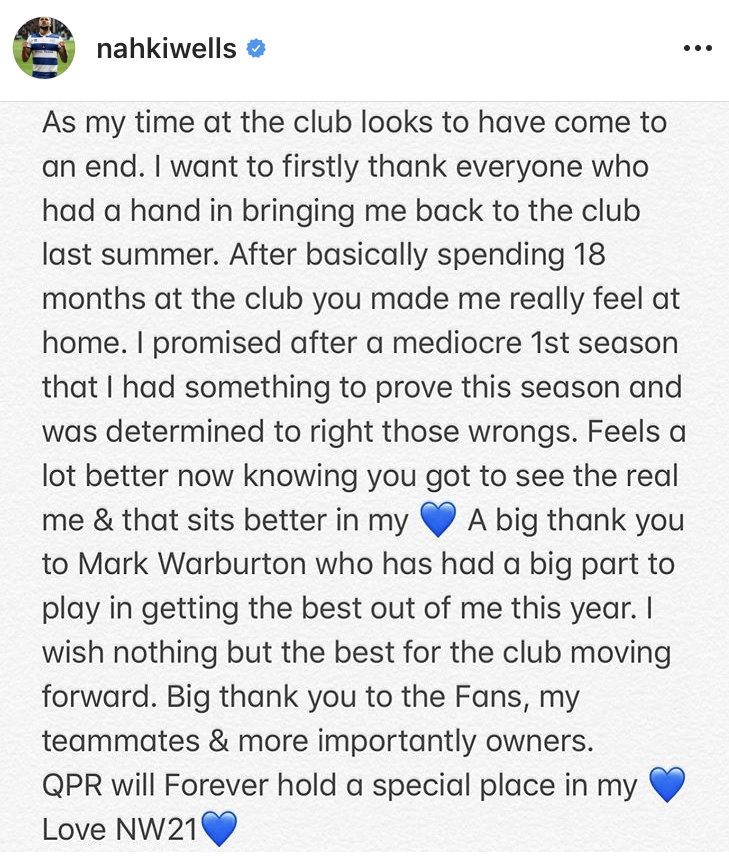 Read More About