The Bermuda Cricket Board [BCB] will be hosting a Pee Wee 'Have-A-Go' Cricket Program beginning on Saturday, February 29 at the Berkeley Institute gym.
A spokesperson said, "Registration for the free BCB Pee Wee 'Have-A-Go' Cricket Program for children ages 5 – 7 opens today. The program takes place at Berkeley Institute gym on Saturday, February 29 and runs every Saturday, finishing on March 21.
"During the sessions, the players will be introduced to the basics of cricket with the main aim of having fun. Utilizing the "Have-a-go" cricket equipment, coaches will work with the players on learning the basics skills of catching, bowling and batting with the aim of playing a game in the last session against the parents.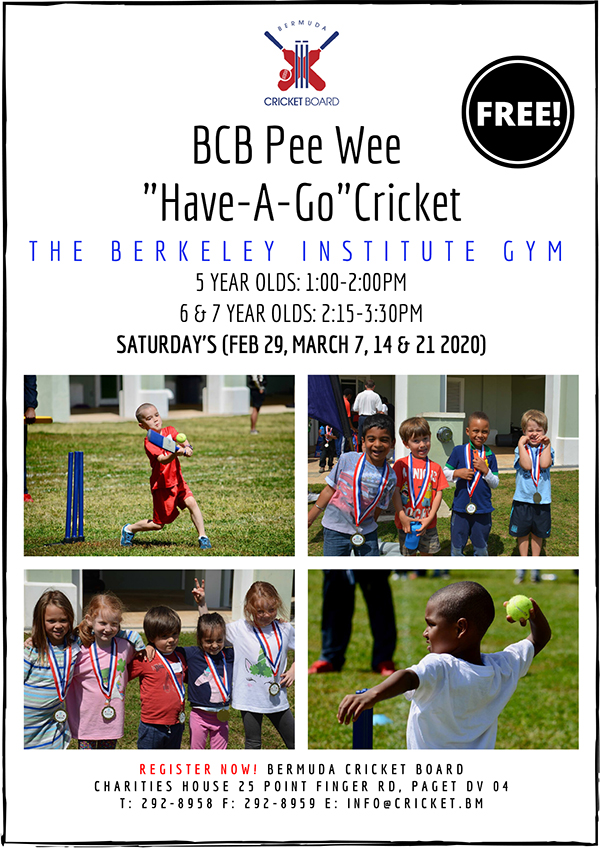 "On March 14, the BCB is offering an additional session for the parents to learn fun skills and drills, which they can play with their children at home. On the last day, parents and their children will participate in a parent/child game, followed by a short prize presentation."
Lloyd Smith, President of the BCB, said, "The Pee Wee Cricket program is the foundation of our Youth Development Program, which introduces the game of cricket in a fun, structured and safe environment to 5-7-year-olds. The aim of our youth programs is to provide a clear pathway for players to progress from the age of 5 through to the senior level.
"I would like to take this time to encourage parents to register their children early because this program fills up fast."
The spokesperson said, "The sessions run as follows:
5-year-olds – 1.00pm – 2.00pm
6-7-year-olds – 2.15pm – 3.30pm
"To register for this free program, please fill out the registration form and return by February 26 by fax at 292 8959 or email at info@cricket.bm, or deliver to the BCB office at Charities House, 25 Point Finger Road, Paget DV 04. Register early because this program fills up fast.
"For more information, please contact the BCB on 292 8958 or email info@cricket.bm. Please ensure players come in comfortable clothes, sneakers for running around, and bring a hat and water."
The Pee Wee Have-A-Go Cricket Program registration form follows below [PDF here]

Read More About