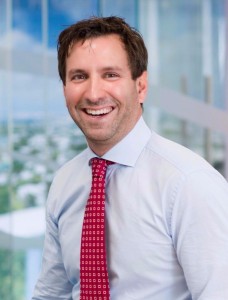 Chief Executive Officer Kevin Dallas is stepping down from the Bermuda Tourism Authority [BTA], effective this Friday, to "pursue opportunities in the private sector," the BTA Board announced today.
"The BTA's senior executive team will carry out interim leadership duties, while the BTA Board launches a robust executive search for a new CEO for the organisation," the statement said.
"We wish to thank Kevin for his leadership, and we wish him the very best in his future endeavours," said BTA Board Chair Paul Telford.
"Kevin has been a strong asset and we are extremely grateful for his significant contribution. During his tenure, he was responsible for notable milestones, including development and implementation of the new National Tourism Plan, the arrival of Disney Cruises, and executing host venue partnerships for Bermuda with the America's Cup, World Triathlon Series, United States Tennis Association, Clipper Round the World Yacht Race and the PGA TOUR.
"Kevin's dynamism will be missed, however, we are confident the path he established will continue to drive the Authority forward," added Mr Telford. "The Board remains committed to supporting the seasoned BTA leadership team in that effort."
"Mr Dallas, who has completed three years as CEO, led the five-year-old, public-private Authority through a period of tourism resurgence on the island that saw record numbers of total vacationers over the last three years and the second-highest number of leisure air arrivals since 2006 last year," the statement added.
This comes in advance of the "pending restructuring of the BTA," which was announced in the recent Budget speech.
"I have very much appreciated Kevin's strategic thinking and data-driven approach to the challenging task of revitalising Bermuda tourism," said Tourism Minister Zane DeSilva. "Kevin's unvarnished assessment of situations and quick focus on solutions has helped the Authority progress during his tenure. I wish him every success in the future."
"It has been a true privilege to serve as the BTA's CEO," said Mr Dallas. "I am incredibly proud of what our team and industry stakeholders have accomplished collaboratively and in a relatively short period, and I remain very positive about the growth potential of Bermuda tourism with the investment we have stimulated.
"Personally, I'm now looking forward to new opportunities and challenges and am confident this is the right decision. The BTA is in a strong position with a superb team of hard-working people dedicated to the industry's future. I wish all my colleagues and our stakeholders continued success."
Read More About