Yesterday [Nov 17] Premier Michael Dunkley received a courtesy visit from the incoming Bermuda Tourism Authority CEO Kevin Dallas. During the visit, Premier Dunkley formally congratulated Mr. Dallas on his new role and expressed his support and optimism for Bermuda's tourism product.
Premier Dunkley addressed industry professionals earlier this week at the annual Bermuda Tourism Summit, and during their meeting on Thursday, the Premier reiterated some his summit sentiments with Mr. Dallas.
The Premier with Mr Dallas: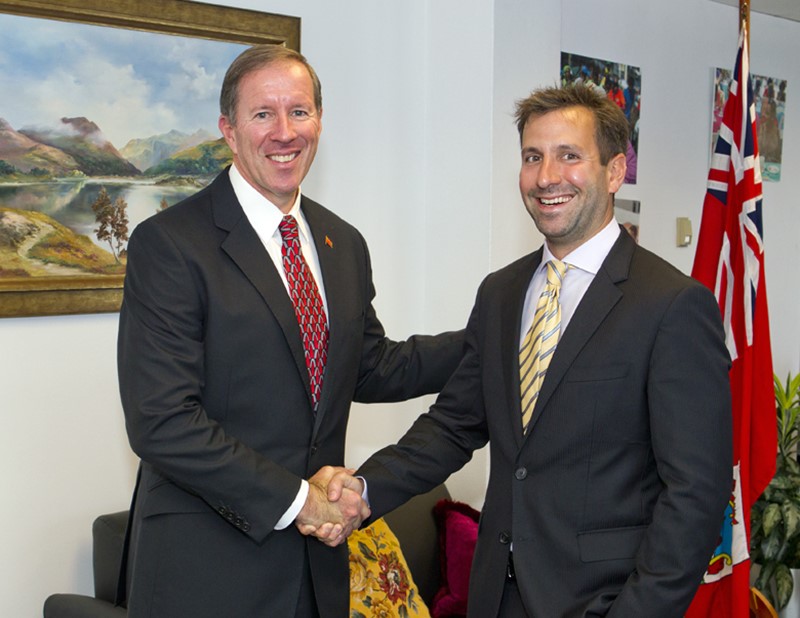 The Premier said, "I shared with Mr. Dallas that the Government is pleased to welcome him on board at the BTA. I also pointed out that Bermudians are some of the most hospitable people in the world and this is the best time to get Bermudians re-engaged in all levels of the industry.
"The BTA with the support of Government is laying the foundation for sustainable success. I was very impressed with Mr. Dallas and his enthusiasm for our tourism product, and we expect nothing but great things from him in the future."
12-minute live video replay with new BTA CEO Kevin Dallas
Mr. Dallas said, "Having been selected by the Bermuda Tourism Authority's independent board, this was my first opportunity to meet the Premier in my new role.
"It was a pleasure to meet with him and hear his vision for a vibrant future for Bermuda's tourism industry, and the economic opportunities for Bermudians that will enable.
"The Premier expressed his great support for tourism, and for the BTA. I look forward to working with him in 2017 and beyond."
Mr Dallas, a Bermudian, is going through a corporate transition process as he prepares to take over as chief executive in January 2017, once current CEO Bill Hanbury completes his contract.

Read More About