[Updated with live video] After extensive time campaigning, American voters will head to caucus today [Feb 3] as the Iowa caucus is set to take place, marking the first vote in the Democratic primary for U.S. President.
There are eleven major candidates left in the race; Michael Bennet, Joe Biden, Michael Bloomberg, Pete Buttigieg, Tulsi Gabbard, Amy Klobuchar, Deval Patrick, Bernie Sanders, Tom Steyer, Elizabeth Warren and Andrew Yang.
The field had over 25 candidates at one point, and those who have already dropped out include John Delaney, Kamala Harris, Cory Booker, Julian Castro, Marianne Williamson, Jay Inslee, Steve Bullock, Joe Sestak, Wayne Messam, Beto O'Rourke, Tim Ryan, Bill de Blasio, Kirsten Gillibrand, Seth Moulton, John Hickenlooper, Mike Gravel, Eric Swalwell and Eric Swalwell.
The U.S. has a number of pollsters, with most polls showing Vermont Senate Bernie Sanders and former Vice President Joe Biden in the lead, followed by Pete Buttigieg and Elizabeth Warren.
Screenshot of polling data from Real Clear Politics: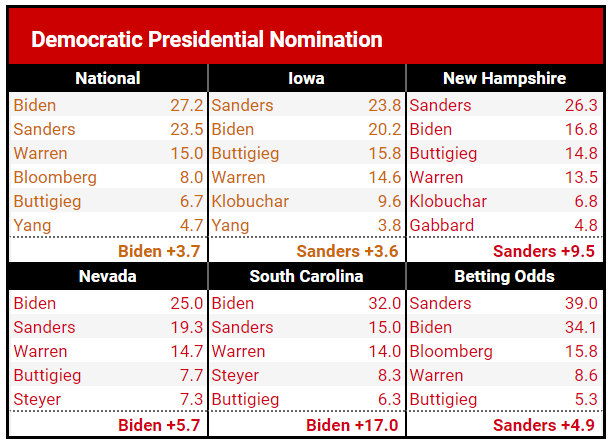 "Tens of thousands of Iowa Democrats are expected to turn out to determine who wins the first-in-the-nation contest after an exhaustive campaign season that began two years ago," CBS reports.
"Unlike a primary, a caucus is not a 'one person, one vote' system. Instead, Iowans will be electing delegates through a complex process that dates back to the 19th century. There are no ballots, and caucus-goers aren't technically voting for candidates but rather for delegates who support a given candidate."
Today's caucus in Iowa is of course the first of many, with over 50 separate primaries and caucuses set to take place in the U.S between now and June 6th, with their outcomes serving to determine the delegates necessary to win the nomination at the Democratic national convention in July.
The winner of the Democratic Primary will then take on President Donald Trump in the 2020 United States presidential election, which is scheduled for Tuesday, November 3, 2020.
Update 6.00pm: Live video courtesy of CBS of the Iowa Caucus, with results expected tonight
Read More About