[Updated] Bermudian Tiara DeRosa — who competes for the Mississippi Valley State Women's Track & Field — made an excellent showing at the Southwestern Athletic Conference Indoor Track & Field Championships in Birmingham, Alabama.
DeRosa won the women's shot put with a top toss of 14.61m, defeating a field of over twenty other athletes at the SWAC Championships.
Update: BNAA President Donna Raynor said that not only did Ms DeRosa win the shot put, she also came 6th in the weight throw, breaking her own Bermuda record of 14.89 which she had set last year, with her throw of 16.56 setting a new Bermuda record.
Photo courtesy of Mississippi Valley State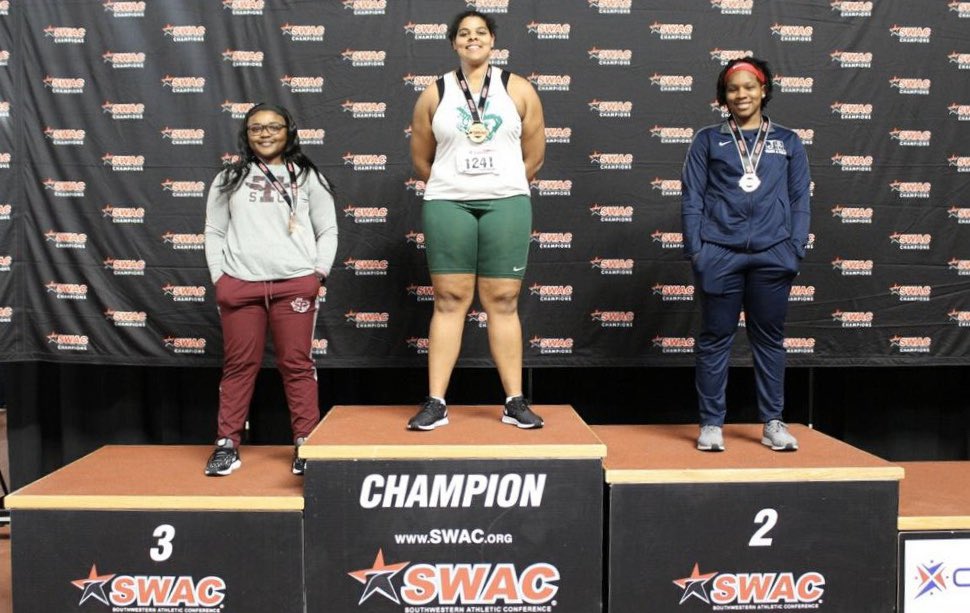 The full results of the finals:
1 #1241 DeRosa, Tiara Mississippi 14.61mC
2 #1211 White, Hannah Jackson Stat 14.15mC
3 #1428 Nintcheu, Christelle Texas Southe 13.76mC
4 #1046 Thompson, Kristen Alabama Stat 13.66mC
5 #1043 Reliford, Xiquaria Alabama Stat 12.72m
6 #1137 Stewart, Joelle Arkansas-Pin 12.50m
7 #1158 Bell, Aneisha Grambling 12.41m
8 #1013 Johnson, Ciarra Alabama A&M 12.20m
9 #1369 McCoy, Alexandria Southern 12.00m
10 #1136 Stewart, Jasmine Arkansas-Pin 11.90m
11 #1431 Perkins, Phylan Texas Southe 11.58m
12 #1006 Hankins, Jordyn Alabama A&M 11.28m
13 #1374 Poole, Kaila Southern 11.23m
14 #1282 Daniels, Tamara Prairie View 10.99m
15 #1240 Brown, Michaela Mississippi 10.47m
16 #1441 Watson, Taylor Texas Southern 10.36m
17 #1098 McClatchey, Darquazha Alcorn State 10.19m
18 #1017 Merrell, Nautica Alabama A&M 9.86m
19 #1053 Williams, Bridgette Alabama Stat 9.85m
20 #1194 Harris, Kiarra Jackson Stat 8.82m
21 #1170 Jackson, Mia Grambling 6.64m
— #1167 Guidry, Tatyana Grambling FOUL
Read More About