Bermuda College recently welcomed Cheryl-Ann Lister and Dr. Grant Gibbons as Honorary Fellows.
A spokesperson said, "Bermuda College recently welcomed two new Honorary Fellows into The Company of Honorary Fellows.
"Ms. Cheryl Ann Lister, OBE; and the Hon. Dr. Grant Gibbons, OBE, were officially inducted in ceremonies held last weekend at the Coco Reef Hotel. President of The Company of Fellows, the Hon. K. H. Randolph Horton expressed delight with the calibre of the new inductees, and looked forward to the value they would bring to the Company, and to the support they would provide to Bermuda College.
"Cheryl-Ann Elizabeth Lister was born in The Bahamas of Bermudian parents, and first came to Bermuda when she was six months old. Her formative training included The Central School and Warwick Academy.
"She began her post-secondary education at Bermuda College, completing A-level studies in mathematics, physics and chemistry before travelling to Canada to complete a Bachelor of Science [Honours] degree in Probability and Statistics at Queen's University, and a Master's degree in Business Administration [Finance] from the University of Toronto. Professional certification followed with the Chartered Financial Analyst [CFA] designation, awarded in 1986.
Chair of the Honorary Fellows Randolph Horton; Bermuda College President Dr. Duranda Greene, Dr. Grant Gibbons, Cheryl Ann Lister, Chair of the Board of Governors Peter Sousa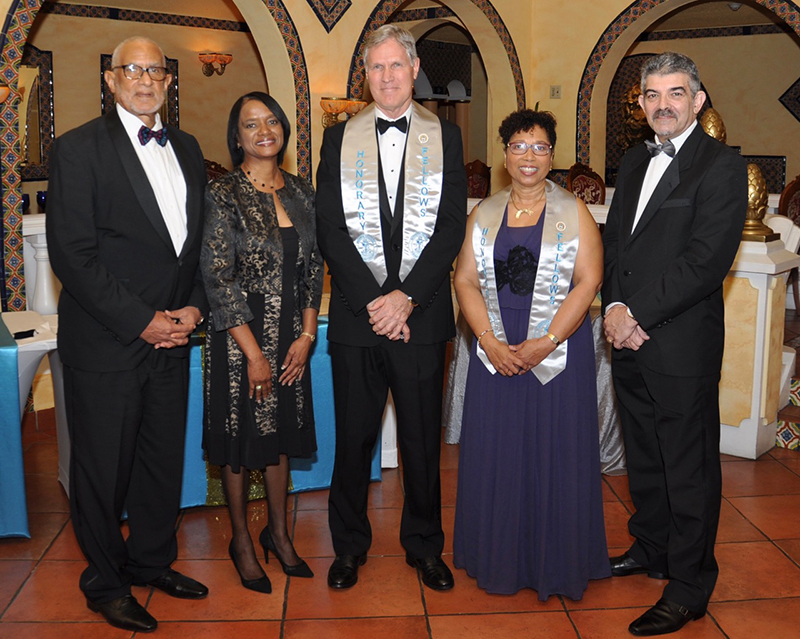 "Ms. Lister began her career in the investment department of what is now Butterfield Bank, with responsibility for managing discretional equity portfolios. She also served as the Bank's representative on the Bermuda Stock Exchange. Other career advances included employment as the manager of the investment department at Bermuda Commercial Bank, and as managing director at EBT Securities Limited, with responsibilities for operations in Bermuda and Brazil.
"Between 1999 and 2006, Ms. Lister served as Chairperson, and as Chief Executive Officer at the Bermuda Monetary Authority. She remained at the BMA until the latter part of 2007, first as interim Chief Executive Officer, and subsequently as a consultant. Her work there was rewarded in 2008, with her appointment as an Officer of the Order of the British Empire [OBE] by Her Majesty Queen Elizabeth II.
"She is a founding member and president of the Bermuda Society of Financial Analysts, and served as a governor for the Association of Investment Management and Research [now the CFA Institute]. She has also served as president of the International Society of Financial Analysts; Chair of Bermuda's National Anti-Money Laundering Committee; and currently provides consulting services to the Government on matters relating to anti-money laundering and anti-terrorism financing.
"Distinguished service on corporate boards include: Director of FIL Limited [formerly Fidelity International]; Chair of the Audit and Risk Committee; Director of Axis Capital Ltd., where she chaired the Corporate Governance and Nominating, and Risk Committees; Director of Bermuda Electric Light Co. Ltd.; and Director of HSBC Bank Bermuda Ltd.
"Ms. Lister is actively involved in her church, White Hill Gospel Chapel, in addition to involvement in community work with young people, in the Bermuda Hospitals Board, at the Packwood Seniors Home, and with the West End Primary School PTA. She is blessed to have four wonderful children and their spouses, and four special grandchildren.
"Dr. E. Grant Gibbons was born in Bermuda, and educated at Saltus Grammar School later attending Phillips Academy in Andover, Massachusetts. His post-secondary studies included Brown University [B.Sc. in Chemistry], Oxford University, as a Rhodes Scholar [B.A. and M.A. in Philosophy, Politics & Economics], and at Harvard University where he received his doctorate in Organic Chemistry. He then worked as a teaching fellow and a research fellow subsequent to his studies at Harvard.
"Dr. Gibbons' public and professional services to the community have been wide-ranging, extensive, and a matter of public record, for which he was appointed an Officer of the Order of the British Empire [OBE], by Her Majesty Queen Elizabeth II, in January 2019.
"Highlights of his service as a cabinet minister in the UBP, and subsequently the OBA Governments, include appointments as Minister of Management and Technology, Minister of Finance, Minister of Economic Development and Minister of Education. During those appointments he is credited with coordinating the negotiations for the closure of the U.S. Military and Canadian bases; initiating the deregulation of the Island's telecommunications industry, with the creation of the independent Regulatory Authority of Bermuda, thus opening up competition in the telecom industry; and presiding over significant growth of the insurance and re-insurance sectors of the economy.
"In 1998, Dr. Gibbons piloted the Bermuda Occupational Pension Scheme, providing the foundation for the creation of individual pension accounts; and for the 1998 -99 budget, laid claim to delivering the first government budget, resulting in a surplus on both current and capital accounts. Other accomplishments include facilitating the launch of the public/private partnership with the Bermuda Business Development Agency; and introducing the National Electricity Policy and the Electricity Act [2016], thus establishing competition in generation, support for renewable sources, and the subsequent regulation of electricity in Bermuda.
"More recently he introduced the Personal Information Protection Act [PIPA], providing protection for individuals' personal information and establishing requirements for safe handling of such information. He also led the Bermuda Bid Team that brought the 35th America's Cup race to Bermuda in 2014. In his Shadow Government appointments, he has served as Opposition Leader, Deputy Opposition Leader and as Shadow Minister for both Finance and Education.
"In the private sector, Dr. Gibbons currently sits as Chairman of the Colonial Group International Ltd. and subsidiaries; President of Edmund Gibbons, Ltd.; Director of Syncora Holdings Ltd. and insurance subsidiaries; and President of Colony Holdings Ltd. and subsidiaries.
"Dr. Gibbons' professional associations include the American Chemical Society; the New York Academy of Sciences; the American Association for the Advancement of Science; and as Trustee Emeritus at Brown University. He has been married to Kathryn Cole Gibbons for nearly 38 years and is the father of Graham and Andrew."

Read More About