The BTA released the 2019 Visitor Arrivals Report, noting that while there was a decline in air capacity in 2019, when cruise, air and yacht visitors were combined, the total arrivals "grew 4.9% to an historic high of 808,242 — the most visitors ever for the third consecutive year."
A spokesperson said, "Decreased air capacity contributed to a more challenging landscape for Bermuda's tourism industry in 2019, resulting in a measured year-over-year performance compared to 2018's record-breaking results.
"But the island's overall visitor tally proved the highest ever, and last year also scored the second-best total of all-important air arrivals, according to the Bermuda Tourism Authority [BTA] 2019 Visitor Arrivals Report released today.
"Certain metrics fell due to recent barriers forecast by the BTA early last year: Bermuda experienced a 5% decline in air capacity in 2019, for example, pushing down leisure air arrivals by 6%.
"Two airlines cut back flights from New York's crucial John F Kennedy hub, and flight schedules from Boston were also reduced. As a direct result of lower volume, spending performance by travellers was relatively flat, with $417.5 million in leisure dollars [from both air and cruise visitors] injected into our economy, up 1.6% from 2018.
Chart extracted from the report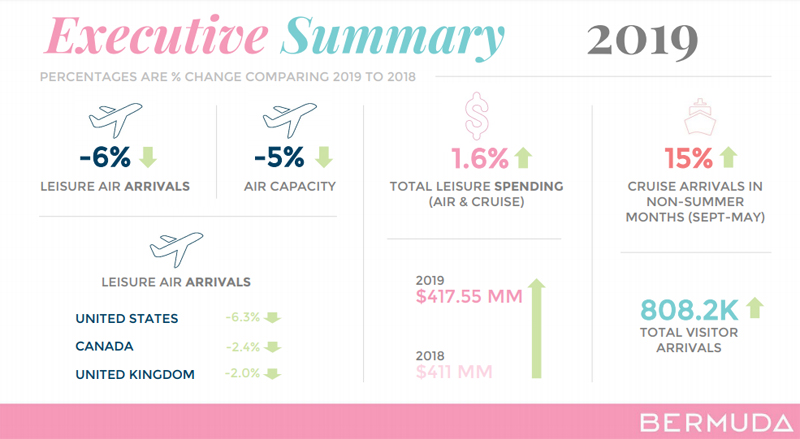 "Yet 2019—with more than 191,000 visitors—was statistically the second-best in the past 13 years for the all-important metric of leisure air arrivals; only 2018, with 203,697, had more visitors arriving via air since 2006.
"Also notable was the record number of total annual visitor arrivals achieved last year: when cruise, air and yacht travellers were combined, the number grew 4.9% to an historic high of 808,242—the most visitors ever for the third consecutive year."
"At the start of 2019, we predicted in-year losses, so, while disappointing, we prepared the industry for this outcome. On the upside: our long-view gains were more robust than anticipated, so the industry and all of Bermuda should feel upbeat about that," said BTA CEO Kevin Dallas.
"Sustained double-digit growth in air arrivals and spending through 2018 positioned us well to respond to short-term challenges and we continue to see green shoots fueling the island's tourism resurgence. Investors, for example, are showing clear confidence in our tourism product, which is moving the island strategically toward growth."
2019 Highlights included:
"Bermuda's 191,417 leisure air arrivals in 2019 is the island's second-best performance since 2006
"2019's leisure air volume outperformed 2017 by 5%
"Leisure air arrivals have jumped 37% between 2015–19
"2019 was the third consecutive year of record-breaking total visitor arrivals
The BTA added, "Cruise passengers made up the largest share of arrivals, but the greatest growth [15%] occurred in non-summer months [Sept to May]—underscoring the success of the island's cruise travel strategy to increase ship calls during winter, spring and fall seasons.
"That eased the burden on Bermuda's infrastructure and helped boost jobs and extended income for Bermudian businesses. Growth during the summer [June to Aug] was held to 5%.
Chart extracted from the report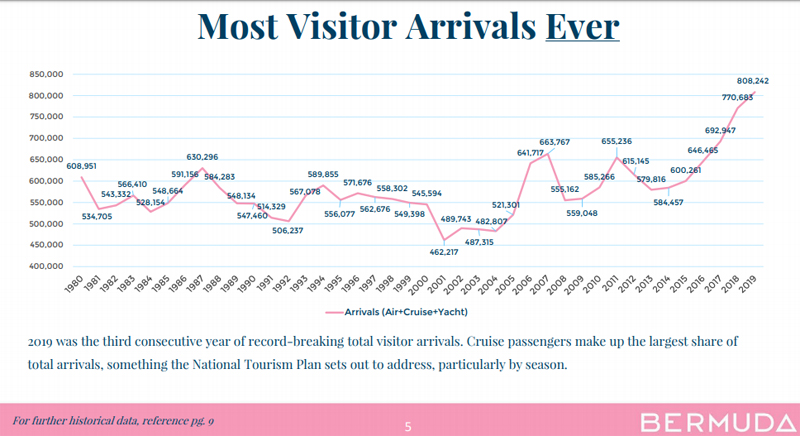 "Looking to 2020, anticipated barriers, especially further reduced airlift, will continue to challenge year-over-year growth," Mr Dallas said, adding the BTA, in partnership with government, Skyport and the Bermuda Airport Authority, "took a pro-active approach in 2019, hiring experienced air-service development consultants to help shape a long-term, sustainable airlift strategy and execute it."
"Changing air capacity doesn't just affect Bermuda—it's a challenge for every destination as airlines adjust routes and seat numbers according to their own business strategies," Dallas noted. "Global competition remains fierce. Maintaining our strongest air routes and building on already established relationships with key airlines will be critical to our success."
The BTA said that other factors pointing the way to future growth include:
"BTA's Experience Investment Programme boosted more entrepreneurial ventures in 2019
"The new $280-million airport terminal will provide a state-of-the-art gateway this year
"Several new hotels are taking shape, providing fresh tourism product by 2021, including Azura Bermuda, Bermudiana Beach Resort, Tapestry Collection by Hilton, and St Regis Bermuda Resort
"Recent hotel acquisitions—of Fairmont Southampton Resort and The St George's Club—point to robust investor confidence in the island's tourism industry
"Reinvigorated Visitor Services Centres and curated activities around the island are enhancing travellers' experiences
"The BTA's media collaborations with major titles such as Garden & Gun and The New York Times shared Bermuda's story with millions of new consumers last year. Influencer visits, press trips and partnerships also garnered coverage to attract key audiences like African Americans and babymooners
"Global awareness of Bermuda was also powered by big-name, multi-year partnerships launched in 2019; examples include the USTA/US Open, the PGA TOUR, and the Clipper Round the World Race
"New legislation to attract superyachts and high-net-worth guests was enacted in 2020
"It's important to note the National Tourism Plan takes the necessary long view—it has now completed the first of six years of strategic goals," noted Mr Dallas.
"It continues to engage Bermuda stakeholders and point a collaborative way forward—from infrastructure improvements to greater year-round visitor balance and greener, more sustainable approaches. That should keep us all focused on fruitful longer gains amid near-term challenges."
The 2019 Visitor Arrivals Report Full Year follows below [PDF here]

Read More About