The Bermuda Economic Development Corporation [BEDC] hosted a seminar dubbed "The Netpreneur is the Nextpreneur" on January 15, with the session exploring "how and why tech-savvy entrepreneurs are taking over the small business landscape."
A spokesperson said, "The seminar was moderated by Jamillah Lodge, Director of Communication and Development at BEDC.
"A panel of six business owners that have found success in net driven businesses joined her on stage to share their journeys, provide tips, answer questions, and share their expertise with the audience."
Tori Kayla, Colin Rego, Erica Smith, Leanne Evans, Carl Vincent, Jennifer McCarron, Carla George, and Jamillah Lodge: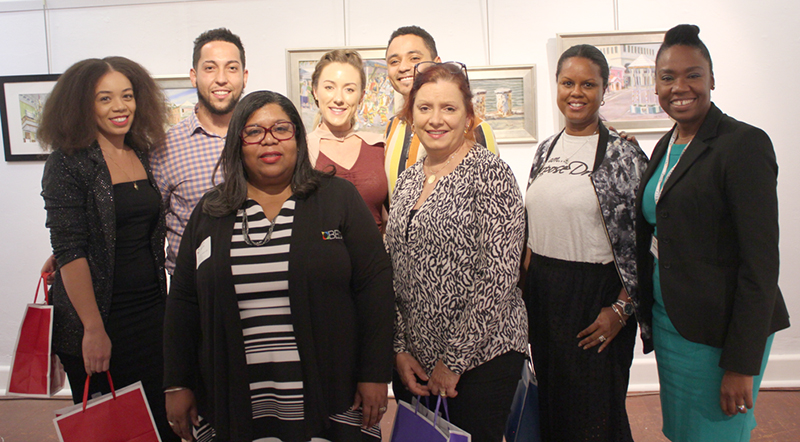 "The panel included Carl Vincent and Leanne Evans of Drop It Delivery, Colin Rego of Sargasso Sea, Tori Kayla, owner of Virtual Girl Boss, Carla George, owner of Pushed into Purpose, and Jennifer McCaron of Animal & Garden House."
Panelist Leanne Evans of Drop It Delivery said, "The audience was really engaged, and I am happy that we were able to share our experience.
"Each one of us have a completely different story and different methods to achieve things and because of that I feel we were able to connect with many in attendance and really show why having a digital presence is so important."
Jamillah Lodge said, "The Netpreneur is the Nextpreneur seminar was designed to inform all entrepreneurs that learning the ins and outs of thriving on the net is crucial to success in 2020. "Having a presence on the web, and more specifically, utilizing it to deliver to your customers is becoming more and more important.
"At this seminar, the panel was really able to demonstrate how they leveraged tech in their own businesses, give the audience tips on how to start and grow their businesses with tech, and explain how tech can help businesses scale up for success, both within and outside of Bermuda's local economy."
The spokesperson said, "The seminar saw close to 120 guests, eager to learn. The audience was engaged and came with many questions for BEDC and for the panel. BEDC also invited industry experts to sit in on the seminar to answer any pointed industry specific questions.
"A representative from Clarien Bank and Coral Wells of Connect Tech were able to give advice and handed out information to those that were interested.
"In closing the seminar, BEDC Executive Director Erica Smith thanked the panelists for sharing and the audience for attending."
Ms. Smith said, "It was a very informative evening that could have extended much longer into the night. The panelists had a wealth of knowledge to share and the audience had so many questions. It is apparent, that there are entrepreneurs in Bermuda keen to get into the digital space and are hungry for information on how to do so."
The spokesperson said, "This seminar was the first of 2020, but one of many in BEDC's line up quarterly seminars. For more information on this seminar and BEDC's upcoming seminars, please contact BEDC at info@bedc.bm or visit the BEDC website."
Read More About
Category: All, Business, technology