The TLC Group of Companies will host a series of free online events throughout Data Privacy Week from January 25 – 29, 2021.
A spokesperson said, "As Bermuda gets ready to enact the Personal Information Privacy Act [PIPA] and cyber crimes continue to rise, data privacy is becoming more of a focus in every day life for both individuals and businesses. The TLC Group of Companies is planning to raise awareness with a series of free online events throughout Data Privacy Week from January 25 – 29, 2021.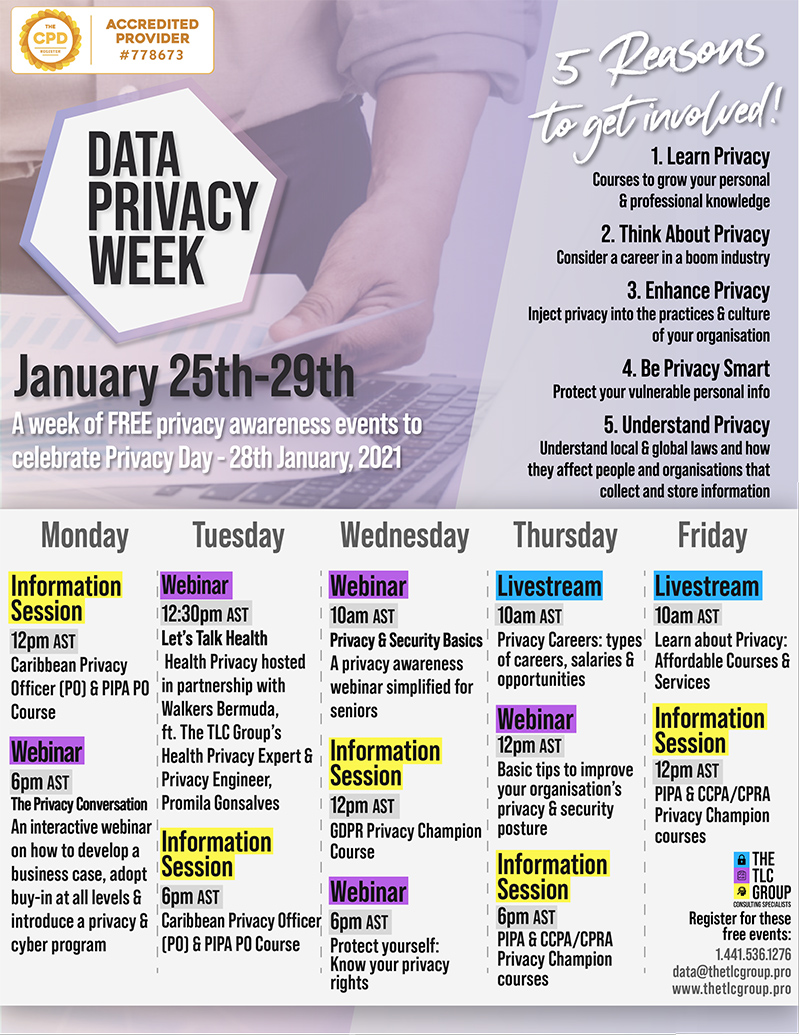 "The TLC Group has brought together a group of privacy professionals to host a series of webinars from Monday to Friday to discuss about data privacy, highlight individual privacy rights and career opportunities within this growing field.
"They will also hold information sessions regarding their upcoming Certified Privacy Officer courses, Privacy Engineer, Privacy by Design & Default Practitioner [PbDD P], and Data Privacy Champion & Cybersecurity Champion courses for individuals, organizations and compliance professionals interested in gaining more specific privacy knowledge.
"Bermuda's Privacy Commissioner, Alexander White has endorsed the PIPA Privacy Officer courses run by the consulting group. He will participate in a few of the initiatives, including "The Privacy Conversation " webinar on Monday, school presentations, and health privacy webinar on January 26 at 12:30pm, along with Walkers Bermuda and TLC's Health Privacy Expert, Promila Gonsalves.
Commissioner White said: "Celebrated every January 28th, Data Privacy Day serves as an annual reminder of the importance of privacy rights – as well as the tremendous impact that data and technology have on individuals. I am delighted to join TLC's efforts to promote privacy awareness by speaking with school-aged children and discussing the issues faced by specific business sectors, such as healthcare. I hope you can join us, and please always know that my office is here to support you and answer your questions."
Cha'Von Joell, Chief Data Officer and co-Chief Executive Officer of the TLC Group, and a data privacy expert, said: "With data privacy legislation taking effect in Bermuda and many jurisdictions around the world, we believe that these awareness webinars will assist businesses to gain a better understanding of the importance of data privacy, privacy rights and data security, and ideal ways to improve their privacy and security posture."
"Especially now, with our always-connected lives, Covid-19 tracing, remote working & learning, and the increase in online shopping, the community needs to know how their data is collected, used, stored and protected. As data privacy consultants, we want individuals to be aware of their rights when it comes to sharing information and businesses to properly secure the data they collect." she explained.
To register for the free data privacy events, contact data@thetlcgroup.pro or visit www.thetlcgroup.pro for more information.
"The TLC Group of companies is an accredited organisation offering a range of services based on the group's pillars: human and social sustainability, diversity & inclusion, and empowerment, including online & in-person courses, professional consulting [privacy, IT, cyber security, digital marketing, HR and business services], relocation services, charitable support, and technology solutions," the company said.

Read More About
Category: All, Business, technology