A British Airways air bridge flight arrived in Bermuda last night [April 24] bringing 97 Bermuda residents back home and also delivering medical supplies, including thousands of Covid-19 test kits and N95 masks.
"The plane brought 97 Bermudians back to the island together with further medical supplies, including COVID-19 testing kits and other essential equipment and pharmaceuticals required for the island," Government House said.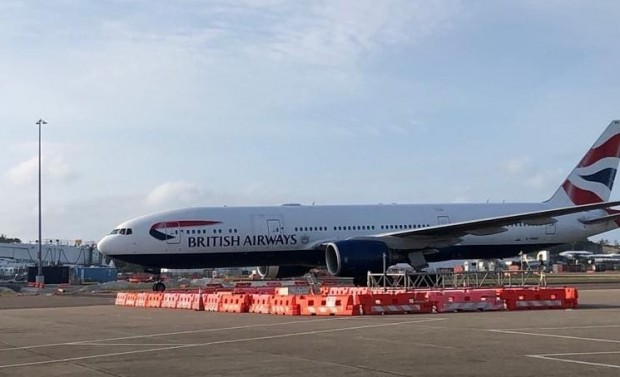 Governor John Rankin said, "I am pleased that we continue to be able to deliver much needed supplies to support the island's medical services in tackling coronavirus. It is right that we support them as much as possible and I pay tribute to all the medical, nursing and other health staff who are working on the front line at this challenging time.
"I am also pleased that we have once again been able to help Bermudians get back home and I thank the members of the Royal Bermuda Regiment, the Disaster Risk Reduction and Mitigation Team, Airport staff, Customs and Immigration, medical staff and Bermuda Fire and Rescue who helped the passengers and made their arrival safe for all concerned.
"This second air bridge flight builds on the specialist advice and assistance that is provided to Bermuda by Public Health England. The flight is part of the UK's continuing support for Bermuda and its sister Overseas Territories, in line with wider efforts to ensure the safety and security of British citizens worldwide."
"All those arriving on the flight will be quarantined for a 14 day period. The return flight will be on Saturday 25 April, taking over 70 persons ordinarily resident in the UK back to their homes."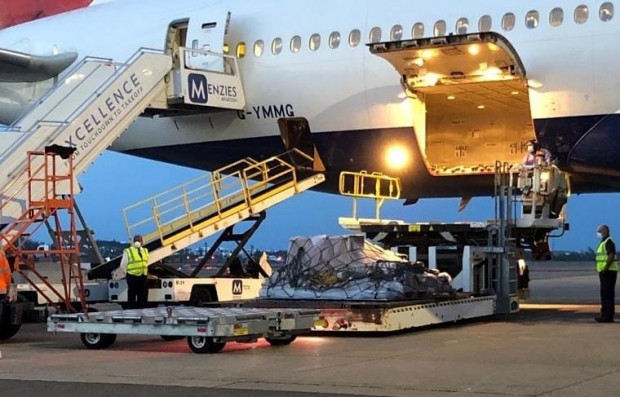 Speaking at last night's press briefing, Minister of National Security Wayne Caines said, "Our Disaster Risk Reduction and Mitigation [DRRM] Team are working with our colleagues at Customs, the Department of Health, the Regiment and Skyport to welcome 97 returning residents back to Bermuda on the British Airways airbridge flight.
"All arriving passengers have been pre-processed electronically by the Department of Immigration to minimize contact with our Customs Officers. From a safety standpoint, as part of the landing process, each officer conducting inspection duties will have the appropriate PPE.
"And each passenger will be given a face mask as well as have their temperature checked in the arrival hall. Once the thorough landing process is complete, the returning residents will be transported by the RBR to an approved Government quarantine facility, which is managed by the DRRM Team in partnership with the Bermuda Reserve Police and licensed security personnel."
Minister Caines said, "This evening's arriving British Airways flight will also have on board critical and much needed medical supplies and PPE equipment. These include:
12,000 COVID-19 testing kits;
10,000 N95 masks – personal protection equipment; and
Other non-COVID-19 essential pharmaceuticals required to meet the island's regular needs.
"In this regard, I wish to thank His Excellency Governor John Rankin, Deputy Governor Alison Crockett, the Government House staff and Bermuda's London Office for all their hard work in facilitating this flight," Minister Caines added,
"On April 25th, the British Airways flight will depart Bermuda with 74 passengers on board who are returning to the UK. To ensure the safety of all persons involved, we have instituted a strict protocol process for the departing flight.
"Again, the DRRM Team, Customs, the Department of Health, the Royal Bermuda Regiment, Skyport and British Airways staff will all work to coordinate the processing of the 74 passengers on tomorrow's departing British Airways flight."
The Government previously announced that 10,000 testing kits purchased from the Cayman Islands would be arriving on this flight.

As the island and world deals with the Covid-19 pandemic, we are doing our best to provide timely and accurate information, and you can find more information on the links below.
Read More About