The U.S. Consulate announced that a repatriation flight will depart Bermuda for Atlanta on Tuesday, April 7, and has urged people to make arrangements now.
A spokesperson said, "The U.S. Consulate General urges U.S. citizens, and all others who may need to travel to the United States, to make arrangements now. A repatriation flight departing Bermuda to Atlanta will take place on Tuesday, April 7.
"The flight is available for anyone currently seeking to travel to the United States, or to transit to a third country. The flight is organized by local travel agency, Travel Edge.
"Please note that there are no other outbound flights planned, and the U.S Government does not anticipate arranging any other repatriation flights from Bermuda at this time. Individuals wishing to return to the U.S. should take advantage of the April 7 charter opportunity, or plan to remain in Bermuda indefinitely.
"For ticketing details, please contact Travel Edge directly by calling Pat Trott at 441-299-8717 or email info@traveledge.bm."
Signage at the U.S Consulate showing their support for Bermuda: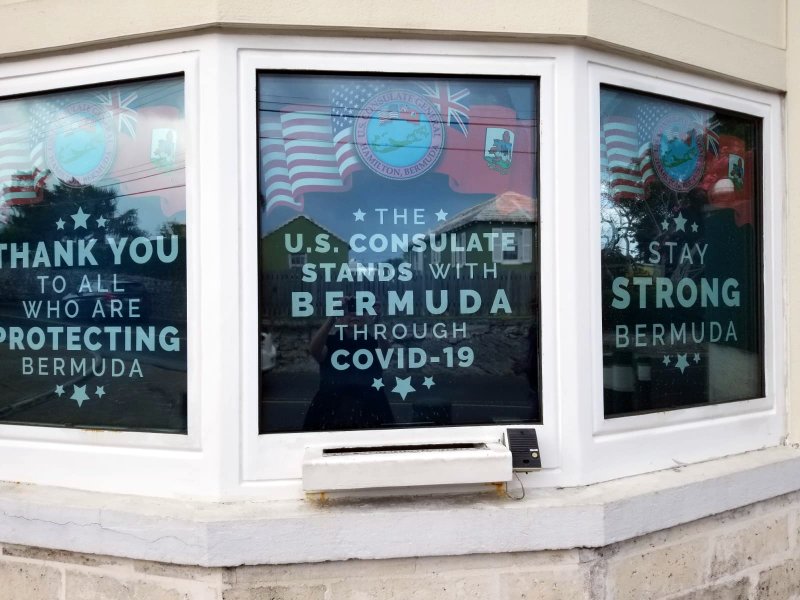 As the island and world deals with the Covid-19 pandemic, we are doing our best to provide timely and accurate information, and you can find more information on the links below.
Officials are urging everyone to please follow all guidance like washing your hands, adhering to self quarantine if relevant, and practicing social distancing, and they have asked that if it is not urgent, a necessity or work, to please stay home to prevent the spread of the coronavirus.
Read More About