A British Airways flight — the first commercial passenger flight from the United Kingdom since March – landed at the LF Wade International Airport this evening [July 17] with British Airways is scheduled to serve the island twice a week for the remainder of this month and then increase to three times a week in August.
From late March to July, there were no commercial passenger flights to the island, however cargo, charter and private planes were arriving, and there were 'air bridge' flights from England.
The first commercial flight this month, Air Canada, landed on July 2nd, and this month's flight schedule includes once a week Air Canada flights, daily Delta flights from Atlanta, and twice a week flights from British Airways effective today.
Skyport announced the flight schedule for August, with JetBlue, Air Canada, Delta Airlines, and British Airways all scheduled to serve Bermuda, with the addition of JetBlue from Boston and JFK, and an increased flight schedule from Canada and England.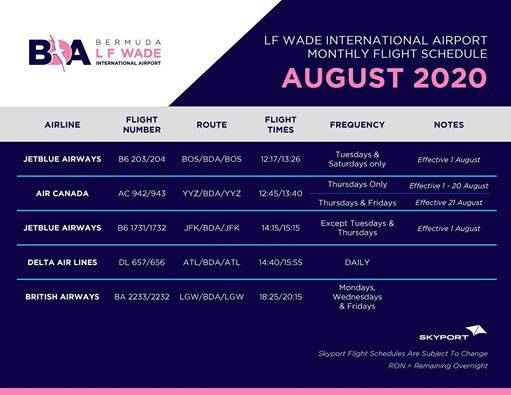 Arriving travelers have to undergo Covid-19 testing, and since the airport re-opened to commercial traffic on July 2nd, there has been six imported cases, and speaking at last night's press briefing the Premier noted that "out of the 6 imported cases that have arrived in the last 2 weeks since we have opened the airport all of them have been returning residents."

Read More About