The Bermuda Arts Centre is getting set to hold 'The Power of Three,' an online mixed-media show featuring three artists, with the exhibit running from Monday, May 18 until Friday, June 19.
A spokesperson said, "The Power of Three is mixed media show with three member artists of the Bermuda Arts Centre.
"Faced with the challenges of Bermuda's current condition, The Bermuda Arts Centre has once again turned to cyber to offer this show.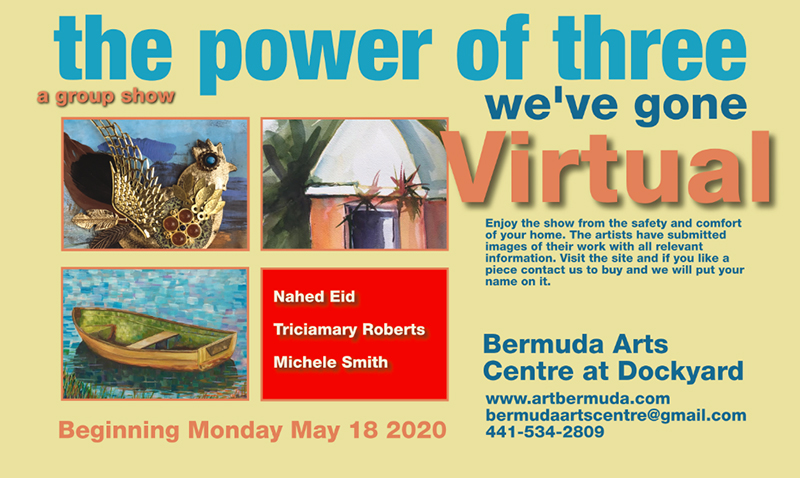 "With everything already planned for the year and artists geared up for shows, you can't just turn everything off. These are uncertain and difficult times, and we believe that the beauty of art creates a more beautiful world to live in.
"We have encouraged our artists to keep focus in their passion, to keep pushing forward, and to never stop creating.
"The artists featured in 'The Power of Three' are:
"Nahed Eid's passion is taking the usual and turning it into the unusual. With a visual journey through jumble sales and discarded trash, she is able to create beautiful and most often functional art.
"Triciamary Roberts' works are a mix of acrylic paintings in all sizes that range from pointalism to graphic. Work is in all sizes and of many subjects.
"Michele Smith is a multi media artist. Her paintings for this show follow the themes of barns and butteries, handled in soft watercolour and bold striking oils.
"We suggest that one goes online to artbermuda.com as soon as the show becomes available. There are some stunning pieces of art available and to miss it, well, you'll have missed out on one of the most fun and beautiful shows of the year!
"All work is for sale. The show begins at 10.00am on Monday, May 18 and runs until June 19. To view the show, visit artbermuda.com.
"For more information, contact The Bermuda Arts Centre at bermudaartscentre@gmail.com or via telephone on 534-2809."

Read More About
Category: All, Entertainment