The Bermuda Arts Centre is getting set to open their third virtual show titled 'Summer Open' on Friday [June 19] at 10.00am.
A spokesperson said, "The Bermuda Arts Centre is excited to announce the opening of their third virtual show, 'Summer Open'.
"Usually, the Arts Centre holds theme-based shows, but for summer, we invite our member artists to be creative on any subject matter. This show holds work in all media, sizes and prices, and proudly boasts paintings from some of Bermuda's leading artists.
"The show goes live at 10.00am on Friday morning [June 19].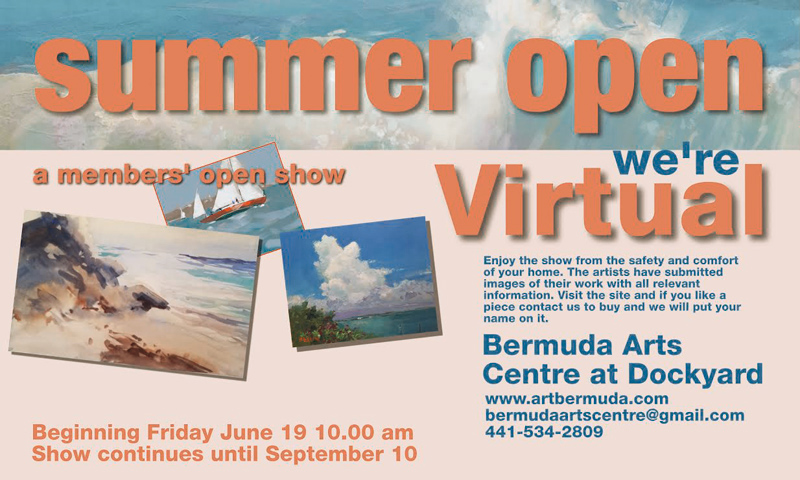 "The gallery itself is now open every day from 11.00am to 4.00pm and so the show will also be available for those that would like to visit Dockyard and see it hanging on the walls.
"The show runs until September 10, and as work sells, new work will become available, so the show will be forever be changing. We suggest that anyone interested in local art keeps an eye on the website, as there will be many gems coming up for sale.
"The Bermuda Arts Centre will also be hosting a few pop up shows in between to help support as many local artists as we can. Shows are in the works, and information will be posted shortly.
"To view 'Summer Open,' visit artbermuda.com from 10.00am on June 19 onward.
"To make a purchase, simply call the gallery at 534 2809 or send an email to bermudaartscentre@gmail.com. The gallery is also offering free island-wide delivery for any art purchases."

Read More About
Category: All, Entertainment