BHW will be hosting a Bermuda Carnival Virtual Weekend from this Thursday [June 11] through to Monday, June 15th.
A spokesperson said, "Are you ready?! The BHW Ltd. team trusts that you are, because finally, this secret we have been holding back can be released!
"It has been too long Bermuda Carnival family. We have missed each and every one of you, and we hope that you along with your loved ones are staying safe.
"At long last though, on this our weekend of celebration, we shall be reunited to feel, Ohhhh So Good, all together again! You may have figured it out by now, but just in case it is not clear, we have the best news to share.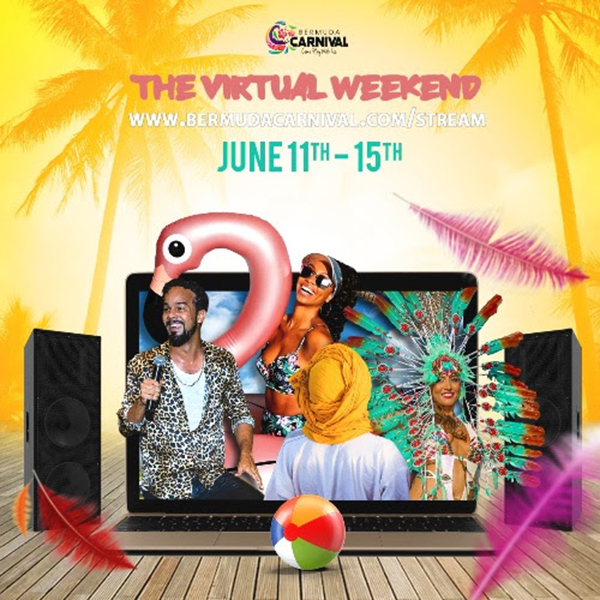 "We can now jubilantly announce, that although you cannot physically be with us to celebrate in 2020, the team is bringing your beloved Bermuda Carnival directly to you!
"Yes, you read that correctly.
"In your homes, on your phones, and with your worldwide squad we shall be live streaming, Bermuda Carnival The Virtual Weekend, from this Thursday, June 11th through to Monday, June 15th.
"You can head straight to www.bermudacarnival.com and be transported to paradise.
"Be sure to dress for the occasion and prepare yourselves to revel and fete with a melodious medley of your favourite international and local DJs. You should also expect a few more surprises to drop by and keep the vibes energetic as the weekend flows on.
"But exactly which events will we be taking you to? Glad you asked, here is the full list!
Drench'd/Sick Leave – Thursday @ 10PM
Five Star Friday – Friday @ 10PM
Raft Up – Saturday @ 2PM
Glow – Sunday @ 10PM
The ROAD – Monday @ 10PM
[All times at Atlantic Standard - AST]
"Can't you just feel the excitement of our Virtual Weekend building up and bursting through the screen to you? We hope so, as it is more than a pleasure for us to join with you for our annual festival. Remember it all kicks off this Thursday!
"Check out our social media platforms for more details and get your Carnival souls prepped to gear up, gather around, and visit the Bermuda Carnival portal for our Virtual Weekend!
"See you there Bermuda Carnival family. And we cannot wait for you to come play with us once again!"

Read More About
Category: All, Entertainment, News