[Written by Mikaela Ian Pearman]
With most of us having been inside our homes for almost three months, coming outside and enjoying outdoor activities sounds like a dream. And what better way to enjoy the warm weather than with a picnic!
If you're anything like me, you always want to have a picnic but then the thought of pulling it all together is overwhelming. How do I keep the food hot? Does this all go together? And what about the wine?
Well, Marcus' at Hamilton Princess has a great solution with their Saturday picnic boxes to go. The picnic is available for two or four people and includes an incredible spread of delicious food. I ordered the box last week for pickup at 2pm on Saturday. I waited just a few minutes at the entrance before my two bags of food were brought out – one with cold items and one with hot.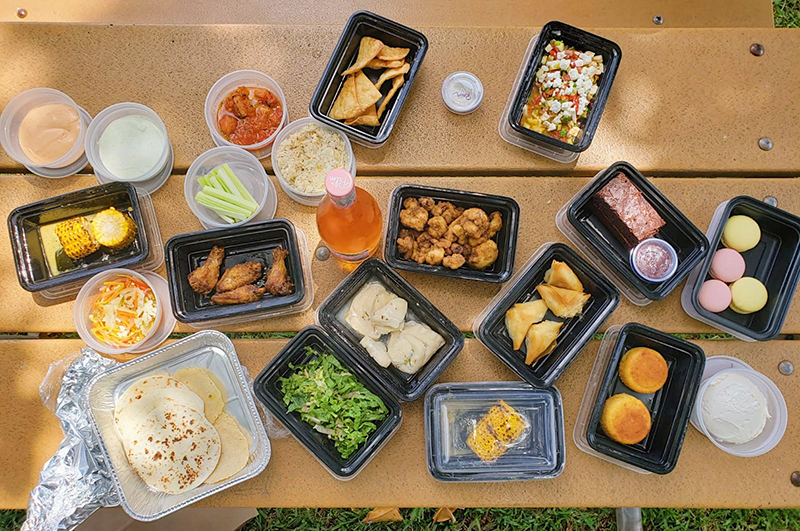 With food in hand, it was time to head to our picnic spot. My husband and I drove to Botanical Gardens and grabbed a picnic table – key for spreading everything out and not making a mess.
So what was in this incredible picnic? I'm glad you asked! There were starters, a main course and desserts.
For the starters, we enjoyed jerk chicken wings, cornbread with whipped honey butter, spanakopita with yogurt dip, crab dip and the most incredible Greek salad I've ever eaten. Everything was perfectly portioned, so we weren't stuffed after eating the apps.
For the main course, we devoured grilled fish tacos with all the toppings [lettuce, corn, pickled veggies, spicy mayo and salsa] and a choice of corn or flour tortillas. We also enjoyed grilled corn and jerk cauliflower bites.
By the time we got to dessert, we were full but had to sample it anyway. The dessert selection included lemon and strawberry macarons and rich chocolate brownies. We washed everything down with a cold bottle of rosé.
Like I said at the beginning, I've always been a bit skeptical of picnics. But this was the perfect way to enjoy a picnic for me. I didn't have to do anything besides show up and pick up my incredible spread.
If you're looking for something fun to do on Saturday aside from eating at a restaurant, check out the picnic boxes from Marcus'. They are $80 for two people or $160 for four and available exclusively on the Sargasso Sea app for pick up or delivery. Orders must be placed by 8pm on Fridays.

Read More About
Category: All, Entertainment