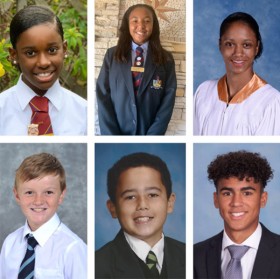 The 2020 Denton Hurdle Memorial Award winners were announced, with some of the island's top young athletes recognized for their accomplishments.
The Primary School winners were Day'asha Dill from Northlands Primary and Harris Flemming from Warwick Academy. Honorable mention was awarded to Evans Welch from St. David's Primary, A'Meerah Richardon-Swan from Heron Bay Primary, Jack Berry from Somerset Primary and Bakari Smith Jr. from East End Primary.
Dill serves as a School Prefect, Captain of the Netball team, and Soccer team. She is also a member of the choir, the Jump-Rope club, Netball, Cross-country and Track Teams. She was also Gold House Captain while maintaining scholastic achievement honor role. She is a member of Pacers track club, Storm netball club, Dandy Town football, and United Dance Productions. She was a 2020 BSSF Football and Netball All-Star.
Flemming was a school prefect, Roberston House Captain, and school Football Captain. He is a member of MAAC juniors, the Bermuda Cycling Academy, Warwick Academy Grizzlies Football club, Fat Tire Massive Mountain Biking, Bermuda Rugby, Sharks Swim Club, and Tri-Hedz Junior Triathlon Club. He has won numerous Triathlon and Duathlon races and was part of the Under 10 Rugby Tour to the UK in 2019.
Dominique Brown was named Middle School Girls winner, while Jonah Trott from Whitney Institute Middle School won the Middle School Boys Division. Honorable mention was awarded to Jasmin Hasselkuss and Jannis Roberts from Somersfield Academy and Adriana Argent and Harlan Watson-Brown from Warwick Academy.
Trott was a member of the student council, vice house captain while captaining the school rugby, football, cricket, and basketball teams. He was also a member of the school debate team and a member of the school band playing the clarinet and piano. Trott is a member of the MAAC jr. Running Club, St. David's Cricket and Football, Bermuda Cricket Board National Academy, Cal Ripkin Baseball, Beyond Rugby, Fat Tire Massive Mountain Biking, Clarion Iron Kid's Triathlon and the Bermuda Bicycle Association. He serves as a junior referee in the BFA Youth Leagues and is certified in Red Cross water safety.
Dominique Brown was a prefect, deputy head of sports, blue house captain, captain of all sports teams, school choir lead singer, head of Drama, and Student Council Co-President at Dellwood Middle School. Brown plays for Dandy Stars in football, Lindo's Netball team, Longtails Hockey club, and is a Karate Brown Belt. She is a member of Dancesations and the Bermuda School of Music Choir.
Kayla Raymond from Mount Saint Agnes Academy and Tyler Hurdle from Saltus Grammar School were named the Senior School winners. Lindsey Pacheco from Saltus and Jordan Etemadi were recognized with an honorable mention.
Hurdle was Darrell House Captain, Prefect and the varsity Boys Volleyball Captain. He coached the Saltus Middle School Girls' Volleyball team and assisted with the coaching of the Senior Girls' team. He received the 2020 Saltus male athlete of the year, SPIRIT award, and Physical Education award. He is a Bronze recipient of the Duke of Edinburgh award, Hurdle captained the Under 18 National team in tournaments in Boston and Daytona. He was a four-year honor roll student he graduates from Saltus with a total of 10 GCSEs and will attend Queen's University of Charlotte where he has been recruited to play Volleyball. Hurdle is the great-nephew of the late Denton Hurdle and son of 1989 winner Derek Hurdle Jr.
Raymond was captain of the MSA Basketball team and a member of the Hurricane Basketball Academy. She was a member of the St. George's Dinghy Club Youth Sailing programme, the MAAC Running club, Fat Tire Massive Mountain Biking, and serves a cadet commander at the T.S. Admiral Somers Sea Cadet Corps. She is also a Bronze recipient of the Duke of Edinburgh award
Raymond has won Gold in the 800 meters at the New York Amory Youth Track championships in 2019 and 2020 and won the 400 meters in 2020. She won the 2020 Senior School Front Street Mile and numerous other age group road races.

Read More About