[Updating] The Government is holding a press conference this evening [July 23] to update the public on Covid-19. We will have additional coverage later on and in the meantime, the live video is below.
Update 5.55pm: The Government said, "We received 362 new Covid- 19 results today. All 362 results received were negative. Total confirmed cases remains at 153. Bermuda's real time Covid-19 reproductive number (Rt) 7-day average remains below 1."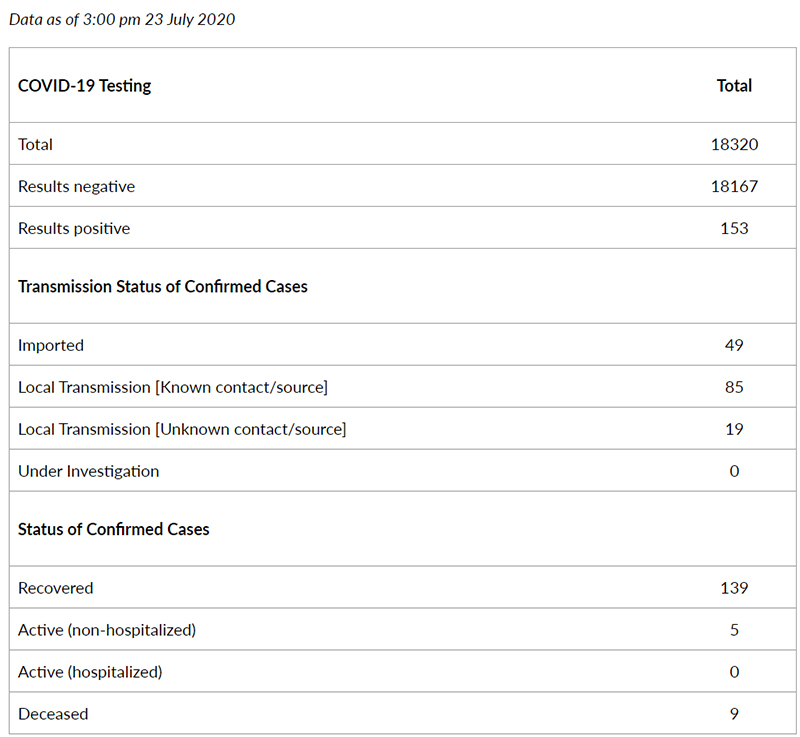 Update 7.27pm: Minister Renee Ming's full statement follows below:
First and foremost, I wish to extend my thanks to all those who have offered well wishes since my appointment as Minister. I also wish to express my appreciation to the Acting Permanent Secretary, Dr. Danette Ming and all those in the Ministry of National Security who have extended their support in updating me on all the critical matters happening in the Ministry. I've come to appreciate that this is an extremely significant Ministry, charged with ensuring the protection and security of our borders and the public safety of our residents.

The commitment never ceases, and I am very grateful to the entire team in the Ministry who work daily to keep our island safe.

With that, I wish to provide a general overview of the public safety preparations underway for the Cup Match holiday. Typically, the holiday weekend provides an opportunity for the island to come together to celebrate our heritage and our sporting traditions. This year however, the COVID-19 pandemic has caused us to re-assess how we conduct our gatherings.

Even though we won't be celebrating the Annual Cricket Classic this year, it's still a holiday.

And it's our expectation that many of our residents will be heading to our beaches and parks and spending considerable time on the water over the long holiday weekend.

In that regard, the Bermuda Police Service [BPS] has developed a robust policing plan in order to maintain public safety.

We want to ensure a safe and peaceful holiday and the BPS is working in partnership with the Royal Bermuda Regiment [RBR], the Coastguard, the Department of Parks, St. Johns Ambulance, the Road Safety Council, the Water Safety Council and CADA.

With the expectation of large crowds at our beaches and parks, the BPS and the RBR will have a visible presence at Horseshoe Bay Beach and Clearwater beach advising the public to maintain physical distancing.

The BPS will also be deploying drone assets to monitor large public areas such as beaches and parks.

As announced last week by the Minister of Public Works, Lt. Col. David Burch, with the lifting of the curfew, camping and boating are permitted.

We encourage persons to please practice the appropriate health and safety measures.

We are also urging the public to use common sense when it comes to alcohol consumption over the holiday period.

As you are aware, the BPS will be conducting Road Side Sobriety checks throughout the island.

Quite simply – don't drink and drive, and above all, have a plan to get home safely.

As it relates to recreational boating over the holiday, the BPS and the Coastguard will be present on our waters to ensure that the marine environment is as safe as possible.

In particular, the traditional popular gathering that takes place at Mangrove Bay on the Sunday following the holiday, will be monitored closely.

On the topic of events and gatherings of more than 50 individuals, I can confirm that the Ministry has received a number of applications for exemptions for the holiday period. They are under active review and we are in consultation with the Ministry of Health.

We expect that any event that is held, whether it is a gathering of 50 persons or an approved gathering of more than 50 persons, we still urge those in attendance to adhere to the health guidelines in place.

These are for your protection and for the protection of your loved ones.

We continue to review and refine the guidelines as it relates to event exemption guidelines.

Lastly, typically our Cup Match holiday is a festive period. Even against the backdrop of COVID-19, we expect that members of the community will seek to enjoy this national holiday to the fullest.

Bear in mind, though, the public safety precautions in place by the BPS and its partner agencies, are designed to ensure that any festivities remain safe and free of anti-social behaviour.

Let's all work together to make sure that the 2020 Cup Match, Emancipation Day and Mary Prince Day holiday can be remembered for the many enjoyable experiences – and not be marred by any major disturbances, gang violence, road traffic incidents or infringements of the COVID-19 regulations.

As the Minister responsible for National Security, I wish to take this opportunity to thank all of our essential personnel, uniformed services and emergency agencies for their tireless work.
Update 8.08pm: Minister Kim Wilson's full statement follows below:
Today there were 362 test results received by the Ministry of Health; and none were positive for COVID-19.

Bermuda now has 153 total confirmed positive cases. Their status is as follows:

there are 5 active cases, who are
all under active public health monitoring, and
none is hospitalized or in critical care;
a total of 139 have recovered, and
the total deceased remains 9.

The average age of all of our confirmed positive cases is 59 and the age range of all of our positive cases is from 18 to 101 years.

Overall, 54% of all cases are Black, 41% are white and 4% are other or unknown.

The source of all local cases is as follows:

49 are Imported
85 are Local transmission, with known contact
19 are Local transmission with an unknown contact, and
none are under investigation

Bermuda's country status remains "Sporadic Cases". The seven-day average of our real time reproduction number is less than 1.

I know there have been many questions about the results we reported as pending last weekend. These were ultimately confirmed to not have been cases and I want to assure the public that this is simply part of our stringent protocols to control COVID-19.

As part of routine quality control measures, results are considered in terms of the present medical history and epidemiological pattern and, if there is any doubt, we isolate and re-test.

Our regime uses highly sensitive tests which can pick up transient positives in asymptomatic individuals. These may have a viral load that is sufficient to be detected but warrants further investigation. Upon the re-testing of these cases, originally flagged as positive, we were able to confirm that these persons were not active carriers of the virus.

Affected individuals were informed and released from isolation and quarantine. However, I totally understand the distress this caused individuals who had to be pre-emptively isolated. While not pleasant, this is course of action is better than the alternative – having potentially positive persons freely interacting with others inadvertently spreading COVID in the community.

I have to applaud the Public Health Emergency Response Team at the Ministry of Health together with the Bermuda Hospitals Board, who took immediate action to identify and isolate all risks. Not only is our testing regime exceedingly rigorous, but our ability to rapidly take public health action to isolate cases and prevent spread truly showed its muster with this incident.

The handling of this situation is a testament to the rigour of our testing system and the efficiency of our public health capacity.

In addition, I'm delighted that BHB has now developed COVID-19 testing capability as well. This added capacity is very welcome as we gear up anticipating to be doing around 1,000 tests a day as of August with the increased flight volume and our stringent testing regime. BHB has been working on this for a couple of months so it could not have come at a better time!

Members of the public may have noticed the number of tests carried out daily by the Ministry of Health continues to rise significantly; due, in part, to the implementation of pop-up testing and, more recently, with the opening of our borders to commercial flights.

This has taken a tremendous amount of planning by teams in Ministries across the Government. Meetings take place daily with a core group of individuals who troubleshoot any issues, identify solutions and keep track of current and future needs; pre-empting any possible issues, misinterpretations or policy tweaks. It is thanks to them that we have been able to successfully action this enormous undertaking.

In particular, I want to give a massive shout out to our testing teams who have been swabbing and processing over 500 tests a day, with those at the airport and at the pop-ups testing hundreds of travellers in just a couple of hours. Their energy, enthusiasm and dedication to public health is beyond compare and I want them to know I deeply appreciate their efforts – the country owes you a debt of gratitude as you help to keep us safe from COVID-19.

As always, I want to urge residents to continue to wash your hands frequently, use hand sanitizer before and after entering any store or public building, shield our medically vulnerable, avoid congregating in large groups, and continue to wear your mask and keep six feet apart if you are not wearing one.

It is more important than ever that we not take our collective eyes off the ball, for even a moment. If we do, that could lead to increased numbers of patients requiring hospitalization, critical care and, at worst, more fatalities. We are a tiny island and despite very good healthcare service delivery, it would not take much to overwhelm our health system and the hospital.

While COVID did enter some of our care homes, unlike other countries our teams did a phenomenal job containing outbreaks and preventing the sorts of outcomes we saw elsewhere. Yet, despite this, 30% of all cases and 30% of all deaths were related to care homes which is a stark reminder of the vulnerability of this population. We cannot slacken our standards to protect our seniors.

We all have a huge responsibility to care for each other and to protect our vulnerable community. We are our brother's keeper and have an enormous responsibility to each other, to support and help each other and to protect one another.

Physical distancing, mask wearing and hand hygiene are proven protective mechanisms and we need to be constantly on our guard to ensure that we are maintaining these clinical standards for the foreseeable future.

Nobody knows for sure what our future holds and we have to be cautious and safe in how we act today.

As a Government, I can assure you we are doing all that we possibly can to protect you. However, it is essential that we all remember that, ultimately, it is our individual contributions that will go the furthest in determining how we, our families, and our country fare.
Update 9.54pm: Premier David Burt's full statement follows below:
Today, I am joined by the Minister of Health, the Hon. Kim Wilson, the Minister of National Security, the Hon. Renee Ming, and the Minister of Labour, the Hon. Jason Hayward. I welcome Minister Ming to her first press conference.

I'm pleased to join you again today as we continue to update Bermuda on the matters surrounding your government's response to the coronavirus pandemic and the work that we are undertaking to ensure that we can repair the harm to our economy that this once in a century event has caused.

We will start this evening with an update from the Minister of Health. Minister.
Minister reads her statement.

Thank you Minister of Health.

It cannot be understated how well the country has responded to the threat that this pandemic has posed. I would again like to thank the teams at the Ministry of Health, who have worked flat out for the last six months.

The reopening of our borders have meant more testing. A few months ago we set a target for 200 tests a day. For the last week we're now averaging 450 tests a day. As the airport has more flights that will be more testing is required.

It has been an incredible effort that has been mobilized to keep our country safe. We should all be proud of the work that is being done from our port health workers, to the testers, to lab technicians, to contact tracers, and the team at the Department of Health.

We are proving to the world that you can reopen your borders with strict controls, while keeping your country safe. While we see the pictures about other countries who have long lines for testing or read the news stories of other places in the world where they are going back into stricter control measures, such as lockdowns and curfews, Bermuda has and continues to do well.

It is important that we keep our guard up. I've been asked many times on social media about the number of tourists being tested versus the number of Bermuda residents. Currently, the system is not set up to quickly separate that information. However, the Minister and the team at the information technology office inside of the Government of Bermuda are working on upgrades the system which will enable us to report those results.

I now invite the Minister of National Security to give an update from her ministry. Minister Ming.

Minister reads her statement.

Thank you Minister Ming.

I know you've had to hit the ground running, but I'm confident that Bermuda will heed the advice which you've given to ensure that as we lead up to our annual holiday, the country will remain safe.

Now, I will ask Minister Hayward to give an update on the activity taking place within his ministry, including the details of the extension of the unemployment benefit.

Minister Hayward.

Minister reads his statement.

Thank you Minister Hayward.

Last week, during the swearing in ceremony of Ministers Ming and Tyrrell, I indicated the responsibility for tourism would move to the Office of the Premier and has been added to my existing responsibility for economic development. I must restate, the need for the growth of tourism is more complex than ever and demands a renewed focus on the economic potential it represents for Bermuda. Bermuda, as a tourism destination, must become relevant again.

Next month commercial airlift capacity to the island more than doubles. 5,000 airline seats in July jumps to about 12,000 available seats in August. On August 1, new direct service resumes on JetBlue from New York's John F Kennedy International Airport and Boston's Logan International Airport.

Meanwhile,

British Airways increases its frequency from London by one day which means there will be three flights a week;
Delta decreases it's daily service by one day to six flights a week; and
Air Canada continues to operate its weekly flight out of Toronto.

Tourism volumes this August are projected to be about 10% of what they were last year. The Bermuda Tourism Authority has been working on an inside-out marketing campaign to generate spending in the tourism industry from residents, while at the same time inspiring travellers to think about Bermuda and then turn that thought into action.

One such promotion is taking place now. The Bermuda Independent Retailer Month, which began July 1, is promoting the Bermuda-inspired retail sector to consumers around the world via the BTA's digital channels. Last week, 27 local retailers who offer click and ship operations, were profiled on the BTA's social media.

Earlier today, an e-mail marketing promotion reaching more than 250,000 customers led with a push to Bermuda retailers in a further drive to stimulate their retail sales.

Between now and the end of the year, there will be additional promotions to stimulate spending in various sectors of the tourism economy including boating, restaurants, spas and tennis. Additionally the Bermuda Tourism Authority will commence the promotion of staycations here on island, where they will profile the deals that are available and the hotels which are currently offering rates for locals.

The BTA and the Bermuda Business Development Agency [BDA] have worked closely with the Minister of Labour, to get the message out about the one-year residency certificate, perfectly suited for remote workers, what I call digital nomads, and post-secondary students.

Minister Hayward announced the policy changes last week and gave some additional clarifications. Since then, the BTA and BDA have worked to have the news story carried in key US media, starting with Bloomberg and then quickly spreading to others, including CBS news.

The form will go live on 1 August, the BTA and BDA will continue to promote Bermuda as a
location from which to work. This government's view is that if you can work remotely, which many people have been doing, why not work from Bermuda for the next year.

As I had said in an interview with one of the news agencies, it might be nice to live in a place where you don't have to get into a fight at the supermarket because someone is not wearing a mask, as we are happily a universal masking jurisdiction.

I will also give a brief update on international mail service which although does not fall under the Office of the Premier, falls under the Cabinet Office.

The Bermuda Post Office reports with the increase in flights to and from the UK, mail, parcels and EMS are being sent to the UK, starting with this evening's flight. Likewise, we started to receive mail from the UK on July 17.

There is still no mail between Bermuda and the US and at this point in time, we are not expecting mail to be transported until mid-September when American Airlines starts flying between Bermuda and New York and Bermuda and Miami.

However the Bermuda Post Office continues to explore all avenues for mail delivery between the United States and Bermuda.

Mail from Canada will start arriving in August.

There is another update that I'd like to give, and I'd like to commend the Deputy Premier for working with the Department of Planning which is under his responsibility. Last year, there was a clear drive to make sure that we make government processes more efficient, and one of those places where it was felt that government processes were not efficient were inside of the Department of Planning.

The Deputy Premier will soon be announcing that during May and June, a total of 53 planning applications are received and 81 were approved, resulting in a total estimated construction value of $46 million, while a total of 154 building permit applications were received and 114 building permits were issued, resulting in a total estimated construction value of $68 million.

What is important is that the Department of Planning continued to work during the period of restrictions, and it is key to note that planning application times in the Department of Planning have now been cut in half. They've gone from ten weeks to four to five weeks. And this is something that will certainly aid us as we look to continue to stimulate our economy, as we move forward to get more and more persons back to work.

So thank you, Deputy Premier for your work and thank you to the team at the Department of Planning for executing the government's policy of making government more efficient.

On Monday at 7:30pm, the Minister for Community Affairs and Sports, the Hon. Lovitta Foggo and I will participate in a Cup Match Conversation hosted by Sean Tucker, the New Voice of Summer. It will be aired on Government's Facebook page and on CITV. Sean will interview current and past Cup Match players together with Captains and Club Presidents. You can send your questions for the guests to Government's Facebook page.

Before I will end tonight's press conference I would like to speak about a letter that was sent me earlier this week.

Dear Premier Burt,

I want to let you know that there are two heroes working at the COVID-19 hotline, their names are Shirmelle Gomes and Tamisha Archibald. They are the most incredibly helpful, kind, patient and lovely ladies working at the call center, who went above and beyond to assist me this weekend with getting a travel authorization updated in the system when a dear friend couldn't get her COVID-19 negative test result in time for the BA flight on Friday.

These two ladies were so patient and helpful with getting the new arrival date updated in the system, I am so grateful for their help and I thought you should know what an incredible team you have working under you.

Also, we think you and your team are simply AMAZING and you have done a remarkable job protecting our country, THANK YOU we love you!!!

Shirmelle and Tamisha are both Government Public Officers who have been assigned to the Helpline. As always, I extend my sincere appreciation to all those persons who are working on the Helpline. That Helpline which continues to be manned and that number is 444 2498.

I also want to express my appreciation to the emergency and essential workers throughout our country. Those as we already mentioned that are involved in our testing, but also those that continue to serve our people at the hospital and our essential workers. Especially to our first responders who are firefighters.

Minister Ming and had an opportunity to meet with the new executive at the Fire Services Association today and I can say the entire country owes them a debt of gratitude. They have been working long hours and they are always the first ones on scene, to make sure that they save lives and keep us safe. So to all of the men and women that are working in the Bermuda Fire and Rescue Service I want to say thank you from the Government of Bermuda. You are doing an excellent job and you are being represented incredibly well by your new executive.

Tomorrow the House of Assembly will meet, with 16 items up for debate in our last session before the Cup Match holiday. There are a number of items that are there to stimulate our tourism market with amendments to the Tourism Investment Act, and two Tourism Investment Orders. One for the St George's Club property, which will enable that property to renovate, and to reopen. And also Rosewood Tucker's Point to enable additional development which is taking place at that property.

There will also be a number of social issues and changes, which will be brought to the fore and passed, including the expungment of cannabis convictions for simple possession of cannabis, the modification of our jury selection regime to make sure that it is more fair and also the addition of luring as an offense under the Criminal Code. Which completes a suite of amendments and changes that the Progressive Labor Party has made in the area of child sex abuse, and also to make sure that we have mandatory rehabilitation for sex offenders.

Persons are able to tune in on parliament.bm, listen on 105.1, or you can also catch the House of Assembly on bernews.com.

Though, we as a country has done well. It is vitally important to remember that this virus can still impact our lives. Though, as the Minister of Health says, we only have five active cases, and those we think that we have caught them at our borders, we must stick to Public Health guidance that we have been given over the last few months.

We cannot, and we must not lower our guard. I cannot emphasize enough the importance of continuing to wear your mask, especially when you are indoors and you are unable to social distance when you are outdoors.

This together with exercising proper hand hygiene and physical distancing will allow us to continue to enjoy the freedoms we do now, while countries and islands around us are going backwards. Let us keep it up to move forward.

Next week is Cup Match week, and therefore we will not be here next week Thursday. However, your government ministers will giving you a final briefing before the Cup Match holiday next week Tuesday.

Before I take questions, I'd like to thank the wonderful Miss Carolann Simmons for this beautiful red and blue mask when she is supplied to me, which I'm wearing even though I'm looking out into a sea of blue and blue mask everywhere. With that, I'm happy to take questions from members of the media.
Update 10.00pm: Minister Jason Hayward's full statement follows below:
My remarks tonight will focus on updates in three [3] areas within the Ministry of Labour:

1.the Unemployment Benefit;
2.the Department of Workforce Development; and
3.the 1 Year Residential Certificate.

Extending the Unemployment Benefit

The public is aware that the Government's unemployment benefit which was extended from 12 to 16 weeks comes to an end on the 31st of July, 2020. At that time, three thousand eight hundred and two [3,802] applicants will receive their last payment. This number consists of:

two thousand eight hundred and seventy [2,870] Bermudians;
one hundred seventy two [172] Spouses of Bermudians;
fifty [50] Permanent Resident Certificate Holders; and
seven hundred [700] Work Permit Holders.

This will leave one thousand five hundred and fifty-five [1,555] individuals continuing to receive payments until their sixteen week period ends.
With the end of the Unemployment Benefit, there remain many in our community who are not yet on their feet and still require financial aid to provide the necessities of life such as food shelter and clothing. To address this, those individuals who have completed the Unemployment Benefit and are still in need of financial aid will need to first apply for financial assistance through the Department of Financial Assistance.

It should be noted at this time that the Government plans to extend the unemployment benefit for an additional two weeks to allow persons the opportunity to transition to the new benefit.

From Monday, 27, July 2020, Financial Assistance applications may be collected from the Lobby of Global House, 43 Church Street, Hamilton. Should you be unable to collect an application, you must contact the Department to make alternative arrangements. For additional information, persons can call the Department of Financial Assistance Hotline at: 297 7867.

When filling out the application form, please note that the form must be 100% completed for the applicant to be considered for assistance. Once all the required information is on the form, they must be submitted in the mailbox located in Global House.

The Financial Assistance process is rigorous and applications will be vetted and applicants will be notified accordingly. Should your application for financial assistance be approved, you will begin receiving the approved monthly award payments.

For persons who are not eligible for Financial Assistance, the Government wishes to advise that it will introduce a supplemental unemployment assistance. The Government will provide further details about the nature of this financial support in coming public announcements. However, eligibility for this support will likely be as follows. You must:

Be Bermudian or Spouse of Bermudian;
Be a recent recipient of the Unemployment Benefit Fund;
Have fully completed the Financial Assistance application process; and
Other criteria that will be shared in due course.

Persons who receive such a benefit must immediately notify Government when they commence any form of employment as they will no longer be eligible. It must be stated, that the aid given is only a temporary measure to help persons through this difficult time.

Workforce Department Update

The Department of Workforce Development, provides assistance to individuals who are seeking employment by providing them with work readiness training, career guidance, scholarships and bursaries for retraining, and apprenticeship opportunities. Due to the COVID-19 safety measures taken by the government, the Department had reduced its traditional activities to administer the Unemployment Benefit.

As we continue with Phase 4, the department has recommenced with various services. Services and programmes included the delivery of the Summer Internship Programme [SIP] for fifty [50] High School students who received up to a stipend of $1,600 at the end of the four week programme.

Also ongoing is the ten-week Summer Employment Programme for college and university students which also provides work experience and a weekly wage of $600. The programme has seventy-five [75] interns enrolled in it and lasts for a period of ten [10] weeks.

Job Readiness

In the area of Career Development, where officers engage with members on the public to provide job readiness support, the Department has begun meeting with clients virtually. Clients are also seen in-office where necessary to assist with updating resumes and work with employers to ensure unemployed persons are considered for job vacancies.

Training Programs

In the Training Section of the Department, discussions have resumed with external stakeholders such as employers, industry associations and other industry educational partners, regarding existing and new training programmes. The objective is to gauge the level of training, qualifications, and employment opportunities available to Bermudians. Training Officers are obtaining feedback on recommended short and long term programmes and services that need to be provided in the Post-COVID-19 era in Bermuda.

Scholarship Awards

Additionally, the department has collaborated with the National Training Board Scholarship Committee to offer ten [10] scholarships in 2020 for students studying in the areas of:

1.Hospitality;
2.Information Technology;
3.Healthcare;
4.Vocational; and
5. Technical trades.

The scholarship awards are expected to be announced in the next month.

Training Scheme
The Department continues to work with the Office of the Tax Commissioner to offer the payroll tax exemption scheme, which provides relief for employers who are committed to training Bermudians. To date, a total of eleven [11] companies and twenty-three [23] Bermudians have been awarded approval for training.

The Department is now implementing its strategic two-phase plan. The first phase aims to target industry sectors where there may be a reduction in work permit renewals, to identify opportunities to get Bermudians employed.

The second phase focuses on developing a talent pipeline for Bermuda by:

1.anticipating the future needs of the various industry sectors;
2.work collaboratively with industry partners to design and develop training programs and apprenticeships;
3.provide the funding in the form of scholarships and assistance to those individuals seeking further education to enable Bermudians to have the skills to compete.

Ultimately, the plans focus on what is needed in this new era of COVID-19 to get Bermudians employed.

Also under the Training Section, the Department offers National Certifications, in four [4] designated occupations:

1.Welding;
2.Electrical;
3.Automotive Service Technician; and
4.Landscape Gardening.

The objective is to have all registered tradesmen in the four [4] designated occupations obtain National Certification.

Digital Nomads & Students
With that said, the Government recognizes the challenge with securing employment and we are working on quick wins that will help stimulate our economy and get our residents back to work.

To that end, it has long been recognized that there are persons who are location-independent, using technology to perform their job no matter where they are. Such persons work remotely, telecommuting rather than being physically present at a company's headquarters or office. Remote working has been a growing trend for some time and is something the Bermuda Government has been examining as part of its technology-focused economic diversification strategy.

There are also many students in tertiary education across the world completing their classes online. By allowing Non-Bermudian Post-Secondary Students to complete their higher education from Bermuda represents an opportunity to build an international student community in Bermuda and enhance Bermuda's digital perception by travelers worldwide, which will produce benefits to the local economy.

It must be noted that these trends have been further accelerated by COVID-19.

And so allowing these visitors to reside in Bermuda without seeking employment on the island will promote economic activity for our country without displacing Bermudians in the workforce.

To capitalize on this opportunity, starting August 1, 2020, the Ministry of Labour through the Department of Immigration will offer One Year Residential Certificates to allow persons such as Digital Nomads the ability to reside in Bermuda while working remotely, and Non-Bermudian Post-Secondary Students the ability to complete their higher education from Bermuda.

The Ministry will also adjust its policy for visitors to the island by extending the maximum period a visitor may stay in Bermuda from 90 to 180 days.

I am confident that these policy changes will strengthen our economy by:

increasing the residential population;
increasing economic activity;
providing greater job security for Bermudians; and
enhancing Bermuda's image as a place to reside, visit, and do business.

All relevant documentation can be submitted along with the electronic submission form which will be available via the government portal on or before August 1, 2020.

As the island and world deals with the Covid-19 pandemic, we are doing our best to provide timely and accurate information, and you can find more information on the links below.
Read More About