The Spirit of Bermuda Charity Rally sailing race continues, with vessels expected to start to arrive in the island tomorrow [July 10].
An update from the organisers said, "For two teams on the West leg of the Spirit of Bermuda Charity Rally, the pace has picked up slightly going into what will likely be their last day of this race organized by the East End Mini Yacht Club [EEMYC] and the Sailing Yacht Research Foundation [SYRF]. A tropical low pressure passing to their west has shifted the breeze more favorably to the south and increased to 10-15 knots to give them better progress towards the finish in the past 24 hour period.
"At 1500 EDT today Andy Schell's Swan 59 Icebear and Swan 38 Isbjorn, skippered respectively by Sean Westoby and Vincent Matiola, sailed 180 miles and 133 miles towards the finish outside Town Cut in St George's. Icebear was closest to Bermuda with 173 miles to go, while Isbjorn had 260 miles to the finish.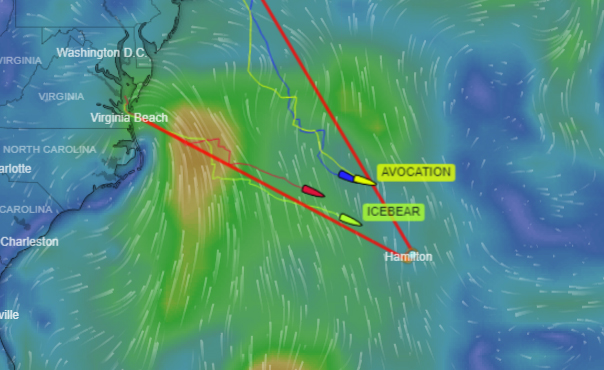 "Their rivals on the North leg of the course, Alessandro Pagani's Spirit 47 Luna and Hank Schmitt's Swan 48 Avocation, did not have a good past 24 hours, making only 93 and 121 miles, respectively, at 1500 EDT. Luna had been leading the pair until recently where her position to the west of rhumb put her in lighter breeze than Avocation, who was 197 miles from Bermuda, with Luna 24 miles behind.
"Tropical Storm Fay will move up the East Coast tomorrow bringing wind and rain, but it will also help deliver more favorable conditions to the race area with better southerly towards the finish. Icebear is already beam reaching at 8 knots and speeds will no doubt pick up soon for the North leg boats, although the wind direction will be well ahead of the beam for them due to their finer approach angle.
"Preliminary projections indicate Icebear will cross the finish about 1230 local time, with Avocation next in at 2050 and Luna and Isbjorn after 0100 on Saturday.
"No doubt Schmitt and his crew will push hard throughout tonight and tomorrow to improve their ETA and make the first social event of the race, the Goslings Rum tasting party at 8:00 PM!
"To follow progress made in the Spirit of Bermuda Charity Rally, visit the event website at spiritofbermudarally.org."

Read More About