[Updated] Gina Spence is joining host Don Burgess this morning [Aug 11] for the latest episode in the Bernews News & Views series, with Ms Spence discussing the 'Each One Reach One' back to school campaign.
Ms Spence said that they are aiming to raise $75,000 for their 8th annual campaign.'
"We will not be hosting the school uniform recycling program," she said. "Due to the COVID-19 pandemic and our Government's health and safety concerns/precautions, unfortunately we are unable to facilitate this particular function of our campaign, and can only raise funds for 'First Day Starter Kit' gift cards for our families instead.
"Unfortunately we have over 100 pre-registered children and we are in desperate need of funds to purchase gift certificates to meet the high demand of school items needed for this year's campaign. We usually service between 400-500 children annually."
Update: The Gina Spence Productions website said, "Gibbons Company and Gina Spence Productions are hosting our 8th Annual Each One Reach One Back to School Campaign. Due to COVID-19 safety regulations, we are unable to host our Annual Recycling Uniform Drive.
"This year, we are asking you to sponsor a child with a First Day Starter Kit that includes shirts, bottoms, school socks, briefs or panties, undervest or a camisole, and a backpack. Just what they need to get them ready for school! No donation is too big or too small. Every dollar counts! Call 296-0016 for more information.
Banking Details: Gina Spence Productions
"BNTB: 0601613480018
"HSBC: 002-051928-001
"Memo: EORO2020″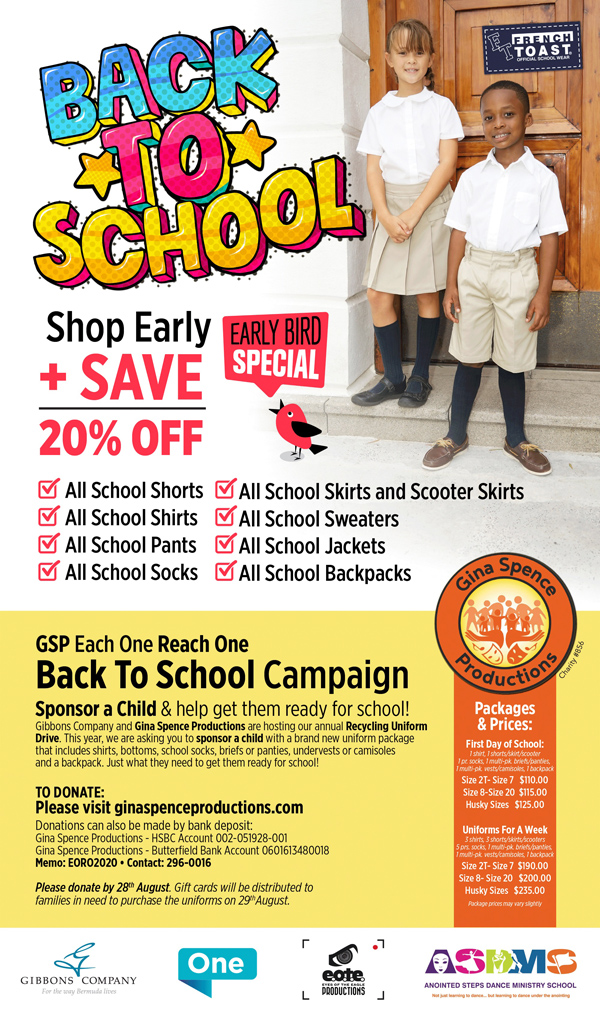 Read More About