[Written by Dale Butler]
My week started by reading, for a second time, The Autobiography of Nina Simone, and a purchase of Bermuda vinyl albums from Peggy Burns that gave me copies of "At His Best: Hubert Smith", "Search for Serenity" by Milt Robinson and "Early Autumn" by the Bermuda Sounds featuring Bishop Caines, Aidan McNally, Violetta Carmichael, Peter Profit, Tiny Burgess and Frankie Rubain.
I was therefore in the mood to hear live music on Saturday, August 8th when I arrived at the historic Blue Waters Anglers Club Inc. on East Broadway.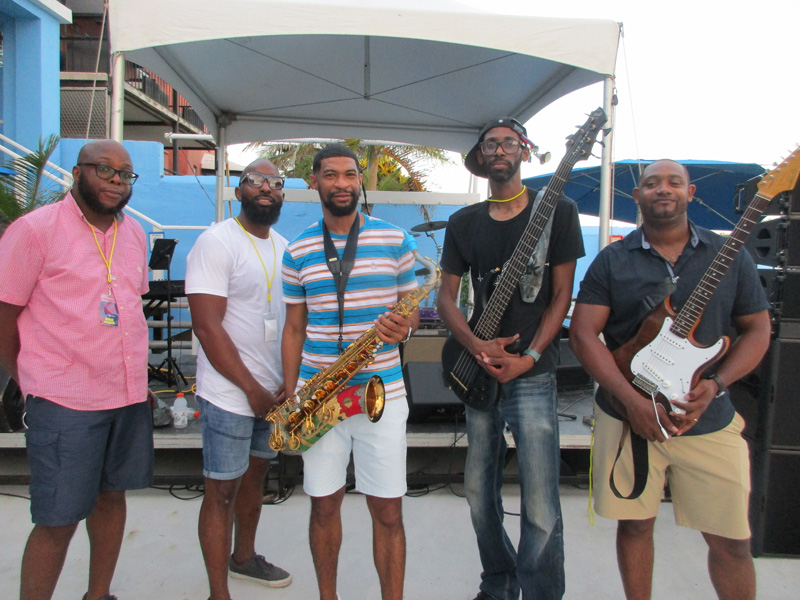 The club officials should be commended for allowing their facilities to be used during these trying Covid-19 times. Staged on their beautiful waterside patio, trimmed with multi-coloured houses and a variety of boats, it was an idyllic site that they ensured was well-organized and sanitized.
It simply did not seem like Bermuda and the arrival of numerous boats after a day at sea and two people in a canoe with a backdrop of blue skies and calm seas added to the two levels of seating for the event. Commendations to Derek Simmons for the staging, sound, and lights. Now to the concert.
Topping the live music charts was the Tino Martinez Quintet with its series entitled "Soul Sessions." The late Lee Harvey and Derrick 'Cousin Juicy' Symonds would have loved to be at the forefront of introducing the band but this was left to Stephen Johnstone who would have made them proud. I was at the 6.00pm show and with a 9.00pm show on the horizon, the band wasted no time in bringing us a jazz fest worthy of the world stage and certainly more than the $35 admission we paid.
A very gentle and soothing hip hop opening song drew our attention away from the water to the band who kept us in the palm of their hands adding "Long Walk" by American singer, songwriter, and actress Jill Scott. We were then teased with "Ascension" by Gerald Maxwell Rivera and "Yes" by Robert Glasper, the latter being my favourite and USA group Floetry are excellent with their rendition of this powerful song that will also grow on you. Who was doing all of this?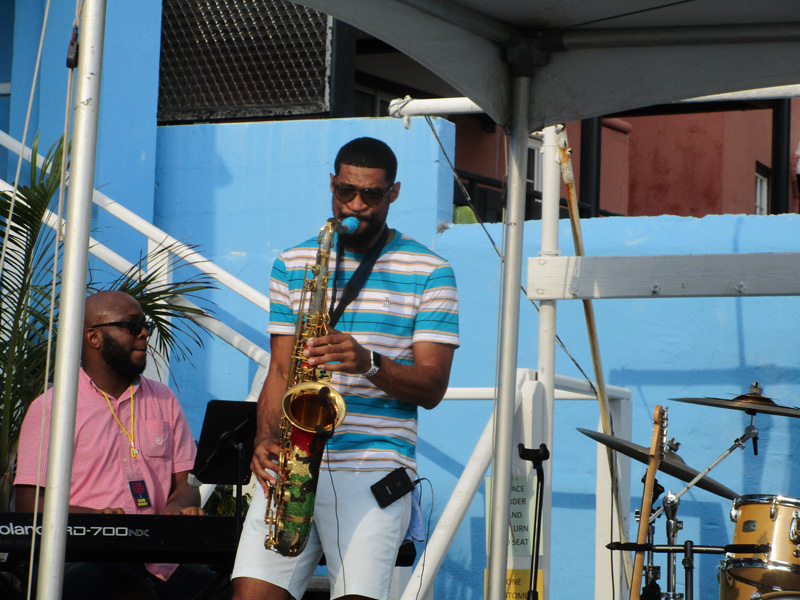 The band was led by former Southern University Baton Rouge jazz ensemble/marching band saxophonist, Tino Martinez, who has set a firm foundation for song selection [avoiding the usually expected classics]. He concentrated on interpretation, technical perfection and immersion. With SuperBowl, Presidential Inaugurations and "The Human Juke Box" behind him, Tino was happy with the crowd attendance and ready to deliver with his band of warriors.
Tino could easily join the Bermuda ranks along with music icons Max Maybury, Wendell 'Shine' Hayward, Jade Minors, Artie Simmons, Miles Manders and the late Al Davis, Cecil 'Pot' Gilbert and Freddie Matthews, to name but a few. He was joined by:
Raymond George: University of Toronto graduate and by far one of the best jazz and church pianists Bermuda has ever seen joining the ranks of Erskine 'Fatman' Philips, Stefan Ahknaton, Dennis Fox, Toni Bari, Toki Dill and the late Lance Hayward, Alvin Brangman, Earl Darrell, Flo Bell, and Antoine Dill.
Dino Richie from France played guitar with Jay Golden Sr. and in Bermuda Wall Street, Joy Barnum, and Working Title. Dino plays like Carlos Santana and joins the Bermuda ranks of lead guitarists like Dayton Wharton, Derek Simmons, Randy Lambert, and the late Milt Robinson, Bentley Burgess, and Leon Jones
Troy Washington, a drummer, is a graduate of Boston's famous Berklee School of Music and he is a very disciplined performer because there were several areas where I felt he was sitting on the edge of his seat just ready to put the drums on fire, especially on "Yes." He joins the Bermuda ranks of Clarence 'Tootsie' Bean, Clarence Bascome, Professor Eddie Ming, Kenneth Smith, Ronnie Lopes, and the late Syke Laws, and Howie Rego
Torrey Tacklyn started as a drummer with Professor Eddie Ming before taking up the bass guitar at church when the player was absent.He had the distinct pleasure of playing with "4-Forty-1" at the 2017 America's Cup and also in the local band "One Solution." He is a smooth operator who puts the icing on the cake. He joins the ranks of Dennis Francis, Stan Gilbert, John Lee, Eugene Joell, Clevie Astwood, and the late Clarence Burrows and Max Smith to name but a few.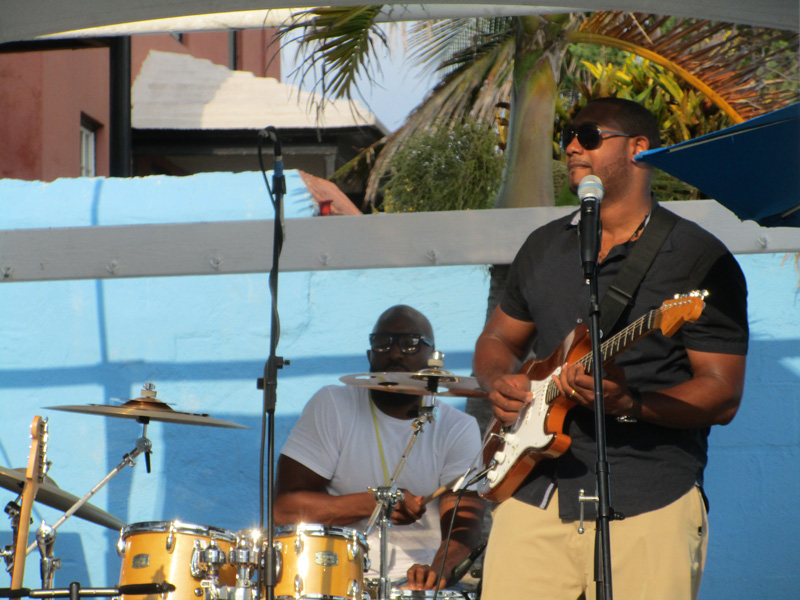 After a short break, the band returned with a focus on reggae and the crowd was in heaven, filled with a variety of songs from British jazz warrior Courtney Pine, who played at one of our Jazz Fests, Robert Nesta 'Bob' Marley, a fast paced "I Shot the Sheriff", and "Between the Sheets" by the Isley Brothers with a beautiful swing and taunting of nursery rhymes.
By now the synergy between the band was flawless and electrifying and everyone was relaxed wanting more. Notables in the audience were former Bermuda Strollers and Berklee School of Music graduate, drummer Dexter Dillas, and Bermuda Entertainers' Union President Selena 'Vava' Fields, who is its power workhorse enthusiastic spotlight. Selena thanked the organizers, support staff, audience, and band before informing us that we could look forward to events featuring The Unit [Bermuda's first entry into the Cuban Jazz Festival in 2009] with Earl Leader and Toni Bari and not to be outdone, a Pink Party on the MV Elizabeth on September 20th.
After great bar and food service, along with a first class musical performance, demonstrated as a band or with solos, this night of stars was closed with "It's Our Anniversary" by Tony Tony Tone. It was a great night and I am sure that those present enjoyed every moment. Congratulations are extended to The Tino Martinez Quintet for keeping live music on the stage.
- Dale Butler is the author of "Music on the Rock"

Read More About
Category: All, Entertainment, Music