[Updating] The PLP is holding a press conference this morning [Aug 31] where they are expected to announce additional candidate[s] for the upcoming 2020 General Election, which will be held on October 1st, 2020. We will have additional coverage later on and in the meantime the live video is below.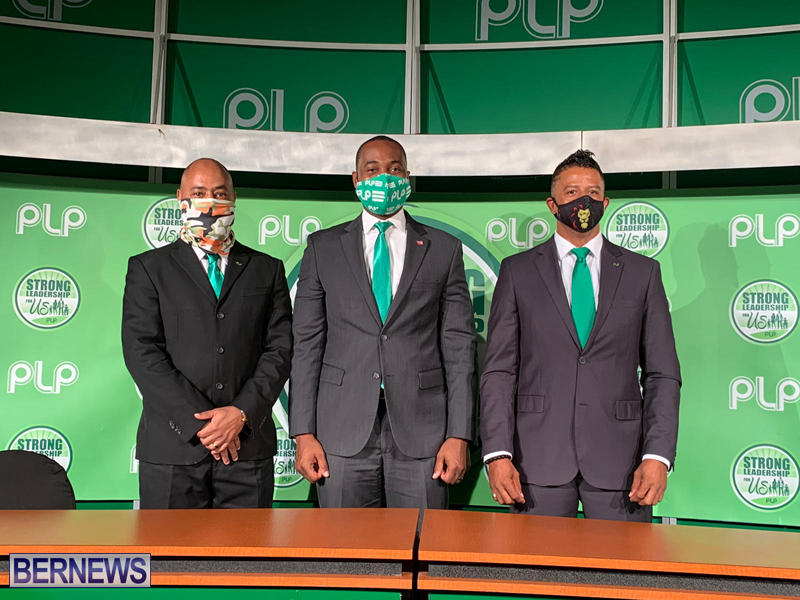 Update 11.13am: The PLP announced that Dr Ernest Peets will be their candidate for Constituency #10 Smith's North, a seat which is currently held by the OBA's Michael Dunkley. They also announced Curtis Richardson in Constituency #22 Paget East, a seat which is curremtly held by the OBA's Scott Pearman.
Update: The live broadcast has concluded and the 35-minute replay is below
Update 1.25pm: Premier & Party Leader David Burt's remarks:
Good morning,

Over the last week, we have seen some of the best Bermuda has to offer and we've also seen some indulge in darker impulses.

Last week, hundreds of Bermudians came out to support the PLP. We held voter registration drives, phone banks and canvasses across the country. All told, our grassroots activists registered over 500 Bermudians to vote – safely and securely wearing masks and following COVID-19 protocols. I'm incredibly proud of what our diverse team of grassroots Bermudians did.

While the PLP was out in the community, working and engaging with people, some were choosing to indulge in darker impulses of society. Last week, our opponents lied about my birth, attacked a former MP personally for speaking her mind and refused to apologize or even comment on it. Bermudians deserve leaders who will give better than a "no comment" when they're caught in a blatant lie.

This election is about leadership and part of good leadership is character. I ask Bermudians to look at the team that our opponents offer and look at our team. Look at our track record and look at theirs, and come to your own decision.

We have two incredible team members to announce today.

I'm incredibly excited to have Dr. Ernest Peets back as our candidate in Constituency #10, Smith's North. Dr. Peets came very close in the last election, and we're so glad he's back to finish the job. Dr. Peets isn't active in our community just to profit off of it, he's active in our community to serve the people. He is a champion for mental health, treating addiction, reducing criminal recidivism and uplifting young Bermudians. He has a commitment to service and this is exactly the kind of mindset we need in the House of Assembly. And, I know, with hard work, the people of Constituency #10 will put this servant of the people to work for them in the House Of Assembly.

Dr. Peets…

Thank you Dr. Peets.

Now to announce Curtis Richardson is our candidate in Constituency #22, Paget East. Curtis is an entrepreneur who is one of Bermuda's front line ambassadors in tourism as a taxi operator. In the last General election and in the 2018 by-election, Mr. Richardson did an incredible job and brought the PLP to its highest support level ever in Paget East. We are confident that with more work he will grow that support even further. There should be no such thing as a safe seat – and the PLP will ensure that voters across the country have a choice.

If you give the voters a choice between the leadership teams, we are confident they will choose our team as we are best suited to see Bermuda through these difficult times. Now I will ask Curtis to re-introduce himself to the voters of Paget East and to the Country.

Mr. Richardson…
Dr. Ernest Peets remarks:
Thank You Mr Premier,

To the Party Executive, Parliamentary Caucus, Central Committee and Constituency Branch C10, thank you for this opportunity.

The 2017 Election was historic on many levels and served as my formal introduction to politics. I was overwhelmed by the support of the voters who came out in droves to support the Progressive Labour Party and my candidacy. Since which, my commitment to public service, and my passion for Constituency 10 has grown, and I am looking forward to representing you again in the next General Election.

I may be relatively new to politics, but I am no stranger to helping and addressing the needs of the people who make up our great country. I have a long career in the Human Services field, and I bring important skills, knowledge, and experience to the political arena. As such, I am looking forward to being your champion regarding Mental Health, Addiction, reducing criminal recidivism, and supporting our youth through education and sports.

Those who know me best, know that I am quick to listen, and I am always willing to engage in meaningful dialogue to build consensus and strong partnerships. I also bring a trusted and transparent leadership style that you can depend upon.

In 2017 I canvassed Smith's North extensively. I built relationships with the residents and was gratified by the support received. Although I fell short by a mere 40+ votes, I am back in 2020 to finish the job. As your elected official, I will be committed to ensure that all residents from Loyal Hill in the West to Shelly Bay stretch are valued and that their concerns are noted and acted upon. The concerns are largely national, the economy, COVID19, and education. I am confident in our leadership on all these key issues, and believe there is only one team that is prepared to take us forward.

At the end of the day, this election is about leadership – and which leader and leadership team we want to take Bermuda forward into the economic recovery. I am proud to stand with Premier David Burt, and the PLP Team who have cautiously and calmly led us through this pandemic. And I am confident that the PLP Team will get us through an economic revival. As a counselor and mental health professional, I am also acutely aware of the psychological toll of the pandemic on both adults and children alike. I would be an asset to speak to these issues.

I would like to publicly thank my family for your continued love and support regarding this campaign. I would also like to thank my PLP colleagues for their support and advice.

We have a huge opportunity on October 1, 2020. The Progressive Labour Party has a vision and plan for a better and fairer Bermuda, and I am looking forward to continuing the great work of the Progressive Labour Party as we navigate out of COVID-19 and regenerate our economy.

Always at your service Bermuda.
Curtis Richardson's remarks:
Good morning Bermuda,

Premier David E. Burt, JP, MP. Leader of the Progressive Labour Party, members of Parliament and all of the Party Members and Supporters, good day.

Thank you to the Progressive Labour Party Candidate Selection Committee for their confidence in me to be the Candidate for Constituency 22 Paget East again. I am ready to serve.

This 2020 General Election is about Leadership.

"Servants who lead and leaders who serve are not the same. The one uses a plan to serve people, while the other uses people to serve a plan"

I would like to ask all Bermudians, whom would you truly like to lead us through these difficult times?

The PLP is making sure and steady progress on our commitments, but we still have more work to do.

Without a doubt, we are headed for some trying times as we collectively push through this Pandemic and deal with the economic aftermath. But, just as we pulled together during the worst of the lockdown, I know we will pull together and lift each other up during the economic recovery because we are Bermudians – and, Bermudians are resilient.

2020 will go down in history and it will be a year that none of us forget. We will remember the hardships. We will remember the sacrifice. And, we will remember the fear we all had. But, I will also remember how we came together across class, race and party lines to lift each other up.

I enjoyed being on your doorstep and the conversations I had across Paget East during the general election and the by-election. We made some tremendous progress. We grew our percentage of the vote to it's highest levels because we worked in the constituency, meeting the people and having conversations about our shared future. The truth of the matter is, there is more that brings us together than divides us.

We are all committed to building back our economy in a way that works for all. We are all committed to phasing out middle schools and strengthening our public education system. We are all committed to more affordable healthcare. And, we are all committed to creating jobs.

I will focus on what unites us as a people, not what divides us.

I would like to say to the voters in Paget East to come back out in the same vigor as you did during the previous elections and for you to encourage your neighbors to do the same.

Let us continue to spread the message that we stand for nothing if we don't stand for our country.

I continue to this day to be the voice of Constituency 22 and the representative of the Progressive Labour Party and I am heartened by those who saw it fit to give us your support. I know that we will grow from strength to strength. To all Constituents of Paget East, come out and support me and give me the best birthday present on my Birthday, October 1.

I will see you on the doorstep!

Read More About