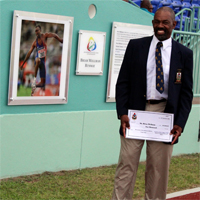 Triple jumper Brian Wellman was recently honoured with the naming of the long and triple jump runway at the National Sports Center [NSC] as the Brian Wellman Runway.
This presentation was originally scheduled to take place during the opening ceremony of the Carifta Games, but following the postponement, it was decided to name the runway following the lifting of Covid-19 restrictions.
Wellman became Indoor World Champion in 1995, setting a new championship record of 17.72m; his personal best outdoors was 17.62m. Both marks remain Bermudian records.
In addition, Wellman recorded a wind-assisted mark of 17.75m during his career.
Wellman competed collegiately for the University of Arkansas, where he won two NCAA Outdoor Triple Jump titles.
In 1986, Wellman won the gold medal at the Carifta Games with a leap of 15.87 in Guadeloupe; five years later, he won the Universiade Triple Jump in Sheffield, England by leaping 17.07m.
In 1999, Wellman won the first of his two Central American and Caribbean Games gold medals in Barbados with a leap of 17.01m, and then in 2001 in Guatemala, he won his second gold medal of the Central American and Caribbean Games by leaping 17.24m.

Read More About