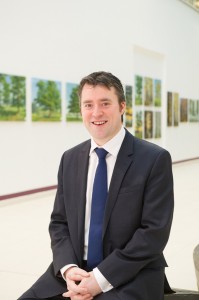 The Bermuda Cancer and Health Centre announced that Dr Patrick Murray has joined the Centre's radiation therapy team.
A spokesperson said, "Bermuda Cancer and Health Centre is pleased to announce the addition of Dr Patrick Murray to the Centre's radiation therapy team. Dr Murray is an award-winning, highly respected radiation oncologist specially trained in the use of radiation therapy to cure or reduce the symptoms of cancer, and in the overall care of cancer patients."
"Having known Dr Fosker for the majority of my adult life, and having had the opportunity to visit Bermuda for holidays from the UK, I jumped at the chance of working and delivering state-of-the-art Radiation Therapy here. The unique Island health care system brings its own challenges, and I'm keen to help Dr Fosker and the Radiotherapy Team at the Cancer Centre optimise radiation care for the people of Bermuda," states Dr Murray.
Hailing from the U.K., Dr Murray completed his clinical fellowship at the Leeds Cancer Centre in England, the largest purpose-built cancer centre in Europe. He then extended his training with a focus on high precision radiation techniques such as SBRT and S.R.S. with a specialisation in head and neck cancer.
Dr Murray will complement the current team of specialist nurses, and radiation therapists, working closely with Dr Fosker and other medical specialists, e.g. surgeons, medical oncologists and palliative care physicians, as part of a team caring for patients with cancer.
Dr Fosker says "It is wonderful to welcome Dr Murray to the team here at Bermuda Cancer and Health Centre. Knowing him very well from working with him previously, Dr Murray will be a great addition to our team, fitting in seamlessly with our collaborative team-based approach with the on island clinicians as well as the team in Brigham and Women's Hospital in Boston."
"The burden of cancer is increasing worldwide and the Centre has seen a significant rise in the number of people in Bermuda benefitting from radiation treatment since the unit opened in May 2017. To best meet the needs of patients referred for radiation therapy, Dr Murray's arrival provides the Centre with additional capacity," BCHC added.
"Bermuda Cancer and Health Centre, situated just outside the City of Hamilton, is the home of Bermu-da's only radiation therapy unit. Working in clinical affiliation with Dana-Farber/Brigham and Women's Cancer Centre, the Bermuda team works collaboratively with specialists in Boston treating a full spec-trum of cancer diagnoses.
"Bermuda Cancer and Health Centre's radiation therapy unit is the first facili-ty outside of the U.S.A. to earn Gold Seal Accreditation by the American College of Radiology for radia-tion oncology. For information visit www.chc.bm."

Read More About